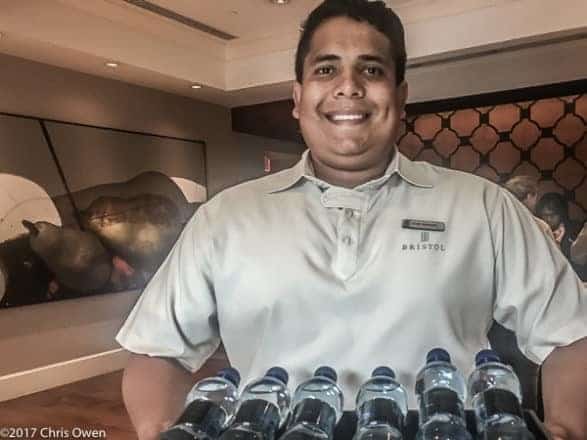 Windstar Panama: So Far, So Effortless
Getting to Panama City for a first-time sailing with Windstar Cruises was rather easy; from Miami it's less than a 3-hour flight. We board 212-passenger Star Pride later today and immediately sail a full transit of the Panama Canal.  Stop right there and it's hard to miss a couple considerable differences in what Windstar does, right off the bat.  I suspect there will be more.
Planning for this sailing, it's hard to miss the fact that Windstar's experience includes a full transit of the Panama Canal on a 7-day sailing.  That's an itinerary that would take a 14+ day Coast to Coast sailing to accomplish with all the other cruise lines we cover here.  As wonderful as a longer cruise sounds, not everyone has that kind of time.  A more common option is a 10-day round trip from somewhere in Florida that is not a full transit.  Instead, ships go in on the east side of the canal, turn around and come back.
The flight with American Airlines to Panama City was quick, less than three hours.  That Panama is very U.S.-friendly goes a long way too.  The $Dollar is nearly the local currency, right down to their Balboa coins in the same denominations and sizes as U.S. coins.  Still, once on the ground you know you went somewhere. Street traffic is as thick as Cairo, U.S. brands are plentiful but feature the foreign version of their products and then there is the whole business of the canal. And what a business that is.
Ships pay a substantial amount to go through the locks, adding up to $millions every day and a major source of income for the city and country.  As fees are based on weight (actually, displacement- another topic) our tiny Star Pride at less than 10,000 tons will pay $77,000 to pass through.  Large container ships?  $Hundreds of thousands every time.  But it beats the other option, going the long way around the southern tip of South America.
Windstar President John Delaney explained "It would take us two weeks without stopping to do that trip at our optimal speed".  That's in addition to the fuel it would take to make that run.  Interesting.  One initial impression of Panama: they have a very nice built in economy.  Another, more significant impression of Panama for our purposes here; they nailed the transfer.
I have always had an appreciation for the whole "you don't get a second chance to make a first impression" thing.  It's just so true. When traveling internationally, that's especially important. Once visitors clear luggage claim and exit the secure airline/airport environment, they want to see the travel company they are doing business with.   Like other highly guest-focused cruise lines, Windstar was right there waiting.   Off to a good start.
Transfer to Panama City's Bristol Hotel was direct also, passing the queue of ships waiting to go through the Panama Canal on the way.  Our escort pointed out landmarks and provided basic information on the way.  Checking into the hotel, also easy with instructions on what to do the next day for embarkation at the ready.  A hospitality desk in the lobby had local tour information was manned throughout the day. All good stuff.
At the end of the day, one element of it all became quite clear: visiting Panama from the United States was about the easiest international trip I've ever taken. It's far enough away to know you went somewhere different.  The scene on the ground confirms that.  Yet it's a place with a friendly vibe that's hard to miss. Or maybe that's Windstar's handiwork.  We'll find out.
If you're just joining us, now is a good time to catch up with some background:
Live Event Pre Cruise Posts
Follow Along Live As We Sail