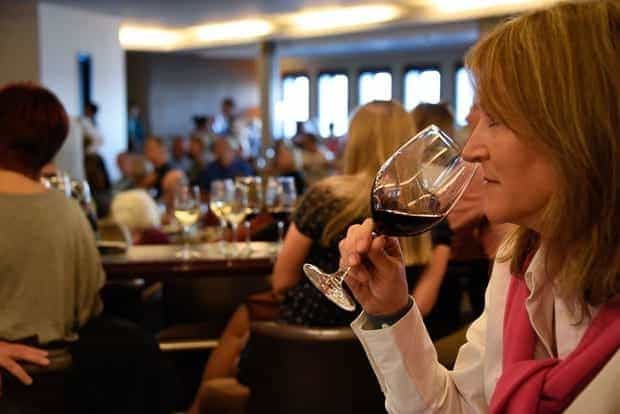 James Beard Windstar Partnership: How To Change The Game
Windstar Cruises offers a unique fleet of small ships that visit Northern Europe, the Mediterranean and the Caribbean.  Windstar's seasonal offerings also include an interesting Costa Rica and Panama Canal itinerary that we will be sampling at the end of the month. I'll get to all those as well as sailings to Alaska, Asia, Arabia, Tahiti and the South Pacific shortly.  Today the topic is a culinary partnership with the James Beard Foundation, tagging Windstar Cruises as their exclusive cruise line.
Wait.
James Beard AND cruise lines?
Does this sound familiar?
If so, it should.
James Beard nominated and award-winning chefs have been featured on a variety of cruise lines in one way or another. Forget that.  This is different.  This looks to be a game changer.
The James Beard Windstar partnership is a first and exclusive one that promises to elevate onboard dining options while raising awareness of the epicurean delights to be discovered in ports around the world where the leading small ship line sails.
"Our partnership as the official cruise line of the James Beard Foundation solidifies our goal to support culinary excellence and innovation, and be the world's best small ship cruise line in everything that we do"-Windstar President John Delaney
Coming soon to the Windstar fleet: exclusive access to the Foundation's diverse roster of award-winning chefs and cross-cultural culinary leaders.  Together, they will chart a course for extraordinary new menu offerings and dining experiences wherever Windstar sails.   The Windstar Cruises partnership with the James Beard Foundation (JBF) runs deep, including four signature JBF events:
Taking It Home
I bring up all of the above because these are all James Beard events we can follow along with at home, if not attend in person. That's significant because Windstar has wisely chosen to take advantage of the very nature of cruise travel and gone a few steps further. Let me explain with an unrelated story.
On a Viking River Cruise through Eastern Germany we stopped at the Meissen Porcelain Factory.  There, for over 300 years in a town that strides both banks of the Elbe river, Meissen porcelain has been crafted thanks to extensive local deposits of china clay (kaolin) and potter's clay (potter's earth). Meissen porcelain was the first high-quality porcelain made somewhere other than the Orient.  We brought the story of Meissen porcelain home buy purchasing a couple plates that we use from time to time for everyday things made in our kitchen.
The James Beard/Windstar partnership promises a similarly flavored immersive experience.  Also taking small ships with a couple hundred travelers to interesting places, armed with the culinary expertise of James Beard to supplement what they currently do. This has a whole lot of possibilities.   The way Windstar is going about rolling this out looks to be right on point as well with cruise travelers the clear winner…which throws this program squarely into our ballpark.  Featured:
One Special Sailing– A hallmark of the partnership is a special themed food and wine cruise hosted by acclaimed chef, restaurateur, and Canadian-born chef, restaurateur and author Hugh Acheson (Five & Ten, The National, Empire State South and a CV as long as your arm).
A Series of Sailings– The James Beard Foundation Culinary Cruise Collection is a series of cruises throughout 2017 featuring James Beard award winners and nominees.  This series will build on the 2016 series of three food and wine theme cruises hosted by JBF-celebrated guest chefs.
Culinary Demonstrations– Cruise guests on every single sailing enjoy culinary demonstrations by Windstar chefs of James Beard Award-winning chef recipes.
James Beard Infusion: Featured: the addition of featured James Beard Foundation Signature Recipes aboard all Windstar sailings. The operant word here is "featured" as opposed to "taking over the show and taking ship chefs out of the spotlight".  The former elevates ship chef skills, the later has proved problematic elsewhere.
We'll get more into the details of the Windstar James Beard Partnership in an upcoming post.  Now, let's jump back to our upcoming first time sailing on Windstar.
In addition to the seasonal sailings noted above, Windstar sails year-round in the land of dreams for many cruise travelers: Tahiti and the South Pacific.  New to Windstar: Alaska, Asia and Arabia to add further depth to their itinerary book. Much of what we're seeing here comes from a creative environment enabled by relatively new President John Delaney. In fact, our first live experience with the boutique cruise line known for an intimate yacht-style experience is also the line's first-ever Presidents Cruise.
Also known for unique itineraries and exclusive access to the world's best small ports and hidden harbors,  our Panama and Costa Rica sailing is no exception.  Those planning a Panama Canal sailing know that most cruise lines do one of four options:
A 10-day partial transit, round-trip from a Florida port
A longer Ocean to Ocean full transit from East to West
A longer Ocean to Ocean full transit from West to East
An even longer full transit with bonus ports added on either or both coasts
Our sailing starts with a full transit of the Panama Canal before visiting a variety of ports in Panama and Costa Rica.  More on that unique itinerary shortly.  First, some Windstar-sourced photos reflecting the James Beard partnership and what is on the horizon.
James Beard Windstar Partnership could redefine culinary prowess at sea in a unique new way not seen since our coverage of the Seabourn Food And Wine Cruise series.  Can you feel that?  It's in the air and should be extraordinarily interesting to experience.  Of course, we'll bring you along every step of the way.
Saddle up cruise fans: This is going to be fun.
Cover photo- Windstar Cruises