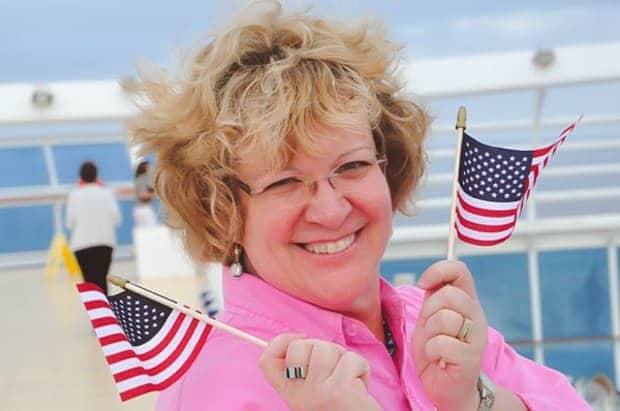 New Reason To Love Princess Cruises
When Valentine's Day rolls around, it's hard not to think of Princess Cruises; the line of the Love Boat for decades.  Still, Princess has evolved over time adding more ships and updating the existing fleet, as one might expect.  Along the way, Princess seemed to aptly describe the effect of cruise travel as "Escape Completely" which naturally rolled into "Come Back New".  Nice words to say, but what did they mean?  For now, tag those slogans as clever marketing and set them aside.  Just for a moment, take the Love Boat out of the equation too.  If you have sailed with Princess Cruises before, freeze that memory.  Regardless of what might have contributed to your decision to choose Princess (or not) I have one new reason to love Princess Cruises.
In the last few months, we have been hearing real life accounts of a Princess that is making thoughtful changes to the booking and sailing process.   Example: Princess has honored active or retired military members with a generous amount of onboard credit in consideration of their service, every time they sail.  In the past, passengers were required to produce documentation of their service, also every time they sailed.  Now, a more thoughtful Princess requires that documentation one time which makes perfect sense.  That honored service is always going to be there: why make veterans prove it over and over again to get the Military Cruise Benefit?  Now they don't have to.  Document military service once and it's on your record forever.
Reports of other moves along these same logical lines are trickling in as well. Loyal past guests and travel agents report Princess cruises easier to work with these days.  At the end of the day it is as though someone said:
"Sure, we need to draw in new customers, but how about we take good care of the ones we have first?"
This is not a topic that comes up very often in a positive way.  More commonly, the discussion is about how one cruise line does not allow stacking promotions that a particular traveler otherwise qualifies for. Another line has zero flexibility on a policy that really does not matter all that much, to the point where 'doing the right thing' is not the common outcome to count on.
Princess seems to have turned a corner many other lines don't see or choose not to go around.  This may very well be a premature report but the result brings a good feeling about the line even before boarding.  We have to love that.