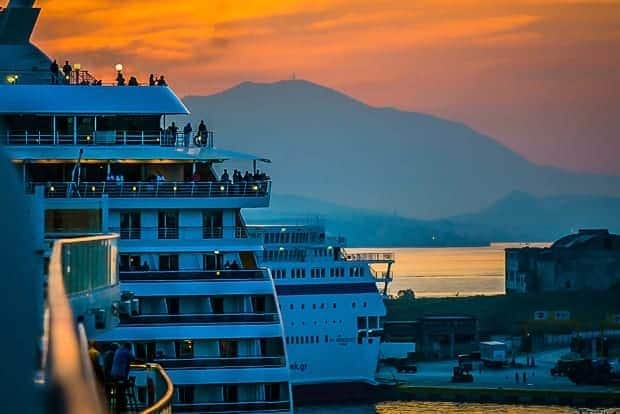 Carnival Horizon Brings Potential International Cruise Travel Tipping Point
In April 2018 Carnival Horizon will debut, doubling opportunities to experience a Carnival Cruise Line Vista-class ship.  So unique is this class of ship that cruise travelers who may have moved along to other brands are giving Carnival a new look.  Die hard fans of the world's most popular cruise line seem to agree: Vista class is a dream come true. That positive impression of first ship Carnival Vista is real and continues beyond the hoopla associated with any new ship launch.  Carnival Horizon will debut with a selection of Mediterranean sailings, not unlike other new ships have done in the past.  Different here, unique Carnival Horizon could open the door to international travel for cruise fans who have not yet made that leap.

Cruise lines that construct ships in Italian shipyards commonly sail an inaugural season in the Mediterranean. Those ships may never return to that part of the world again.  Still, as long as they are in the area, fans of the cruise line can visit (scary) new places in the (safe) familiar environment provided.  We have done this sort of sailing on number of cruise lines, initially for that exact reason. The logic: We know what to expect on _______ cruise line.  What better way to see the world than through that familiar filter?
Introducing the world of travel is familiar turf for Carnival. The ever-expanding fleet of Carnival FunShips has been opening that door for decades.  Still, many would-be international travelers have put plans on hold as of late. They are concerned for personal safety, regardless of what cruise lines do to counter the objection. Significant facts:
Taking advantage of the mobile nature of their assets,  cruise lines modify itineraries to avoid potential problem areas of the world.
Experienced cruise travelers know deep down inside that the ship will not go somewhere unsafe.
To encourage international travel, we don't have to look far to find a reduced or free airfare offer
Bonus: better-than-ever value.  Cruise travel nearly always comes out ahead, when comparing visiting the same places on land.
Let's take a quick look at Carnival Horizon's first season followed by some final thoughts
Port-Intensive European Cruises Round-Trip from Barcelona
Carnival Horizon's maiden voyage is scheduled for April 2, 2018. The 13-day Mediterranean voyage (the first of four) sails round-trip from Barcelona and calling at Livorno, Rome (Civitavecchia which is actually a nice place to visit now), and Naples (gateway to Capri and Pompeii), Italy; Dubrovnik, Croatia; Corfu, Greece; Messina (Sicily), Italy; Valletta, Malta; and Cagliari (Sardinia), Italy.  Do this for a first-time Mediterranean sailing and you'll cover a lot of ground.
Carnival Horizon will also operate two seven-day cruises departing April 15 and 22, 2018.  Highlights include Cagliari, Naples , Rome, Livorno, and Marseilles. This one works wonderfully for families with limited time and/or those who might want to spend some pre- or post-cruise time on either end.
A 10-day voyage departs April 29, 2018, with stops at Livorno, Rome, Naples, Dubrovnik, Corfu and Messina.
14-Day Transatlantic Crossing from Barcelona to New York
Carnival Horizon will reposition to the U.S. with a 14-day transatlantic crossing departing Barcelona May 9 and arriving in New York on May 23, 2018.   Along the way, a number of European and Canadian ports will be featured including  Malaga, Spain; Gibraltar; Lisbon, Portugal; and Carnival's first visit to the centuries-old seaside town of Vigo, Spain.  Bonus: a stop at Halifax, Nova Scotia, Canada will offer a taste of Canada for those who might be considering a popular Fall Foliage sailing at some point.
Eight-Day Caribbean Cruises from the Big Apple
Sailing New York, Carnival Horizon will offer a series of eight-day Caribbean cruises operating round-trip from the Big Apple and featuring visits to Grand Turk; San Juan; and Amber Cove (Dominican Republic).  Departure dates include May 28, June 5, 13 and 25, July 3, 11, 23 and 31, Aug. 8, 20 and 28, and Sept. 5, 2018.  Additional departures from New York in summer 2018 are being planned and will be announced in the coming weeks.  The one I don't see yet is the repositioning cruise from New York to Miami. That might be chartered or a special event sailing.  We'll see.  Group cruise leaders in the Northeast, your ship has (literally) come in.   Book this one now before group space is gone.
Year-Round Six- and Eight-Day Caribbean Voyages from Miami
Carnival Horizon will then shift to Miami and kick off a year-round schedule of six- and eight-day Caribbean cruises beginning Sept. 22, 2018. Prior to the start-up of this program, Carnival Horizon will offer a special two-day cruise to Nassau from Miami Sept. 20-22, 2018.
We hope Carnival Horizon stays in Miami (although Port Canaveral would be nice). The Miami-based schedule:
Six-day cruises will depart Sundays, calling at Ocho Rios; Grand Cayman; and Cozumel.
Two different eight-day itineraries will be offered with departures on Saturdays –
Plan A: Grand Turk; La Romana (Dominican Republic); Curacao; and Aruba;
Plan B:  Grand Turk; San Juan; St. Kitts; and St. Maarten.
First time international travelers are looking for something more.  They need some unique reason to reach the critical point which leads to a new and irreversible outlook.  For cruise travelers, Carnival Horizon may provide just that. It's a story we'll be watching over the next year so stay tuned.  It would not surprise me at all if it was Carnival Cruise Line that provided the tipping point.