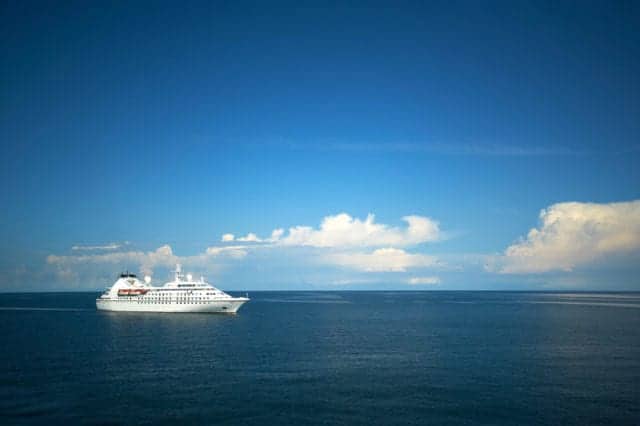 Unique Windstar Panama Promises A Number Of Firsts
Later this month we travel with Windstar Cruises on a Costa Rica & Panama Canal itinerary.  Exciting: the 7-night Star Pride sailing offers a number of first-time experiences.  Those 'firsts' should bring some wonderful information in as many ways.
First Time On Windstar
Our first time on Windstar Cruises, we explore all the luxury small ship line has to offer with fresh eyes. Interestingly, when another Windstar ship earned a perfect score on a recent health inspection, the story caught my eye.  It's a topic we do not really focus on here very much but perhaps we should. I was glad to see it, knowing a Windstar sailing was coming soon.
The Start Of A New Cruise History
This will also be my first time on an ocean ship this tiny: less than 10,000 tons.  Star Pride was launched in 1988 as one of three ships in the Seabourn fleet that included Seabourn Legend and Seabourn Spirit.  Actually, that's not entirely correct, Star Clippers' Royal Clipper is tiny too but we think of that as a ship with sails.  Different experience entirely.
We Begin To Document Service
First time on a ship with this high of a crew to passenger ratio: 153 crew and 212 passengers.  It's a ratio that luxury cruise lines with smaller ships and a higher $cost per person per day love to talk about.  Larger ships that work with a business model that demands more passengers and fewer crew, not so much.
Primary Experience = Setting The Bar
The occasion is the first Windstar President's Cruise, a special event sailing that should offer the very best of what Windstar does.  Our experience on this sailing will be the bar described to readers, what they should expect on board,  minus special events specific to the President's Cruise.
LEARN MORE:  Windstar President's Cruise Brings Unique Panama Canal, Costa Rica Adventure
Unique Panama Canal Option
The Costa Rica & Panama Canal sailing also adds another product to our book of Panama Canal options.  Prior to this sailing, mention a 'Panama Canal Cruise' and thoughts commonly turned to one of several general options:
A 10-day partial transit, round-trip from a Florida port
A longer Ocean to Ocean full transit from East to West
A longer Ocean to Ocean full transit from West to East
An even longer full transit with bonus ports added on either or both coasts
Reader requests for information on shorter sailings turned up Princess Cruises quite often while longer itineraries tagged Holland America Line as the popular option.  Windstar offers a 7-day Panama Canal sailing coupled with stops in Costa Rica.
Against His Own Advice, Chris Confirms Last-Minute
Readers don't have to look very far here to find a recommendation to book far in advance, like a year or more, for a variety of reasons.  A self-imposed long booking cycle done with an unrestricted rate locks in preferred sailing dates and stateroom location.  Also a plus: convertible fares allow catching a better value that might come up along the way.  Still, there are cruise travelers who always book at the last minute,  because they can.  We take a dive into that pool with this sailing just confirmed last week.
Stay tuned, more to come on this unique Panama Canal experience as quickly work through pre-cruise preparation that might normally take months to complete.  Actually, let's start that now with some background on Windstar Cruises, in their own words. Why begin with what the cruise line says they are all about?
About the ship: Star Legend
Evaluated in the small vessel category (3,001-15,000 gross registered tons – GRT), the 106 all-suite MV Star Legend at 440 feet long and 9,975 gross registered tons, carries 212-guests and 153 crew and is one of the world's leading luxury small ships. In addition to the Caribbean, the yacht sails to dozens of ports around the world including Europe with Iceland,  and will soon sail on cruises to Arabia and Asia at the end of 2017 embarking on a landmark 2018 winter-spring season in Asia offering a dozen departures that will visit the exotic ports of Vietnam, Thailand, Japan, and China, among others.
Windstar employs 130-plus shore side staff based at the line's corporate headquarters in Seattle and has more than 1,200 ship international staff and crew across the six-ship yacht fleet. The leader in small ship cruising and offering more than 250 cruises annually sailing to 170 ports worldwide, the company recently won the "10Best" award as #1 Best Boutique Cruise Line voted on by readers of USA Today and was named to Condé Nast Traveler's 2017 Gold List.
About the cruise line: Windstar Cruises
Windstar Cruises operates a six-ship fleet of small boutique sailing and all-suite yachts visiting 170 global ports featuring newly-announced Alaska, Asia and Arabia as well as Northern Europe, the Mediterranean, the Caribbean, Costa Rica, the Panama Canal, sailing year-round in Tahiti and the South Pacific. The boutique cruise ships are known for an intimate yacht-style experience, unique itineraries and exclusive access to the world's best small ports and hidden harbors. Windstar's fleet is the market leader in boutique small ship cruising with a total of 1,242 passenger berths.
All ships in the fleet have recently undergone multi-million dollar transformations to embody casually elegant yacht travel. The all-suite yachts Star Breeze, Star Legend and Star Pride serve 212 guests in all-suite accommodations; while sailing yachts Wind Spirit and Wind Star sail with up to 148 guests, and Wind Surf serves 310 guests. The yachts cruise to 59 nations worldwide. Windstar Cruises is a part of Xanterra Parks & Resorts®, known for "Legendary Hospitality with a Softer Footprint." Xanterra's entities also include lodges, restaurants, tours and activities in national and state parks, as well as resorts, railway and tour companies.
Global Windstar Social Properties 
Facebook / Twitter / Google+ / YouTube / Pinterest / LinkedIn / Instagram / Blog
Cover photo- Windstar Cruises