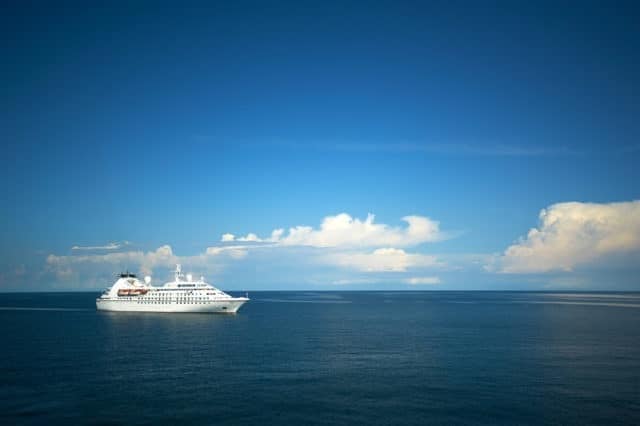 The Ships Of Windstar Cruises: A Brief Introduction
Windstar Cruises operates a fleet of small luxury cruise ships known for its intimate yacht style experience and unique voyages to the world's best small ports and hidden harbors.  We ran across Windstar while sailing with Star Clippers tall masted ship Royal Clipper not long ago.  At the time, we did not think all that much about Windstar, quite satisfied with our Royal Clipper experience as quite unique.  Fast forward to 2016 and a new President for Windstar, industry veteran John Delaney who we have come to know as a solid rock of professionalism in an ever-changing cruise industry.  That move caught our attention and brings this first in a series of posts profiling Windstar, beginning with the ships of Windstar Cruises.
Windstar Cruises fleet includes six yachts that carry between 148 to 310 guests.  Those ships sail to 52 nations, calling at 155 ports throughout Europe, the South Pacific, the Caribbean, and Central America.

A Brief Review Of Recent History
In 2014, Windstar Cruises grew its fleet of sailing yachts, adding the Star Pride power yacht, followed by Star Breeze and Star Legend in May of 2015.  The trio of ships were formerly known as the Yachts of Seabourn, a company we have covered in great detail here and for a variety of other publications.  That additional capacity opened up new itineraries such as voyages to Iceland, Panama Canal and Costa Rica.  Of particular interest to readers here, more ships allowed Windstar Cruises to sail Tahiti year round. That addition also formed one of the most diverse cruise lines on the planet.
The Windstar Cruises Fleet
Twins Wind Star and Wind Spirit are ships with sails that carry 148 passengers in 74 total staterooms: 73 deluxe, ocean-view staterooms and 1 deluxe Owner's Suite with queen beds and a dining/sitting area.
All accommodations include:
Queen Size Bed with Luxurious Linens
Waffle Weave Robe and Slippers
Flat Screen TV with DVD player
Fully-Stocked Mini Bar/Refrigerator
Safe
Direct Dial Phone
L'Occitane Bath Amenities
Wi-Fi (internet cards can be purchased at reception)
Fresh Flowers
Fresh Fruit
Granite vanity with magnifying mirror and chair
Mirrored closet with ample drawer space
Bathroom with granite countertop and shower
Hair Dryers and 110/220 outlets
Wind Surf is the world's largest sailing yacht, with 310 passengers in 154 total staterooms: 31 oceanview suites with his and her bathrooms, 2 Bridge Suites, and 123 deluxe oceanview staterooms. Previously reviewed Royal Clipper carries 227 passengers although a new ship under construction will carry 300.
Included on all Windstar Cruises
All meals in all venues at all times, including room service menu available 24 hours
All non-alcoholic beverages, including cappuccino, espresso, and other specialty non-alcoholic drinks
Welcome cocktails at reception
All onboard entertainment
Unlimited use of Fitness Center
Unlimited use of all water sports equipment
Informative nightly port talks and destination briefings
Triplets Star Breeze, Star Legend and Star Pride carry 212 passengers in 106 suites, including two deluxe Owners' Suites, four beautiful Classic Suites, and 100 Balcony and Ocean View suites.  Fans of cruise to guest ratios like 151 crew to those 212 guests.  That's 1.4 passengers to each crew member; half the number of larger ships.
We will continue our profile of Windstar Cruises, taking a look at everything from researching itineraries to booking, planing and getting there.  Want to know more now?  Check these resources for a candid view of what Windstar Cruises is all about