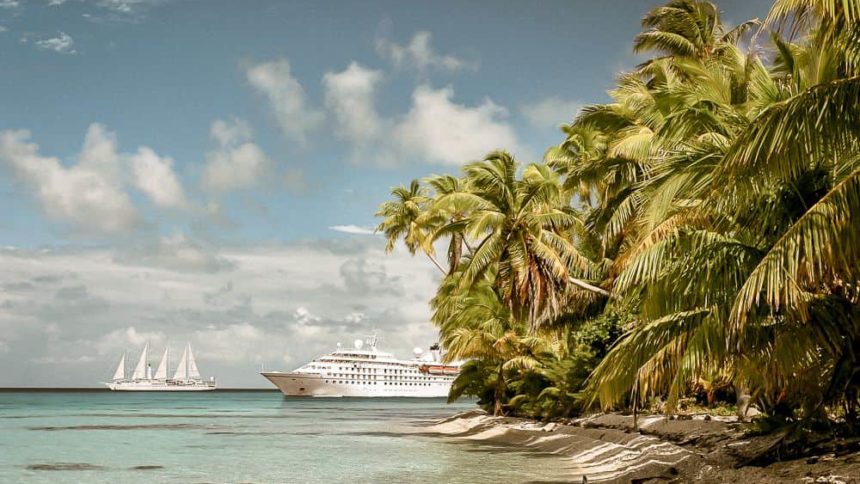 Windstar Presidents Cruise Brings Unique Panama Canal, Costa Rica Adventure
Now open for business, a new set of Panama Canal locks have created an additional lane of traffic aimed at allowing today's gigantic mega-ships to transit from the Atlantic to  the Pacific.  That's great news for ships that previously could not fit through the locks, but what about tiny ones? The little ships of Windstar Cruises (@WindstarCruises), recently winner of USAToday 10Best Reader's Choice Award, won't be using them.  Windstar ships will continue to sail through the original Panama Canal locks, a true an engineering marvel the idea for which dates back to 1513. Highlighting the boutique cruise line's commitment to the original locks, a first-ever Windstar Presidents Cruise on February 25 brings a number of good reasons to pay attention to this story.
"I am very excited to host my first Windstar President's Cruise aboard the lovely Star Pride cruising to Panama and Costa Rica, explains Windstar President John Delaney.  If Delaney's name sounds familiar, it should.  The former SVP of Global Marketing and Sales for Seabourn, Delaney also has considerable tenure with The Walt Disney Company and Holland America Line and has been featured in this space both directly and indirectly as we covered the Seabourn Food And Wine Cruise series.
"Sailing through the Panama Canal is one of my bucket list experiences," says Delaney, echoing our own thoughts on one of the safest and most interesting itineraries available to North American cruise travelers.  Right along with the Caribbean, Bahamas, Bermuda, West Coast and Alaska; sailings through the Panama Canal offer a distinctively different sailing experience not far from home.
Delaney joined Windstar at the helm last July as its new president and hopes the special President's Cruise on the February 25, 2017 Costa Rica & Panama Canal voyage will help guests get to know Delaney.  Planned and announced: several hosted events on board, a special Gala Dinner, commemorative gifts for guests and more plus a few surprises.  One of which: we're coming along too.  As the Panama Canal and Costa Rica have both been long time dream destinations to visit one day, this seems like the perfect time to do so.
Sneak Peek At How Windstar Operates: Recently refurbished 208-passenger Star Pride will also be the center of attention as one lucky Windstar guest on the cruise will receive a complimentary upgrade to one of two Owner's Suites, both of which underwent a complete structural and interior million-dollar makeovers and offer sweeping views along with modern décor. The random drawing for the most luxurious accommodations aboard the elegant Star Pride yacht will take place during the Sail Away party from Colón, Panama.
Why The Panama Canal And Why This Particular Sailing?
Choosing this particular itinerary for his official, first annual President's Cruise was a natural choice, says Delaney. During the 48-mile journey through the historic canal, the yacht staff creates a memorable day-long celebration for guests that is enriching and full of laid-back fun with a distinct Central American flair.
"Cruising through the Panama Canal is as classic a voyage as you can get, however, no one else does or can transit through this incredible canal like Windstar," he says. "Our 7-night itinerary adds the rich wildlife, unspoiled beaches, and excitement of Costa Rica while maximizing our guests' precious vacation time.
Onboard Programming- Windstar provides educational onboard presentations from a knowledgeable Costa Rican naturalist.
Cultural Performances- also included are cultural performances from Costa Rican dance and entertainment troupes.
Beach Barbecue- a delicious beach barbecue is served at Windstar's new port of Isla Parida.
Active Shore Excursions- Windstar's Panama Canal and Costa Rica itinerary offers an incredible array of active shore excursions like ziplining and kayaking as well as visits to remote national parks.
Water Sports Platform- Windstar's unique Watersports Platform enables dipping your toes directly into the ocean from your yacht.
Unique Panama Canal Experience- With all of these experiences, the Panama Canal on Windstar manages to feel entirely classic and fresh at the same time.
Already a fan of Windstar?  Take another look.
Windstar recently added a new daylight transit of the canal with a "Canal Crossing Deck Side Festival" offering onboard narration by a local expert describing both the history of the canal and its day-to-day working as the yacht is raised and lowered 85 feet through the three sets of locks. Numerous observation points on the ship allow unrestricted viewing, either indoors with cool air conditioning or outside on the deck in the warmth and sunshine. On deck, there is festive music provided by onboard musicians, local beverages, and a mobile bar for drink service, as well as a champagne toast with the captain to commemorate the passage.
On The Horizon: More Panama Canal And Costa Rica
New for the 2017-18 winter season, Windstar will be adding its classic 4-masted sailing yacht Wind Star, which accommodates an intimate 148 guests, to its Costa Rica & Panama Canal sailings. Akin to the industrial wonder of the Panama Canal, the iconic sailing yacht Wind Star is a sailing marvel all its own and will be right at home in a region boasting consistent winds outside the canal allowing adventurous and romantic cruising under billowing sails. For the 2016-17 season, Windstar's sleek all-suite power yachts Star Pride and Star Breeze, with just 212 guests onboard, are making the bucket list voyage. The 7-day cruise sails from Colón, Panama, followed by a day at sea experiencing the grand transit of the Panama Canal, then on to the verdant Costa Rican ports of Isla Parida, Golfo Dulce (Puerto Jimenez), Bahia Drake, Quepos, and Puerto Caldera, Costa Rica for disembarkation.
The luxurious small ships of Windstar offer more than 50 Panama Canal and Costa Rica 7-day sailing departures from Colón, Panama or Puerto Caldera, Costa Rica now through spring of 2018. Many sailings now offer special reduced fares and a choice of perks for the line's "Star Perks Event" with the Costa Rica & Panama Canal cruises starting at $1,779 and Naturally Costa Rica cruises starting at $1,279, both per guest, double occupancy.
Get an idea of what Windstar is all about by following the Windstar Yachts:
Facebook / Twitter / Google+ / YouTube / Pinterest / LinkedIn / Instagram / Blog