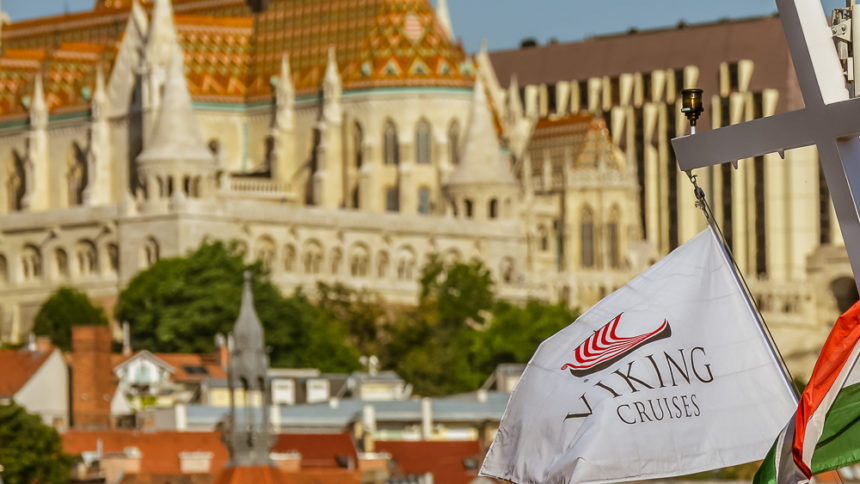 The Cause And Effect Of Viking River Cruises
How The 'You'll Probably Never See Them Again' Thing Plays Out On Viking River Cruises
When travelers are matched with the right cruise line, great things can happen. Life changes when a particular voyage resonates with us. Minds are expanded.  Personal thoughts about global issues are influenced as we experience places first hand and reflect on them later. We commonly give credit to the features offered by a particular cruise line, itinerary or ship. We might credit more variable elements like the people traveling with as significant, even though we will probably never see them again. In most cases, scoring high on the people part feels like a game of chance.  After all, we have little idea who the other people will be before we step on board.  Or do we?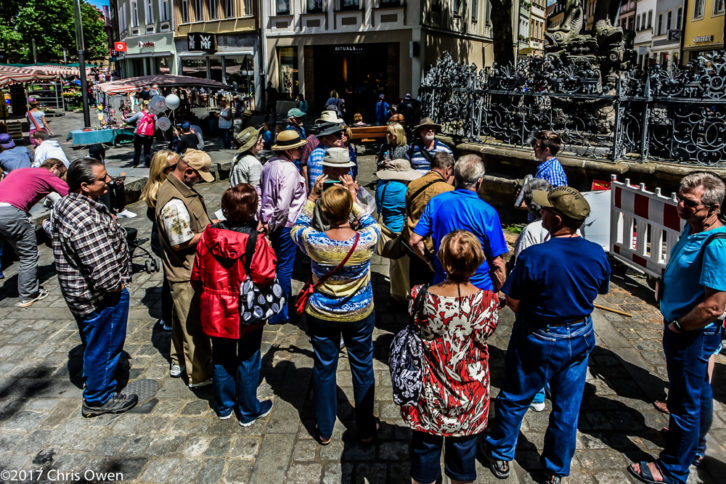 One of the most rewarding parts of our recent sailing with Viking River Cruises came from interaction with other travelers along for the voyage.  Interspersed in our photo albums and galleries, images of Viking travelers enjoying the destinations and life both on and off our Viking Longship.  It was hard not to capture images of friendly crew members too.  As we shared our 15-day Grand European Tour, we shared few details about the specific ship and/or key members of the ship's staff.
That omission was absolutely on purpose for three very important reasons: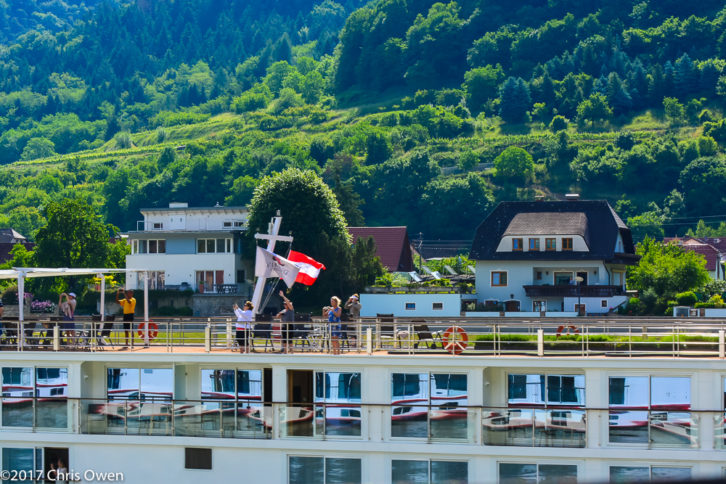 1- The Nicely-Appointed Fleet Is Exactly Alike
While they all carry names of different figures in Norse mythology or legend, most ships in the Viking fleet are exactly alike.  Exceptions in Europe are ships that sail the shallow waters of the Elbe river in Eastern Germany and tight turns of the Duro River in Portugal. Russia, Ukraine, Asia and Egypt ships are also custom designed as the right tool for those jobs as well.  Our ship was named Viking Longship Ve (brother of Gods Odin and Vili) and had the exact same layout and design as Viking Longship Odin sailed on the same itinerary in 2013.
Coming from the world of ocean cruising, this was different.  In the big ocean ship universe, each vessel has a character of its own.  Different features often define new ocean ships as best and most expensive to sail.  Savvy cruise travelers know that sailing an older ship will commonly cost less unless it is on a rabidly popular itinerary.  Cuba comes to mind, briefly.  That the Viking Longships are identical takes the 'which ship to choose?' element out of the planning decision.  Simply put: what's left is finding an itinerary of interest that sails at a convenient time at a price we can live with.
Viking's massive fleet helps with both the convenient time (availability) and price (value).  It's a rather simple formula.  More ships = more cabins = more opportunities to sail at a comparatively better value.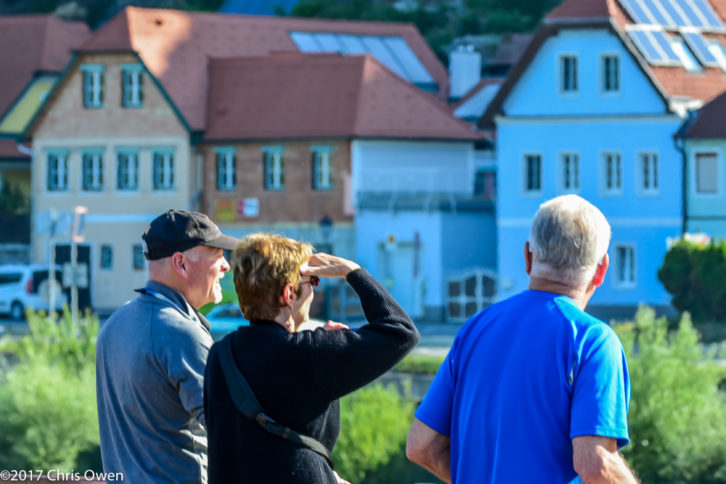 2- The People Seem Familiar, Regardless Of When Or Where We Travel
Onboard Viking longships we find interesting people who are there for the destinations.  That we enjoy their company is initially a nice but not required part of the experience. By nature, those who come to the river from the ocean don't have really high expectations for interacting with other passengers. But sail with Viking multiple times and a noticeable commonality pattern develops.  Viking travelers seem happier, more engaging and more pleasant to travel with.  This has absolutely nothing to do with age either.
Comparing our 2017 summer sailing to that of the summer of 2013, some common elements:
Age Really Not A Factor- We enjoyed talking to other Viking travelers ranging in age from 19 to 88.  While age is insignificant, interest in seeing the world is required.  That was the same spread of ages seen in 2013, perhaps skewing a bit younger now.
Interesting Stories- Aptly tagged as "culturally curious" by Viking that helps define the would-be traveler for which what they do would resonate.  Onboard at iconic destinations and places where history took place, we get down to business.  Example: travelers with even a small amount of Jewish blood in their veins can't help but find closure to thoughts about World War II and associated atrocities. Common: everyone seemed to know someone who was part of that war in one way or another, giving more meaning to the experience.
Odds are, we will probably never see any of them ever again.  We'll remember them but will probably never share another amazing travel experience.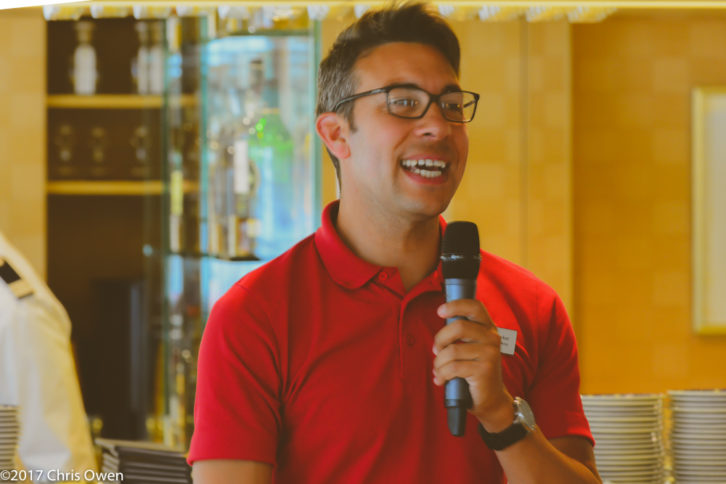 3- The Crew Is Genuinely Outstanding, Fleetwide
I remember a time when we would try to figure out when a certain big ship cruise director or Captain was sailing one cruise line or another.  Again that theme: we want to repeat pleasant elements of travel. Knowing a cruise director or Captain, was about as good as we could do and even that became difficult to do as fleets expanded.  Interestingly, that's not important with the Viking experience.
Program Directors Are Typically Engaging- On every Viking ship we have ever been on, the Program Director has been a stellar part of the experience.  We would like to sail with any of them again
More Outstanding, More Often- It might be the small ship dynamic that gets this element off to a good start in our minds.  In reality, it's more about the curation of the crew that matters here.  The ratio of the crew to passengers is technically about the same as on a good ocean ship.  That those crew members are some of the best available speaks volumes.
The Crew Is Treated Well-  Similar to any contract crew on any ship or cruise line, it's a number of months on and then time off.  New here, a day off for crew members during a running contract brings even more engaging, happy people to craft our travel experience on the front line.
The great news about all this is that regardless of the ship, sailing date or itinerary, cruise travelers are very likely to have a rich travel experience they will remember fondly.  Highly likely: They'll say to each other on the way off the ship or on the way home from the airport what we did "That was the best trip ever".