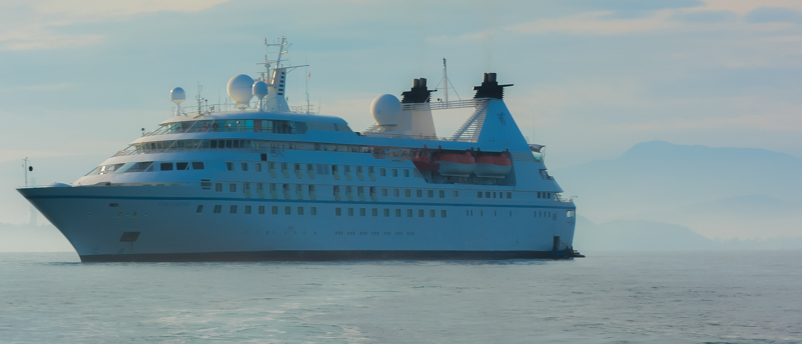 …And Then There is Yacht Life
One big reason cruise travelers sail small ships is to be with a more manageable sized group of passengers.  While a smaller ship experience will bring procedures and expectations with a familiar ring, there is no denying it: there is a big difference between sailing with hundreds and sailing with thousands of other people.  In Windstar Embarkation A Breeze In Singapore, we noted as unique a Captain's welcome to every Windstar guest as they boarded 212-passenger Star Legend.  Try doing that with your ship of thousands. Impressive to be sure, but just one of a number of events common to ships of all sizes. And then there is yacht life.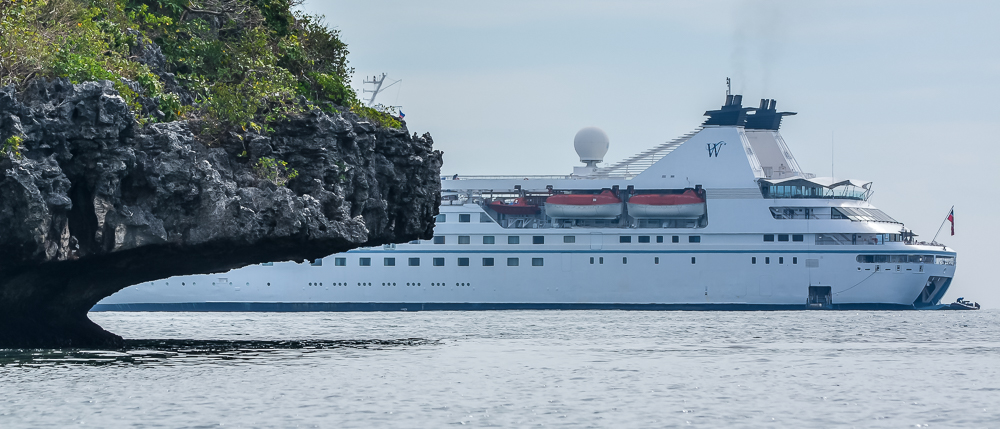 The rest of that first day and the day at sea that followed were filled with events common to any cruise line, Windstar filter applied.  That's a mighty powerful filter Windstar has too. Yacht life, you see, is unlike small ship life experienced on other boutique cruise lines and a world away from big ship travel.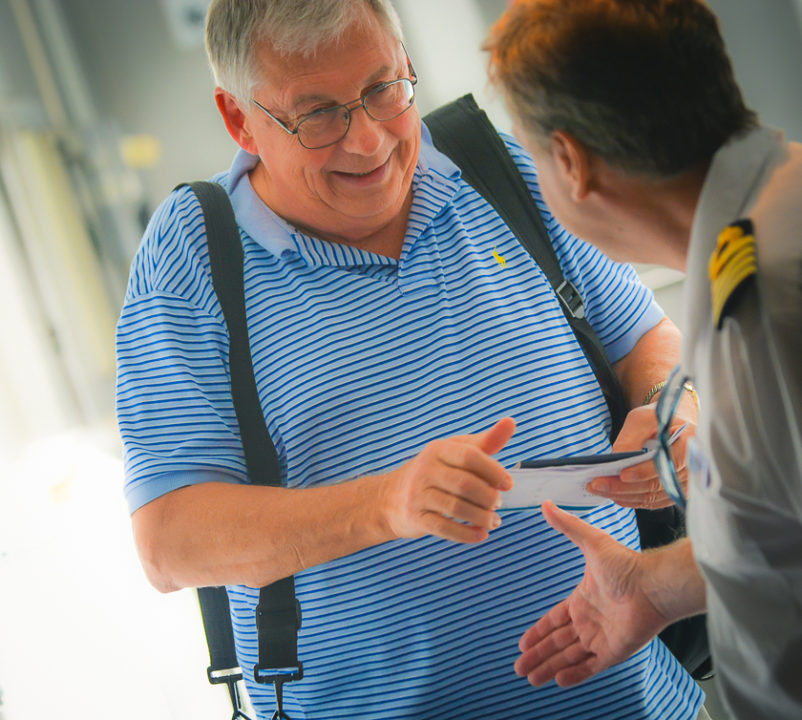 Start with that Captain's welcome aboard.  Those people had not checked in yet.  There was indeed a huge boarding hall ashore in Singapore.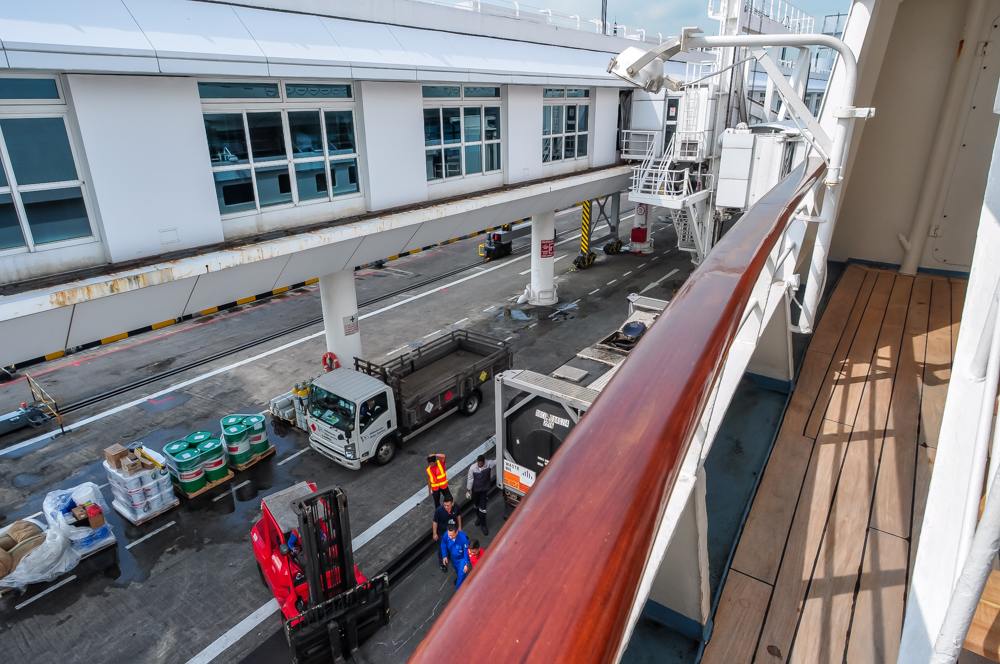 Yacht life enabled walked right through the cavernous space without stopping for any reason. The actual embarkation process begins on the yacht and happens in a venue Windstar guests will get to know, the lounge.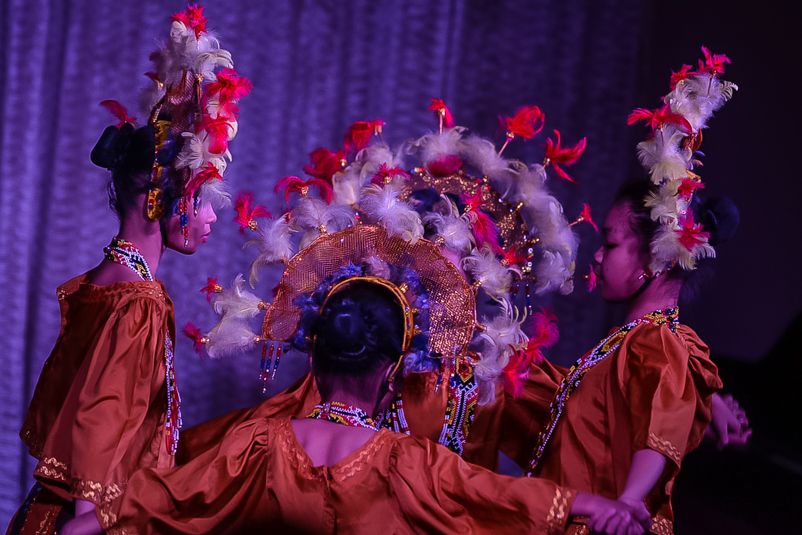 It's where a number of destination-oriented activities, presentations and talks will be held.  Every night at 6:45 brings a quick chat about the next day as expectations are set and questions answered. Local performers will be seen here throughout the 14-night Philippines & Borneo sailing.
The Guest Safety Drill is a good example of just how different yacht life is.   Everyone is on one deck, all together, right by the lifeboats.  A subtle difference: the passengers who were the furthermost away from where the drill took place were no more than three passenger accommodation decks away.  There are only six decks on the ship.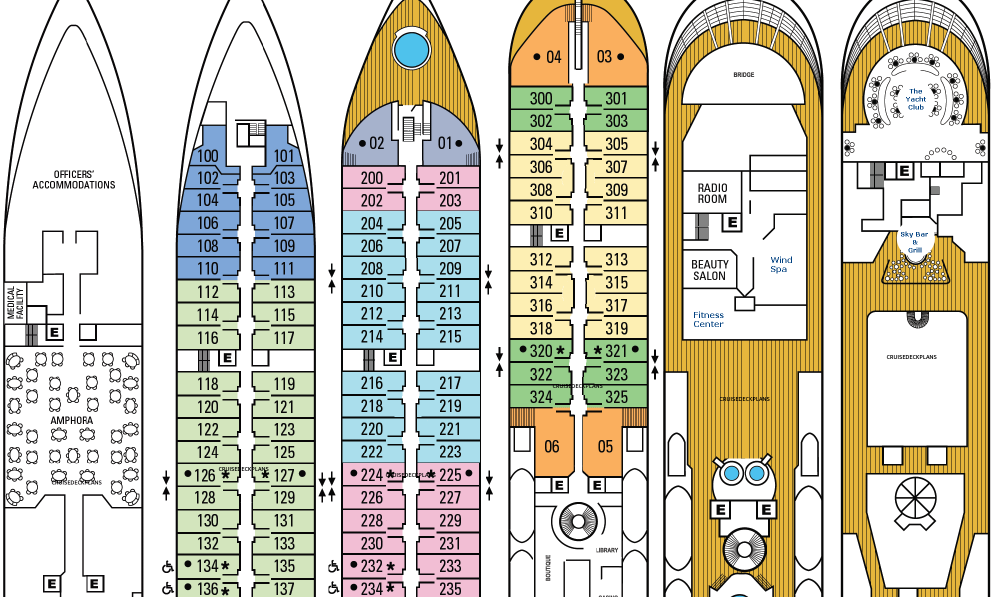 That Guest Safety Drill happened on deck, with life preservers, not in a comfy showroom.  It's right about here where we begin to notice: our fellow travelers are quite well-traveled. This drill is no big deal to them. Windstar travelers would return to this deck and the top deck above for the first Windstar Signature Sai-Away.  It's a nightly event as the Windstar flag is raised. Some scenes from Windstar Signature Sail Aways:
On our particular sailing, Star Legend Godmother Gloria Bohan would participate in the ceremony one night to the delight of Windstar travelers.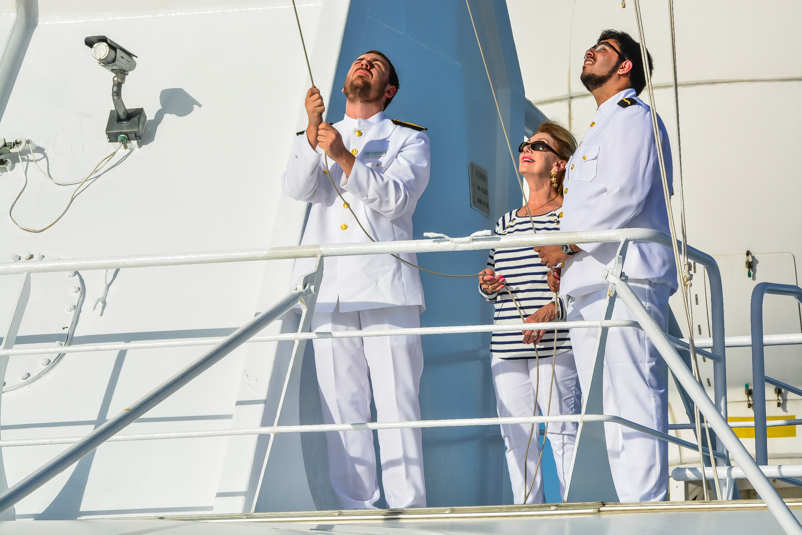 That's because this was the 2018 Windstar President's Cruise.  Also along for the adventure, Windstar President John Delaney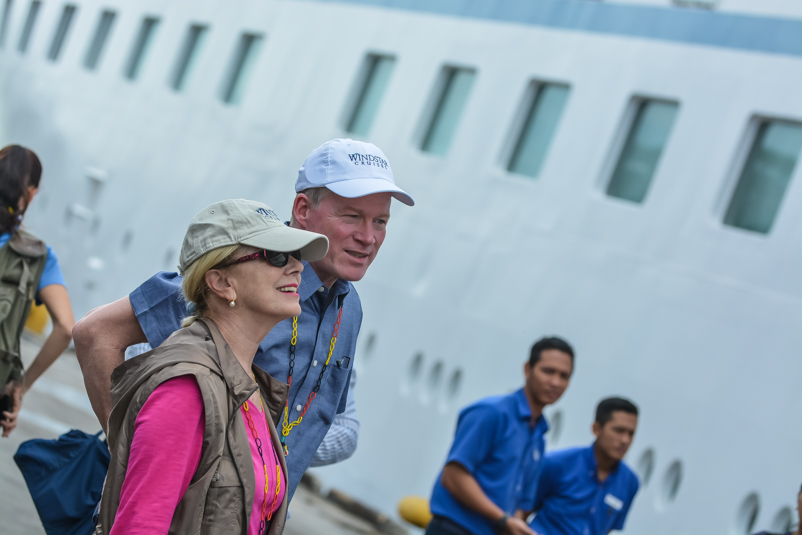 Our first port of call would be in Malaysia, the first of six countries we would visit on this journey.  Before we got there though, a day at sea helped Windstar travelers get settled in on their yacht.  That got yacht life going full steam head.  Still, a number of first- and second-day features were slightly different on a yacht than they would have been on a large ship.
A list of Shore Excursion Essentials would be found in every Star Legend suite.  That let Windstar travelers order touring gear ranging from wireless earbuds to umbrellas, clothing and more. The Yacht life difference: delivered to your suite.
Nightly Briefings Worth Your Time– In a way, Windstar yachts bring an experience not unlike that of a European river cruise, also featuring vessels that carry about 200 travelers.  That makes it entirely possible for everyone to be on the same page, on everything.
Coffee Chats With Officers And Crew- Held in Star Legend's top deck Yacht Club observation lounge on days at sea, informal talks sitting around the comfy space, enjoying the day.  What is it like to work at sea? Can married crew be together on the same ship? Whatever the question, this was the place for answers in quite an informal setting
A Number Of Activities, None Or All Of Which You Can Do- For those who want to be busy all the time, not to worry.  While top deck Wow features are just not part of Yacht Life, there is plenty to do or nothing to do, your choice.
Windstar Guests Are Hip And Groovy- It's a luxury line so yes, some passengers are old as dirt.  But really lovely dirt that has grown lots of cool stuff before it went through the ashes to ashes, dust to dust thing.   A relaxed atmosphere here makes getting down to the business of sharing amazing stories a faster process too.  On this sailing, I met the guy who created Ronald McDonald.   Could life be better than that?
3-V Filled Passengers- One more descriptive phrase, Windstar passengers are full of the three V's- Vim, Vigor and Vitality for those who are not schooled in such matters. (also an ancient brand of cola)
Windstar yachts sail around the world on an ever-increasing number of itineraries.  So do other cruise lines.  So why choose Windstar?  It's the yacht life, a topic we will touch on from time to time as we continue this more detailed account of our time on Star Legend.  Windstar Cruises 180° From Ordinary is more than a slogan as we found out on our very first port of call: Kuching, Malaysia.  What was billed as pretty much a walk in the woods turned out to be one of the most memorable experiences of the trip, for some rather unexpected reasons.  That's next.
First, backing up to Signature Sail-Away Events, at this point in the itinerary we had enjoyed just one of those.  They would happen every night.  Of particular significance was a sail away that would occur later.  Ten days later.  The occasion would be sailing away from Manila after a two-day stay that will probably serve as my textbook definition of local engagement going forward.  Or at least one of the more meaningful events I have had the pleasure of seeing at sea.
By the time we arrived in Manila, we knew the other Windstar travelers and crew quite well.  In Manila came a bonus not experienced on any other cruise line.  We met their families as well.
Over the two-day stay, crew families were invited on board, to see just exactly where their family member worked,  At the historic Manila Hotel, a banquet was held in their homor as well.  Still, nothing could quite prepare us for sailing away from Manila as crew waved to family left behind.  The event began with a band, dancers and festive atmosphere.  But as Star Legend moved away from the dock and slowly went out to sea, those smiling faces took on a much more sober mood as family watched loved ones leaving.
Here, some scenes from that moment:
LEARN MORE ABOUT YACHT LIFE
Want to know more about our Windstar Cruises experience?
See these resources:
Instagram– Three a day, reflecting three critical elements of luxury cruise travel: beautiful scenes not found at home, onboard ambience and stellar crew members.
Facebook– I'll check in at every place we visit, with photos.
Google+– ChrisCruises posts in a different place
Twitter– Follow @ChrisCruises and the tags #WindstarCruises, #WindstarPrez and more to be added shortly.
Flickr Photo Albums- one for multiple photos of each onboard event, destination visited, tour experienced and more
Pinterest– Food glorious food and only food glorious food. The culinary operation in detail.
Tumblr- See what Lisa was up to while Chris was traveling at The World As Lisa Sees It, one post a day.
RSS Feed- everything we post here, delivered as you wish.
Exposure Photo Storybooks- Preview the Windstar Experience via our storybook Windstar's Costa Rica & Panama Canal. Our first time sailing with Windstar, this is the reason we came back.