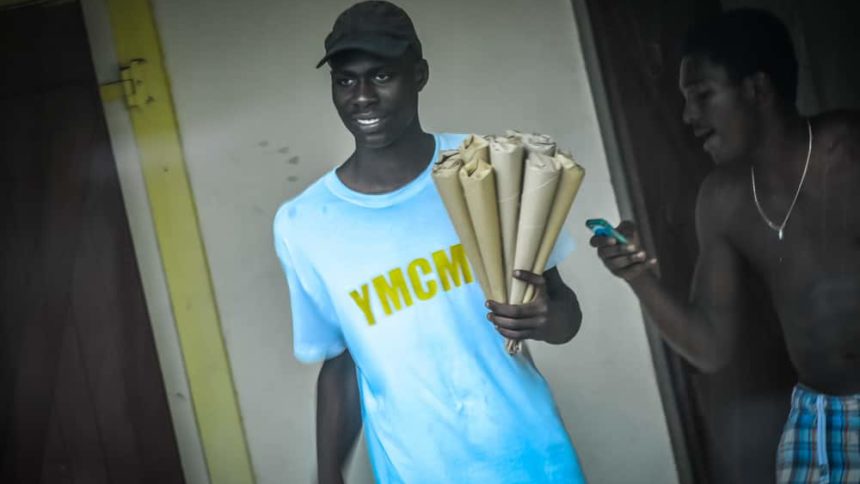 Viking Guadeloupe Stop Highlights True Star Of The Show
Stopping in the French port of Pointe-A-Pitre in Guadeloupe provided the best test of the Viking ocean experience in the Caribbean thus far.  The sixth port of call on our New York to the West Indies sailing, Guadeloupe is the one most of us on board Viking Star have not been to before.  With no previous experience to compare, this would test Viking both on and off the ship.
Arriving at Pointe-A-Pitre early in the day, Viking had planned a five hour tour of Guadeloupe, actually two islands in one connected by a bridge.  Up front we knew a considerable amount of time would be on a motorcoach and planned for that.
Along with us, plenty of also included bottled water, part of the basic Viking way to do a tour. Also included on the destination focus:
Pre-Cruise Information and Media- Actually that destination focus begins in advance of sailing on the Viking website and through printed materials  and a series of event emails sent prior  to sailing
Specific Background On The Scene- Enriching onboard talks by experts on the topic at hand. Sailing with us, the Viking film crew with a focus on detailing the places we are stopping for the first time on this first Viking Caribbean sailing. 
Flexible Onboard Programming- Onboard variables that change to reflect a local focus.  A Regional Specialties tasting menu changes daily.  Crew who work outside went to short sleeved shirts.  Local beers were brought on board much like local wines are on river cruises.  To other lines, this is not possible…but think about it: here we are in the Caribbean where local brews can be had at the rate of 3 for USD$5…but we are on a cruise line that includes beer and wine during generous mealtimes and extends it for the comparatively small sum of $19.99 per person per day.  Of course they went beyond what other cruise lines do and brought local craft brews on board.  Included. What's better than sitting dockside at the end of the day, enjoying inexpensive local beverages until the ship leaves?  Being in any public space on Viking Star and have it served to you by friendly crew members you really want to talk to.
Destination-Specific Guides- Pair up a local expert on the places, events and experiences to bring a meaningful and engaging destination experience.  Basically, this is the make it or break it element of the Viking destination focus.  All of the above sets up this tour to bring the Viking magic, on paper.  If that were the case, comparing tours is rather easy: there is one every single day so the experience is easy to rate…and we do every day, in writing.  Thank you for asking for our feedback at the most important time: just after the tour.  Moving along, the quality of the guide is not as important as it is on a river cruise or an ocean cruise in other parts of the world. Here's why:
The Hotel Operation Rules Supreme- Testing the resilience of the Viking hotel operation, passengers are starting to figure out that the tour is important and informative…but they want to be on the ship too.  That Viking tours are included as part of the deal makes sense.  Having those on the comparison list greatly increases the Viking value as a result.  How impressive/dominant is the hotel operation and the friendly, efficient crew who make it happen?  In today's Viking Daily, complimentary tours of the bridge are offered at two times, limited to 20 guest each, 40 total, less than 10% of the passengers.  When asked if many are turned away, the answer: "No, that's about right…allowing that many guests pretty much takes care of the demand".  An included behind-the-scenes tour that other lines charge between $55 and $100 per person for that is NOT full?  No, those Viking travelers would rather be enjoying the ship elsewhere.
Limber Operations React Quickly- Planning is a bit of an art form with the people of Viking. They just don't miss a beat in long and short term planning.  Case in point: Next year's version of New York to the West Indies has already been modified.  Instead of three full days at sea in a row on the way to San Juan, Viking has added a stop in kind-of-on-the-way Bermuda.  The 2017 version will overnight there, losing the call in Antigua as a result.  Interestingly, the Antigua tour was not one of the best comparing included tour to included tour, although the change is probably unrelated.  An overnight in Hamilton will be better…but that's the way Viking works: they never sit still and rest on their laurels.  Every time we walk on one of these Viking ships, something has been made better.
It's that assumed dominant position of the included tours, that supposed 'make it or break it' element of the included tour needs to be softened up a bit. In the Caribbean, included tours are stars of the show, but not the only star.  To say they were would be inaccurate.
Important? Yes.
The whole show?  Not even close.
Talking to other Viking travelers, we're hearing two main uniquely different experiences reported:
I Have Been Here Before And This Viking Way Is Unique
I Have Never Been Here And Am Surprised At The Caribbean Experience
Let's look at both
I Have Been Here Before And This Viking Way Is Unique
Those who have been to the Caribbean before naturally compare this experience to others. That comparison has Viking coming out on top in all areas of interest to those on board.  Remember, there are no families here, this is very much a mature traveling couples experience.  By mature traveling couples I don't mean elderly.  Quite the contrary, age is really not a topic here.  Maturity in travel skills, however, is very much a topic.  Not actually discussed in those terms, conversations are that of well-traveled people enjoying the company of others like them.
Surprisingly, the comparison between the other sailings we have done in the Caribbean and the Viking Caribbean experience don't really happen often.  It would be different if Viking were trying to be someone else or cast their net a bit wider to catch more passengers.  The distinction between Viking is so significant that comparisons are basically irrelevant.  We thought that when considering Viking's place in the Caribbean and found it to be true in practice.
Instead of line to line comparisons, it is more common to over hear or think about comparing the Viking ocean cruise experience to ocean cruise experiences in general.  That seems to be a safe place to put our brains.  I say that because to do otherwise, one would have to eliminate the possibility of sailing with another line that does not fit quite so comfortably.  And that comfort element of Viking Ocean Cruises is proving to be a star of the show also.
Coming back from being ashore in the Caribbean, we want to cool off one way or another.  Some go directly to the pool, others hit the spa and find the snow room to be the perfect contrast, more find a comfy cool place on the ship to do nothing.  Unique Viking elements not available on other lines work because the ship is fully staffed.  Without that manpower in place much of the great things Viking does would not be possible.  A flexible staffing system allows that thoughtful crew to be moved where the action is at any given time.
We saw that the other night when stopping by the Explorer's Lounge late one afternoon.  It was just after the safety drill and no one was in the space when we arrived.  Us and Igor the bartender. Very shortly, the room was packed.  We enjoyed the sense of urgency on display as Igor masterfully took care of that bar full of guests….briefly.  Within minutes of this scene beginning, seemingly out of nowhere appeared three new bartenders followed by Bar manager Dimitri.  Still, with the manpower quadrupled, that sense of urgency was there until the last passenger was served.  Impressive.
I Have Never Been Here And Am Surprised At The Caribbean Experience
To those who have not ever sailed or not in  the Caribbean or with Viking Ocean Cruises we commonly say "Well, you've set the bar pretty high here" in a nod to quality in the overall operation of Viking Star. Develop that idea a little further, get a bit more specific, and it's hard to see what an appropriately matched first time traveler would not like about what we are experiencing.
Interestingly, when we consider the first time Caribbean traveler, they are quite obviously not getting the same experience as someone on any other cruise line.  They like it and they would probably have liked the other guy's experience too.  But that they like the Caribbean without the top deck hoopla and with a smaller group of travelers associated with larger ships speaks to the overall quality of Viking experience.
It's that Overall Quality Of The Viking experience that we will explore next.
Follow Along On Our Viking Ocean Cruises West Indies Explorer sailing:
Viking Ocean Cruises In The Caribbean
Viking Guadeloupe Stop Highlights True Star Of The Show (this post)
Facebook Photo Albums-
Flickr Photo Galleries
Viking Caribbean: Pre-Cruise Countdown
Facebook Photo Albums