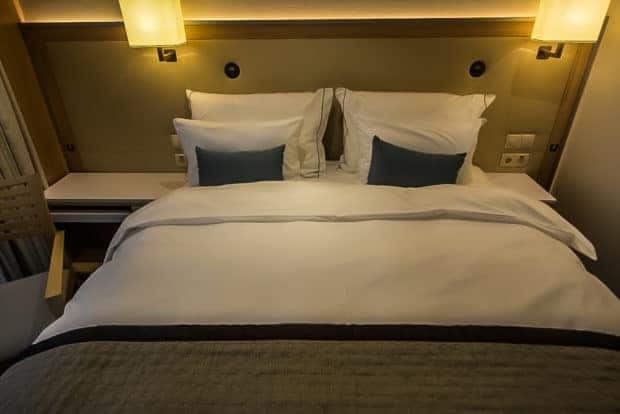 The Viking River Cruise Experience
Sailing with Viking River Cruises after the 2017 Viking Longships Christening, we're taking another look at what the unique river cruising travel experience is all about.  Through a variety of social sharing platforms (see below) and right here, some images and thoughts reflecting what Viking is doing right now.  If you've not sailed with Viking on a river cruise yet, I hope this little story will bring an idea of what that feels like.  If it's been awhile since your last Viking River Cruise experience, this is for you too.
When we last sailed with Viking it was on a Viking ocean cruise in the Caribbean.  That one verified that the Viking ocean experience we had enjoyed in other parts of the world worked very nicely in the more familiar Caribbean. The readers of Cruise Critic agreed, ranking Viking Ocean Cruises #1 in all but one area they reviewed.
Walking back on board Viking Longship Hild, I felt right at home, right down to familiar grouped seating areas like in the Living Room of the Viking ocean ships.   A carbon copy of the other Viking Longships, a plentiful supply of books were on hand here as well.
A favorite area on the Viking Longships, the front end Aquavit Terrace,  a favorite space, features effective space heaters to take the chill out of the air.  At the time of this sailing, we are actually traveling a few weeks before the regular river cruising season begins.  Those space heaters were a welcome addition we probably would not notice at other times of the year.
Breakfast brings two choices. a menu of items to select via table service in the ship's restaurant as well as a buffet of choices here and also upstairs at the Aquavit Terrace.  That's where we find other early risers as service begins there first.
We often forget the preferred docking position Viking Longships enjoy. Why?  Viking owns the docks in many popular ports, giving Viking ships the preferred place to stop for a day.  Other river cruise lines will be farther away from the city centers.
Viking Longship Staterooms
Stateroom selection is one of the few variables in the buying equation when considering a Viking River Cruise.  Since all Viking Longships are identical, this can be a difficult concept to grasp for those coming from the world of ocean cruising where ships are so very different as are accommodations.  We begin with a detailed look at a Verandah Stateroom (A, B).
For all practical purposes, other stateroom categories on Viking Longships are quite similar in many ways. Individual stateroom features vary a bit though so more details on other categories are next. Before we get there, an overview of staterooms as well as what other features we find on Viking Longships:
Large Variety Of Staterooms- 95 comfortable outside staterooms (2 Explorer Suites, 7 Veranda Suites, 39 Veranda Staterooms, FrenchBalcony Staterooms, 25 Standard Staterooms)
Two Room Suites- All suites feature two rooms with a veranda off the living room and a French balcony in the bedroom
Top Deck Attractions- Sun deck with 360-degree views and shaded sitting area; organic herb garden and solar panels; putting green, and walking track
Aquavit Terrace with a revolutionary indoor/outdoor viewing area at the bow of the ship and grills for al fresco dining
Observation Lounge and bar with floor-to-ceiling glass doors
Restaurant with floor-to-ceiling windows for panoramic views
Library corner and onboard boutique
Elevator from Middle to Upper Deck only; no elevator access for categories F and E
Wi-Fi Included- Free shipwide wireless Internet service
Laundry service is available and wonderful.  Jeans come back pressed and on hangers.
Ecologically friendly hybrid engines producing less vibrations for a smoother ride
40″ flat-panel Sony TV with infotainment system featuring movies on demand plus CNBC, CNN, National Geographic and more
Click here for a narrated tour.
Regardless of the category, your hotel-style bed is topped with European linens and duvets that makes for a great place to turn in after exploring Europe's great towns and cities.
French Balcony (C) staterooms have a similar layout to standard Verandah staterooms right down to the sliding glass door.  The big difference: there is no balcony
Standard Staterooms (E, F) are the entry level category (there are no inside cabins) and would be called an Oceanview stateroom on a big ship ocean cruise.  Instead of the sliding glass door shared by Verandah and French Balcony staterooms, these have a large picture window at river level.
Standard Staterooms usually sell out first as do top level suites. Let's start with the ultimate accommodations in the world of river cruising.
Aft facing Explorer Suites are made possible by using gas turbine engines that run quietly as opposed to diesel-burning engines found on all other river cruise line ships. Those noisy diesel engines render the aft area of other river cruise ships useless for accommodations.  Commonly found on other ships: a lounge or public area, not a nice place to sleep.
Explorer Suites (ES) also feature in-room coffee machine, a larger bathroom, two televisions and a huge wrap-around balcony.

Also available are (personal favorite) two-room Veranda Suites (AA).  These too have some unique features:
Suite size: 275 sq. ft.
Hotel-style beds 79 inches x 63 inches (with optional twin-bed configuration)
Full-size veranda off the spacious living room
Floor-to-ceiling sliding glass doors, known as a French balcony, in the bedroom
Large private bathroom with shower and premium bath products
Telephone, refrigerator, safe, hair dryer & bottled water replenished daily
Bathrobe and slippers available upon request
Individual climate control
Space under bed for storing suitcases
Voltage: 220V and 110V in stateroom
Two Sony 40-inch flat-panel TVs with premium entertainment package including: BBC News, CNBC, CNN, National Geographic, TNT Series, Sky Sports, videos on demand and "View From the Bridge"
Early check-in (no later than 12 PM)
Complimentary Viking Air Plus & laundry services
Welcome champagne, daily fruit basket, mini-bar with wine, beer, soft drinks (replenished daily)
In-suite premium bathrobes & slippers, binoculars & complimentary shoe shine service
Follow along socially too: