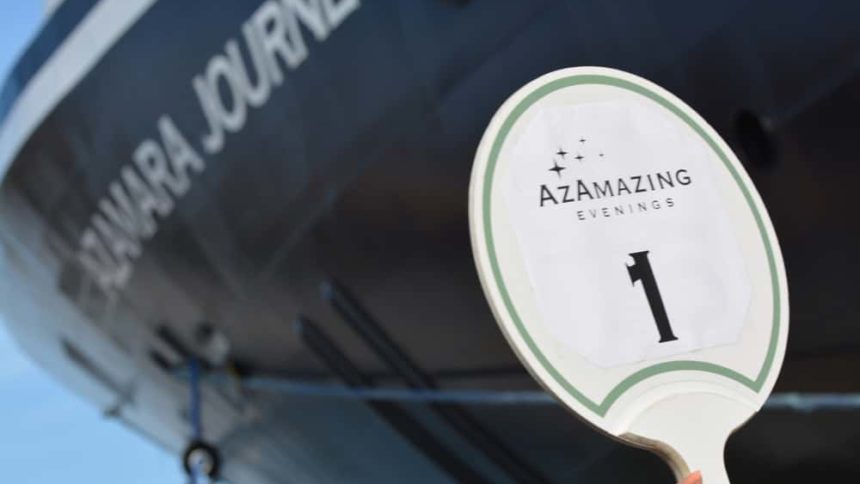 Sailing Azamara: They Come Out At Night Too
Smack dab in the middle of a five-in-a-row run of back-to-back non-stop port action* sat Venice, Italy on our 12-night sailing with Azamara Club Cruises. Arriving early and staying late in port brought plenty of time to explore the City of Water, known for its highway of canals, gondolas, fabulous food and marshy lagoon. Throw in a thousand years of history and a simple walk in any direction enabled a direct connection as we experienced both during the day and at night.
Continuing our routine of using an Azamara shore exploration as a springboard for cultural immersion, the night would bring a signature Azamara Club Cruises event tagged an 'Azamazing Evening'. (more on that in a moment) I counted that potentially extraordinary event as the tour du jour and set out on a walk from Azamara Journey in morning with no particular purpose in mind.
I liked that the ship was docked just steps away from shops, dining, historic landmarks and more at the UNESCO World Heritage Site. While bigger ships in port docked farther away from the action, we were right in the middle of it all once again; highlighting a distinct advantage of sailing on a smaller ship. Of bonus interest to me; this part of town was not nearly as busy as I remembered from previous visits when it seemed so very crowded, any time of the year.
Walking through history on cobblestone streets as lunchtime approached, the aroma of fresh baked pizza started to fill the air. Demanding a stop along the canal for what I have been calling 'a direct connection' in this series of posts, let's pause a moment and define that term as I see it.
Making A Connection
Making a connection with any given destination can be accomplished by not only visiting somewhere but doing something once we get there. As I began to build my cruise history and take advantage of the 'unpack once, visit multiple destinations' element of it all, if I walked off the ship and my feet touched ground, that counted as having visited there.
Making A Direct Connection
Making a direct connection with a destination does that too but includes direct contact with someone who lives there. When that goes well, we walk away with contact information and a new friend who we hope to visit again some day, tell our friends about and do social engagement in person, old school.
The AzaAdvantage
If buzz words are something that works for you, here's another one I think I just made up. A distinct advantage of sailing with Azamara Club Cruises that no other cruise line we have talked about in this space has ever done: enabling direct connection. We'll call that the AzaAdvantage. Readers who have been following along on this trip may have noticed that at each port of call we have posted a photo of our ship, as seen from shore, while we are making a direct connection.   That I was able to do that in Venice where a simple turn in the wrong direction can get visitors lost rather quickly highlights the importance of this AzaAdvantage.
Leveraging AzaAdvantage to my benefit, I stopped at a little café along the canal for lunch. Starting with Bruschetta and a beer I moved along to a wonderful pizza, the vehicle that connected me with Antonio. When asked what kind of pizza I wanted, the answer was easy and serves as a great way to get that connection action going.
"How about which ever combination is the best, what you would have yourself or suggest to a very good friend," I answered, adding "…just no anchovies." You could see the wheels turning in Antonio's head as he considered this proposition and said "Ok!", morphing from an order taker into a real live human being.
Enjoying every minute of the wait for that pizza to be baked, Antonio presented the creation to me, saying at the same time "Wait, not yet", and produced a bottle of olive oil flavored with pepperoncini. "Can I drizzle (this) over the top? You will never want pizza without it again" And he was so right.
Having consumed a days worth of food with Antonio, I paid, left the café and walked away with a great memory of a nice lunch and someone to come back and see some day. Whether I do or not is basically irrelevant. I could get hit by a truck tomorrow and not go back anywhere. So why not make the most of every single opportunity? Such was the case during our Azamazing Evening, an included tour on every Azamara Club Cruises sailing
They Come Out At Night Too.
As mentioned above, the Azamazing Evening counted as the tour du jour, although I might have chosen a more organized way to see Venice via optional shore exploration. Part of what Azamara calls "Night Touring" an Azamazing Evening is something unique that other cruise lines do not do, mainly because they have already sailed off to the next port of call.
Knowing I would be on this sailing of Azamara Journey months in advance, I paid attention when we were in port on other cruise lines and verified this differentiating factor that may or may not be important to you. Frankly, it's something I really never thought about all that much and really did not consider one itinerary over another based on how long ships were in one place.   Like most cruise travelers, it was the ports themselves that were considered, not how long they stayed unless it was overnight; something Azamara also does on many itineraries.
The logistics alone, moving a ship full of people on and off for the Azamazing Evening event, is impressive. Especially in Venice which required a water taxi ride then a 15 minute walk deeper into the city to arrive at the Teatro La Fenice Venizia opera house on time. That transfer lawlessly executed, we arrived early with about 40 minutes to spare.
This is a beautiful venue that I visited several years ago in connection with a visit to the Fincantieri shipyard with Princess Cruises for a look at Royal and Regal Princess, both under construction at the time.
"One of the most famous and renowned landmarks in the history of Italian theater," Azamara tells us in the souvenir program, it was being refurbished at the time of my last visit. Refurbishment now complete, the place looks very much like it did in the 18th century and provided a stunning venue for the Azamazing Evening.
The ensemble of talented musicians performed a nice selection of works by Veracini, Broschi and Vivaldi (a personal favorite) punctuated by Germany soprano Liesl Odenweller as we see in this short clip.
Walking back to the canal for another water taxi ride back to Azamara Journey. A few passengers stayed behind, enjoying just a bit more of the fabulous city's nightlife.
Once there, we were greeted by the ship's band and crew then enjoyed a late night buffet and talked about the experience among ourselves…as in, we had a conversation. We talked about the shared experience which most agreed was simply fabulous. Returning to our staterooms, Azamara had left a review form for us to fill out, rating the event and continuing their in-your-face proactive focus on providing a quality experience.
Overheard after the Azamazing Evening
"Nicely done"
(Azamara is) "a real class act"
"I never thought we would be here in Venice, at night, at an opera"
"That was just wonderful"
"That was worth the trip"
"That made the cruise for me"
I agree with all of the above.
Check Back Every Day, A Couple Ways
Come back tomorrow for the latest about our day right here.
Catch up by reading about the entire journey from start to end in journal form at A Sailing With Azamara Club Cruises No jump.  No Pop-ups. No Ads.
Follow Chris on his Azamara Journey sailing, right here and any or all of these ways:
*that was fun to write