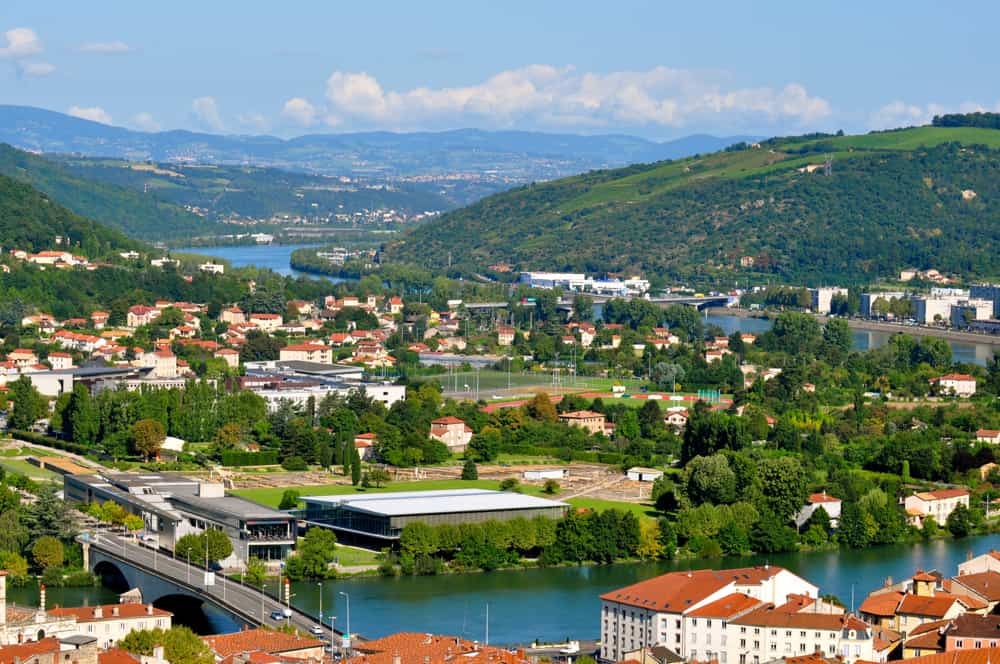 River Cruise Itinerary Nears Rousing Finish
It began as a cultural tasting of a foreign land with a 'stretch your legs' walking tour on the first day.  Continuing up the Rhone River, Viking Hermod took us through some of the most beautiful scenery in southern France.  Along the way we captured images of the places we visited to memorialize the lifetime-quality event; a bucket list item for many passengers.  In the process we got to know fellow like-minded travelers with similar backgrounds and explored geographic regions new to us, as Viking River Cruises set the stage for a grand finale that would begin on day five of the eight-day journey.
The location was Vienne, where a walking tour began by taking us on street level though a typical French town.  We passed sidewalk cafes, shops, public and private spaces; similar to those we had encountered on days one through four of our Portraits of Southern France itinerary.   Nothing new there; we had become familiar with the routine.  It was at the end destination of a small-scale train ride high above the city of Vienne, taking in a breathtaking view of the surrounding area that it happened: we were seeing something bigger than life, more dramatic than we had bargained for and something we would remember for the rest of our lives.
I have used phrasing similar to "beautiful panoramic vista", "lovely birds-eye view" and "amazing vantage point" before to describe scenes ranging from UNESCO World Heritage sites like Chichen Itza in Mexico with Holland America Line to majestic Alaska with Princess Cruises.  Still, the view from high above Vienne was breathtaking.  Add in the best local guide we had encountered so far; one with a passion for sharing his town with us and our day in Vienne ranked at the top of our experience to date.  Still, the best was yet to come that day.
The rest of the day, Viking Hermod's Aquavit Terrace was full of passengers. We watched the countryside roll by as the ship made its way to Lyon where we would overnight again, enabling passengers to go off ship for dinner or to experience the night life.
Interestingly, not many did.
In fact, nearing the conclusion of our tour in Vienne, we broke from the group to find a sidewalk café for our usual and customary time alone, drinking in the scene.  At any given destination we will commonly break from the group, find our way to the ship so we know first-hand how to get back on time, then find a place to sit and enjoy the day.
Today was different.
Today we got to the ship and decided that the view from Viking Hermod was as good if not better than any we had passed on the streets of Vienne.  We watched from the ship's lounge as others went on a wheelhouse tour or learned about the famous silk of Lyon in a demonstration and talked to our fellow passengers.  A wonderful dinner in the restaurant set the stage for a special concert titled the "Sound of France".  Familiar with the 'Sound of____' event, we had experienced what we thought would be a similar production on the River Danube on previous Viking sailings.  It was not.
The Sound of France was an opera-quality singer accompanied by two musicians; a piano player and a saxophone player.  They performed several songs, some with familiar melodies, others not but all were in French.  Viking had given us a few words of the language that would allow us to find a restroom, order a drink or find our way back to the ship, but not enough to understand the lyrics of a song.  Still, the universal message and passion of the French performers was undeniable.  Their performance began a mind-expanding process that would culminate at the end of our journey, for those who pay close attention to such matters.  Many did that night and were moved by what they saw, perhaps in a way they had not experienced before or could, for the time being at least, explain.
That would happen later, over the remaining days of our voyage, as the brilliant choreography of Viking's onboard programming works its magic on us.  If you are wondering why I have no photos of the event, there is good reason.  Sometimes we get to witness something so very wonderful that it is time to just put the camera down and drink it all in with our own eyes.  This was one of those times.
Long time readers of this space know that one of the best parts of a cruise vacation happens when we let the cruise line have its way with us and embrace all they have to offer.  We have seen this countless times on ocean cruises and ships of all shapes and sizes.  To those who know exactly what I mean, hold that thought for a moment.  Now imagine that feeling you get at the end of a good cruise, that feeling that you have been left 'changed' a bit and double it.  Take that doubled feeling and back it up to a day or so before the cruise ends.  That's where we are on this voyage right now, as I write this.  I am pretty sure this has never happened to us before but I like it.  Apparently, so does Lisa:
Come along with us from leaving home to returning and everything in-between right here.  We'll be posting live accounts of what happened along the way. Here is a handy guide with links to where we can be found and followed:
ChrisCruises.com- Live Event In Progress daily blog posts and this Day by Day account of our trip (see below)
Facebook- Facebook page daily posts and photo albums
Twitter- Live posts – hashtags to follow: #VikingTravels  #VikingLongships
Instagram– Live photo posts with commentary/captions as they happen- most recent posts here at ChrisCruises.com (on the right)
Flickr- Live photo-only posts and photo albums
Google+ Posts from ChrisCruises.com, all in one place
Spotify- River Cruise Playlists 
Tumblr– Live photo posts, as they happen, from me; like Instagram without captions.
Tumblr Bonus: Lisa's Tumblr, themed "The World As Lisa Sees It" posts one photo each day as it has for years.  Follow along to see how Lisa experiences this trip as well.
Pinterest- Photo boards for each place we visit, Viking Hermod and a roundup of Viking River Cruises Portraits of Southern France itinerary
Exposure- Photo Storybooks for each event
Have questions for us before, during or after the event?
We are Vikings and always in touch
Email Chris@ChrisCruises.com
Chris is on location this week, sponsored by Viking River Cruise touring in Europe by river.  As always, Chris provides the details to let readers decide what resonates (or not) with them in an unbiased, factual manner.