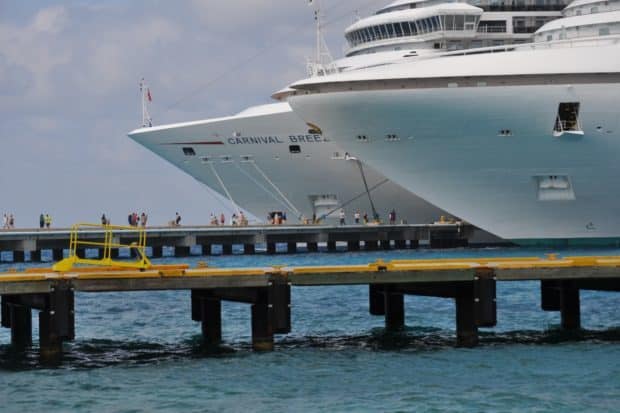 Protect Cruise Bookings With These Simple Guidelines
Cruise vacations come in all shapes and sizes with one out there sure to be a good fit for the budget of the most savvy buyers.
Right then. When they buy.
But new promotions, offers and special pricing offered on the same ship, same sailing date but further down the road, might be better.  So when to buy?  During the wave season first few months of the year?  When a favorite line has it's favorite sale? Maybe, but what if we want to buy right now?
Travelers who have been buying cruise vacations for a while know the drill and how to go about it; something we'll get more into shortly.  But first-time cruise travelers are at a bit of a disadvantage without that experience and commonly work directly with the cruise line.  Once.  By the time their first cruise rolls around they realize that might not have been their best move.
A better idea would have been to use a travel agent who will be there to curate a better value that might come along later, or be a trusted source that can explain why the fabulous new deal does not apply.  A case in point:  Royal Caribbean's Buy One, Get One 50% Off sale that runs through the end of May for sailings that depart Jan 1, 2015–Apr. 30, 2016.
A reader who late last month booked Royal Caribbean's Allure of the Seas for a sailing next January wanted to know if he could get in on the deal.  Because she booked outside of the sale period, she could not and was quite upset, writing "No fair! We just booked a few days ago!"  It's a response travel agents hear quite often from travelers who do exactly what we recommend: Consider booking the start, not the end of the process and watch for other deals that apply throughout the life of the booking.
Upon investigation we found that the new  Buy One, Get One 50% Off sale was actually not a good deal for these travelers. It sure sounds like it would be.  But in the few days since their booking was made, Royal Caribbean's price for the exact same ship, sailing date and category went up several hundred dollars, offsetting the savings they would have realized on the new deal, making their old deal the best value.
So first, drop the attitude of being mad at the cruise line.  In order to get any new deal applied to any old booking, almost universally among cruise lines, we have to accept current pricing, port charges and taxes.  Then the deal comes into play.  In the case mentioned, it would have cost those travelers $hundreds more to take advantage of the great deal.
We see this quite often with other cruise lines as well: increasing prices but offering onboard credit as an incentive to buy. Buyers do not need a travel agent to figure that out for them.  Like all cruise offers from all lines, the real details are in the fine print which explains how any particular deal works.
The Troubling Part
In this case, it was a no-brainer not to go after the Royal Caribbean BOGO sale; paying more would not have made sense. But had they taken that deal, potential future savings would be restricted too, as we found by reading the fine print.
The Royal BOGO offer restricts future savings as it is not combinable with other offers that might come up further down the road like senior discounts, resident discounts and military discounts.  These are commonly added later in the booking cycle, closer to sailing and can add up to big savings.
Not to pick on Royal Caribbean, arguably one of the easiest cruise lines to deal with, this can happen on just about any ocean cruise line.  So what to do?
Protect Bookings With These Simple Guidelines
Always use a trusted source for booking-  That might be a travel agent or, quite frankly,  a specific vacation planner at the cruise line.  Where the trusted information comes from is not nearly as important as getting it in a timely manner and feeling like that person is watching out for us.
Keep Your Trusted Source Honest- One very important question to ask whoever is helping with your booking: "If the price goes down later, can you get that for me if I qualify?"  If the answer is anything other than a resounding "Yes!", you are dealing with the wrong person.  Rely on your travel professional to keep an eye out for new deals that apply but check pricing yourself from time to time.  Put it on your calendar if needed to insure that you are communicating with that person regularly.
Consider Every Cruise Booking A Work In Progress- I said it before and I'll say it again in this space, over and over: Putting down the deposit is the start of a process that ends with us being back home after the cruise, satisfied that the cruise line delivered what we bought.
Start Over At Least Once Before Final Payment-  Just forget that you have a booking made and start a conversation with those going, as though you were just starting to consider a cruise vacation among other travel choices.  Elements of what went into the decision to buy that cruise in the first place may have changed.
Surely, it is not practical for most travelers to spend a great amount of time to book a vacation.  Those who do it for a living, however, are another story altogether: It's their job.    Some are better than it than others too. Carnival is clearly ahead of other lines, offering rates with built-in price protection.
Coming up later we have some Qualifying Questions To Ask A Potential Travel Agent.  The answers to those questions will help those without a travel agent find a good one.  You can bet that they will be asking you qualifying questions to determine which cruise line, ship and itinerary would be a good fit for you.  Why not back that up a bit and be sure you and your travel agent are on the same page.