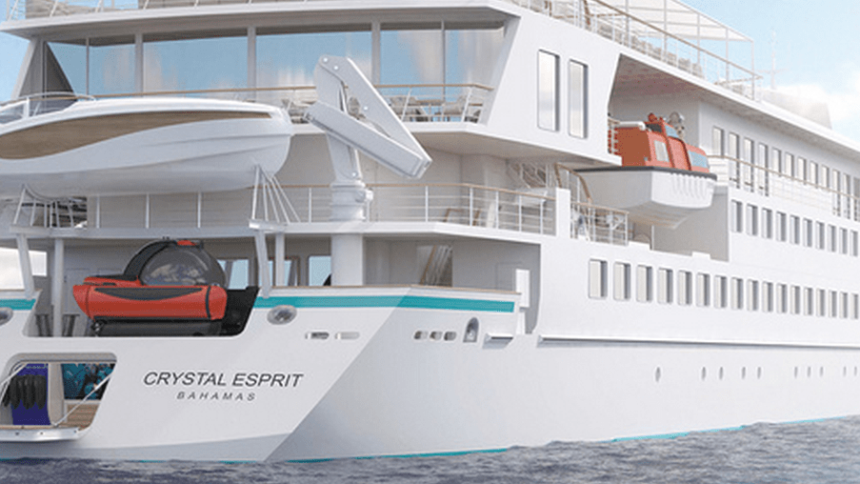 Crystal Cruises To New Future, Luxuriously
Our Crystal Cruises Canada and New England Fall foliage cruise from two years ago serves as the gold standard for butler service at sea.  Whitney and I were treated quite nicely from the time we walked on to Crystal Serenity until we reluctantly said goodbye 10 days later. The Crystal product is done well, in a way that seems effortless; just how they do things as the experience flows from one element to another.  Not surprisingly, with new backing and a focused plan for the future Crystal is growing, as it deserves to be.
When we think of growth in the cruise industry, thoughts naturally turn to new ships. Crystal Cruises vision for the future includes some of those in a extraordinary new class of luxury cruise ships.  At a cruise line where the last new ship debuted over a decade ago, that news would be a huge win, and surely it is.  But the Crystal growth plan includes more, far more, and is an interesting story in and of itself, punctuated by leadership with a proven track record of delivering quality.
"When I joined Crystal Cruises just under two years ago, I shared with you my vision to grow this illustrious brand with innovative and exciting new ways to see the world."- Edie Rodriguez Crystal Cruises Chief Executive Officer & President
In addition to those new ships on order, the Crystal Cruises menu of travel offerings will include Crystal Residences™, Crystal River Cruises™, Crystal Luxury Air™ and more.  Let's take a quick look at each element of the next chapter for Crystal Cruises, described in their own words:
Crystal Cruises Exclusive Class-
The World's Best takes cruising to whole new levels. The same number of guests as Crystal Symphony® and Crystal Serenity®, but with the highest space-to-guest ratio of any luxury ship in the past, present or foreseeable future. Crystal Exclusive Class™ provides the ultimate level of comfort and tranquility for guests in any sea conditions. Transporting you to the most sought-after, most remote destinations in the utmost luxury and style. Coming 2018
Crystal Yacht Cruises- 
The extraordinary Crystal Esprit™ fosters the same welcoming feeling of home that our guests relish on Crystal Symphony® and Crystal Serenity®. Yet with an exclusive yachting atmosphere for just 62 highly discerning guests.  Coming in December 2015.
Crystal River Cruises
Six-star service. Superior dining. The largest suites in river cruising aboard an exquisite new class of river vessel. Delightful shore adventures amid expertly-curated itineraries, taking you to the heart of world-renowned cities in world-class luxury. Coming Spring 2017.
Crystal Residences-
Elegant Residences are situated on the top deck of our new Crystal Exclusive Class ships. These unique homes have their own private restaurant, reception area and facilities. Early purchasers can design and decorate their dream home in the size and style they wish. The World's Best cruise line is now the most exclusive address in the world. Coming 2018.
Crystal Luxury Air-
See the world on a 28-day itinerary, as the best at sea now takes to the skies. Crystal's Luxury 787 Dreamliner is designed for just 60 discriminating guests. Travel in whisper-quiet, ultra-luxurious style, with fully-reclining flatbed seats and our own world-renowned service. Explore coveted, historical destinations in-depth with stays of up to 3 days in each special location. Enjoy the very best hotels and resorts, and dining on cuisine specially prepared by celebrated chefs inspired by local tastes and traditions.
The New Crystal- A First Look
It's a multi-faceted plan that promises to add a distinct element of differentiation to the Crystal name, if well done.  The world of cruise vacations will get its first look at the new Crystal Cruises this December with Crystal Yacht Cruises, now on sale.
Featuring just 31 luxury suites, the all-inclusive Crystal Esprit super-yacht will take discerning travelers to places that are inaccessible to large cruise ships, and yet still provide them with the highest level of the award-winning Crystal Experience. Crystal yacht cruising is all about the destination and immersing oneself in a way that is enriching, enlightening and actively engaging.
Crystal Esprit's upcoming inaugural season includes these itineraries:
The Seychelles Islands: 7-day lush, tropical cruises combined with inclusive Crystal land programs in Dubai and Abu Dhai, commencing

December 23, 2015

.
The Adriatic – Venice and the Coastal Islands of Croatia: 7-day Adriatic cruises between iconic Venice and culturally historic Dubrovnik, commencing

April 17, 2016

.
Introducing the Crystal 'Yachting Lifestyle',  onboard ambiance is described as relaxed and unregimented, enhanced with an unrivaled level of all-inclusive amenities that include:
Exceptional Michelin star-level cuisine created by Crystal's own masterful culinary team.
Choice of two complementary Crystal Adventures shore excursions in every port—one culturally inspired, the other soft adventure depending on destination.
A host of watersports to be enjoyed from the yacht's Marina platform – swimming and snorkeling, water skiing, wake boarding, kayaking, jet skiing—always with top-quality equipment and instruction.
The world's most luxurious accommodations at sea
The finest wines, champagnes
Premium spirits; butler service in every suite
Complimentary Gratuities
More on the Crystal Yachting Lifestyle

Learn what it is like to sail with Crystal Cruises from our first-hand experience:
Facebook Photo Albums: