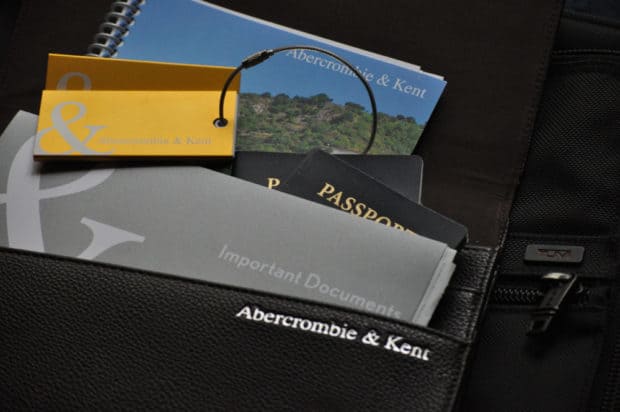 A&K Takes On Vikings, Luxury Ensues
In 2013, we showcased luxury tour operator Abercrombie & Kent's first foray into the Arctic, noting that the Africa safari specialist had added destinations ranging from Antarctica to Asia, North America, India,Europe and more. It was a popular move by A&K , taking land tour travelers are on their first Arctic cruise that sold out nearly 10 months in advance. Now, A&K is back to visit an expanse of ocean that includes volcanic islands and fjords studded with glaciers. It's a place they where "remote shores still ruled by the polar bear give way to legendary passages conquered by an adventurous few," says A&K, promoting a  2016 program that will retrace the routes taken by Vikings as they made their way across the Atlantic, toward North America.
On the 12-day Iceland & Greenland: In the Wake of the Vikings,A&K adventure travelers will begin by exploring the volcanically active Westman Islands. They will cross the Denmark Strait to Greenland, following the same course plotted in 982 by Norwegian exile Erik Thorvaldsson (aka Erik the Red). Leading a fleet of settlers from Iceland to Greenland, Thorvaldsson established two settlements on the icy land mass. "Erik called the place Greenland to make it sound attractive," says Bob Burton, author, award-winning researcher and A&K lecturer on Arctic history.
Those along for the voyage will spend a day cruising the Skjoldungen Fjord then cruise along Greenland's southern tip, landing by Zodiac among icy fjords, and venturing into Prince Christian Sound, which connects the Southern Atlantic with the Labrador Sea.
They'll visit Eriksfjord on Greenland's Southwest coast, where Erik the Red had a farm, and nearby Brattahlíð, site of the first Christian church in the western hemisphere. Exploration includes Hvalsey Ruins, a UNESCO World Heritage Site,  considered southern Greenland's largest and best preserved Norse site and Narsaq that dates back to AD 1000.
In addition to the new offering, A&K is bringing back a guest favorite that has sold out for the past two years, Arctic Cruise Adventure: Norway, Greenland & Iceland.
Proving to be eternally popular, Abercrombie & Kent will again offer Arctic Cruise Adventure: Norway, Greenland & Iceland. Featured: stunning wildlife, geological features and history, polar bears in their natural habitat; Kejser Franz Joseph Fjords and Scoresby Sound in Greenland; and exploration of Iceland's first villages (Grundarfjördur), followed by views of the extinct Snaefellsjokull volcano, setting of Jules Verne's Journey to the Center of the Earth.
On our A&K Summer Connections River Cruise, we noted a number of advantages gained by being on water with a travel service provider with the clout of Abercrombie & Kent. (See more below)  At sea, on chartered Le Boreal, A&K guests should enjoy similar advantages including this list of selling points:
Cruise for 13 nights aboard the luxury, all-balcony expedition ship 'Le Boreal' on an exclusive A&K charter
Travel in the company of A&K's experienced Expedition Team, which includes experts on polar bear behavior as well as A&K's Bear Guardians
Contrast the Arctic's most remote and culturally significant regions, exploring the incredible wilds of Svalbard and East Greenland with the timeless fishing hamlets of Iceland
Experience cruising along the Arctic ice cap in late summer
Explore the rarely visited Kejser Franz Josef Fjord and Scoresby Sound on Greenland's east coast
Join in a private behind-the-scenes tour and reception at the world renowned Husavik Whale Museum in Iceland
Discover Iceland's geologically rich Snaefellsjokull volcano, famously known as the setting for Jules Verne's Journey to the Center of the Earth
Enjoy the convenience of an A&K charter flight to Longyearbyen, where you begin your voyage
We throw the word 'luxury' around quite a bit without fully defining it very often.  Abercrombie & Kent does that with far more than top tier accommodations and incredible dining experiences along the way.
Hands-On Exploration with the Finest Guides
Shore excursions in the high Arctic are designed to educate and inspire, with a carefully-selected team of naturalists, geologists, historians, marine biologists, ornithologists and photographers — experts who give enriching lectures and provide hands-on guidance both on board and on shore, ranging from the practical (how to master your digital camera) to the personal.  With a guide-to-passenger ratio of 1:12, A&K guests can expect personalized attention. Each A&K Zodiac driver is a certified field naturalist who provides knowledgeable commentary on the twice-daily excursions into the heart of this once-in-a-lifetime destination.
We have enjoyed the opulent luxury of touring with an engaging, well-educated guide a number of times.  Most recently, while traveling with Viking River Cruises in Germany, we had a college professor in Wittenberg the memory of which will stick as a stellar moment of that trip.
Butler Service Completes Perfect Blend of Luxury and Adventure
A voyage to the end of the earth does not mean forsaking creature comforts. A&K delivers its legendary blend of luxury, adventure and personalized service including, for the first time, a personal butler for cabin categories 6-8. From organizing private cocktails to making spa appointments, this attentive butler responds to every need, quickly and efficiently.  Whitney and I experienced a fabulous butler on Crystal Cruises who we consider family; he was just that good.
The elegant guest quarters aboard MV 'Le Boreal' are among the most spacious and comfortable on any Arctic adventure cruise, with a choice of bedding configurations, including two-room, two-bath suites to accommodate families. By exclusively chartering 'Le Boreal', A&K limits the number of guests to no more than 199, guaranteeing each stateroom and suite has a private balcony to appreciate the wildlife and the midnight sun at any hour.  Common areas invite casual conversation with fellow passengers and the expedition staff, as well as space for private reflection in quiet corners.
"We've designed this Arctic cruise as a dedicated Photographic Expedition, not only because of the well-preserved archaeological sites, but also the striking contrasts between the geology of Iceland's volcanic Westman Islands and Greenland's iceberg-stacked Skjoldungen Fjord," – Bob Simpson, vice president of operations & small ships for Abercrombie & Kent.
A technologically-advanced stabilizing system minimizes the effect of rough seas.  MV 'Le Boreal' has an ice rating which exceeds that required for these demanding conditions and is equipped with the latest navigation, communications and safety equipment, including a GMDSS emergency communication system and a satellite weather system that receives real-time images of weather and ice conditions.
MV 'Le Boreal' is environmentally-friendly, with cutting-edge technology that includes the most up-to-date waste water system, recycling facilities, and other measures designed to ensure that the ship operates with minimal impact on the environment. Zodiac boats are equipped with fuel efficient 4-stroke engines that meet the strictest environmental standards. The ship has been "Cleanship" certified by the Bureau Veritas. This label is given to ships whose design and equipment limit emissions and go beyond the MARPOL convention for waste treatment, antifouling and propulsion systems.
Booking Information
For additional details on Iceland & Greenland: In the Wake of the Vikings (Aug 16-27, 2016; 12 days from $10,495 when you book by Oct. 31, 2015) and Arctic Cruise Adventure: Norway, Greenland & Iceland (Aug 2-16, 2016; 15 days from $13,495 when you book by Oct. 31, 2015), contact your travel professional, go to www.abercrombiekent.com or call 800 554 7094 to speak to an A&K Travel Consultant.  Actually, go visit their website, linger a bit and odds are a little window will pop up with someone there to answer your questions.
Get To Know Abercrombie & Kent
We did and are better travelers for it.  It's a bit funny really; Lisa and I were on our morning walk the other day, talking about travel and our trips.  "We never really stop learning do we?" I commented, thinking we sometimes quip "live and learn" after something unexpected happens.  It's a knee-jerk reaction to one of life's little events that I firmly thought would happen less often as I aged.  I suppose it has to a certain extent.  I no longer get angry in traffic; when we travel we have a car service take us back and forth from the airport.  Much less stressful.  After two different airlines lost my luggage on two consecutive trips, I travel with all carry-on bags.  Problem eliminated.  If I set my mind to it, I could probably come up with a thousand things just like that where I have 'lived and learned'.  That will probably continue until my last breath.
An enduring memory of our Abercrombie Connections river cruise was not so much the amazing places we went to as UNESCOish as they were.  It wasn't the other well-traveled guests we were with on the trip, the bullet-point list of inclusions in the package (and there were many) or even our Abercrombie Angel who was with us every step of the way.  It was more a definition of luxury at every turn from beginning to end, in all they do.   Looking back on what was written during that trip and in an article for Porthole Cruise Magazine, there are examples of that luxury defining trip throughout each of these posts:
These articles were published on CruiseAddicts.com
Published at Porthole Cruise Magazine
Our Facebook Photo albums
Pinterest boards-
On Instagram- Our live posts, when Internet connections permitted
Flickr Photo Albums
Exposure Photo Story Books
 Photos/maps – Abercrombie & Kent