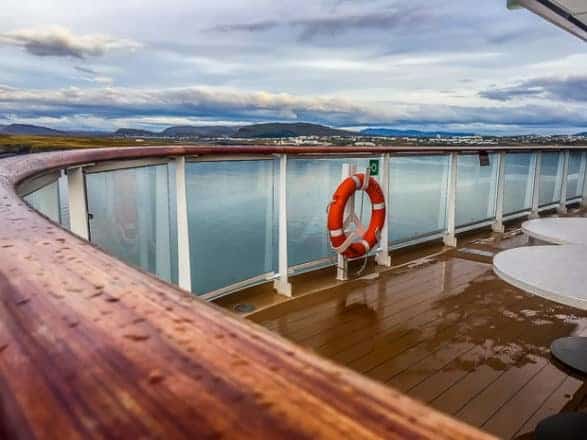 Awards Confirm Viking Popularity, We Know Why
We read the results of surveys, polls and award rankings with mixed emotions.  Get it right, rate our favorite high; it's a good day. Get it wrong, grant unearned high placement; that's a problem. Such is the case with nearly every cruise industry award program.  Behind the scenes, industry watchers know better.  We talk to passengers and crew on ships. We pay attention to social interactions, field reader questions and look between the lines of news stories to feel reality. Documenting that palpability, a sweep of the annual Cruise Critic Cruisers Choice Awards. confirms: Actual travelers like Viking.  Still, these accolades come as Viking has just two ships in service which begs the question:  Why such a dominant position?  Let's look at those awards and then define why Viking ranked so very highly.
No award program is more the embodiment of what actual cruise travelers think and feel about brands and ships than the Cruise Critic Cruisers Choice Awards.  Viking  Ocean Cruises 930-guest sister ships, Viking Star and Viking Sea, received top honors in 10 categories, nearly every category for which they were eligible.  While awards tagged one of the twin sister ships at the top of each category, the overall win is a nod to the extreme popularity of the Viking ocean cruise experience.
Let's break that down.
Viking Popularity Confirmed
Viking Sea received First Place in six award categories in its first year of service:
Best Overall,
Best Entertainment,
Best for Fitness & Recreation,
Best Public Rooms,
Best Service
Best Shore Excursions.
Viking Star received First Place placements in four award categories:
Best Dining,
Best for Value
Best Cabins
Best for First-Timers
The world of cruise travel enjoys a high satisfaction rate among passengers, after the fact.  Cruise done, back home and thinking about it, 85% of us like what we experienced, industry-wide. On Viking? That number is closer to 100%, a rank we would expect only on the best of luxury lines.
Legit: Cruise Critic awards come from thousands of reviews, the experiences of actual travelers who have sailed the ships.
 "Reviews offer incredibly helpful insights for those planning a cruise but also highlight the remarkable experiences and levels of service that people encounter every day on a cruise."- Colleen McDaniel, Senior Executive Editor, Cruise Critic
In addition to the First Place wins, Viking's ships also took the Second Place honors in most of the same categories. Viking Sea took second place, behind Viking Star, in Best Cabins, Best Dining and Best Value. Viking Star took Second Place, behind Viking Sea, in Best Overall, Best for Fitness and Recreation, Best for Public Rooms, Best for Service and Best for Shore Excursions.
2017 Cruise Critic Cruisers' Choice Awards– all the winners.

Viking Popularity: We Know Why
Interestingly, the wins in nearly every category are the result of Viking efforts that are anything but typical.  There is nothing business-as-usual about the way this new ocean cruise line has redefined the industry.  Let me explain by breaking down each category won and why that happened.
Best Overall– All measurable facets of the cruise experience considered, Viking ranked number one and two out of the top ten ships.  Looking at the other categories, most all of which Viking scored highest in, that makes sense.  But Best Overall is actually more than a tally of who won the most other categories.  We'll come back to this one in bit.  First, let's detail the other categories.
Best Entertainment- When this topic comes up in cruise traveler conversation, it's usually a win for a big ship with a business model that affords a wide variety of entertainment.  Ranked high is everything from succinct versions of Broadway shows to audience participation games.  Entertainment spaces command a large amount of real estate on deck plans. There needs to be something for everyone. Cruise lines that know their passengers well provide just that. They might even host entertainment that seems a bit out of place in an effort to cast a wider net. Walk away from that experience amused and the cruise line did a good job.
Sailing in a different direction, Viking Ocean Cruises follows a business model similar to that of the 61-ship Viking river cruise fleet. The star of the show is a destination focus that runs throughout the ship.  It's an elevated and intelligent experience surely not for everyone but weaves its way throughout each journey.  Directing our attention away from a "sit and let us occupy your time" motif, entertainment engages us. That's possible by sourcing like minded travelers from the same culturally curious pool reflected in the Viking river product.
Award winning difference: performances support either destinations or the ambiance of a certain area of the ship.  A talented ship guitarist is the Viking ocean equivalent of the piano player on Viking River Cruises; there to set the mood at appropriate times. Musicians, singers and dancers perform their best work off the big stage, engaging Viking travelers in the centrally located Living Room, two deck high Explorer's Lounge and on deck.
Best for Fitness & Recreation- Contrasting to the generally accepted notion that 'more space = a better fitness center', Viking ocean ships have little space allocated to machines.  A top deck fitness circuit seems barely used.  The smaller ship size makes walking up or down 17 decks impossible.  Front to back on deck is 225 (of my) steps as opposed to three times that many on larger ships.
Award winning difference: Viking travelers don't sit around on the ship.  An included tour at each port of call encourages them to leave their comfortable surroundings to get out and experience the destinations.  Surprising to me is the number of Viking travelers who do not only the included tour but an additional, optional tour as well.  Also different, thoughts of fitness and recreation naturally lead to physical health.  The Viking ocean experience opens a big wide door to equally if not more important mental fitness and psychological recreation.  We don't see that elsewhere.
Best Public Rooms- Comfortable, designer chairs like you wish you had in your living room are indeed in the Viking Living Room. These are not industrial strength benches and sofas intended to withstand the use of thousands each week.  These would be lovely to have in your home.  That theme carries throughout the ship with nearly every public space receiving a stroke of the interior artist's brush.
Appropriately, Munch Moments is an evening time of reflection when the Viking Classical trio presents Norwegian music while the works of Edvard Munch (in a partnership with the Munch Museum) grace the Atrium screen. One night it's Munch's works celebrating nature and architecture, another it's Munch's dramatic pieces, works related to oceans and travel or some other theme.  For a number of travelers on our cruise, it was a wonderful way to study art, a little bite at a time before dinner.
Award winning difference: That's one example of the feel and ambiance of one public space. Every one of them on the entire ship has it's own personality.
Best Service– When we talk about service, before Viking Ocean Cruises there were two traditional schools of thought.  Now there are three.
Good- One view is that all one's needs are taken care of as they occur.  On a good day those needs might be anticipated if an individual crew member happens to possess the interest to do so. On a big ship Caribbean cruise, having beach towels waiting in your stateroom is a good example: odds are you will need them.
Better- Another view makes anticipating needs the baseline experience. Unique are some signature service moments built into the process. On all but luxury lines, these commonly happen in upper level accommodations OR you have a high level of past guest status.  Example: A bottle of champagne waiting in your Celebrity Concierge Class stateroom.
Best- Then there is Viking.  The clear direction experienced on Viking ships: 'After safety, nothing is more important than guest interaction'.  Commonly experienced: crew that stops what they are doing to actively engage guests.  That begins by curating the best crew. Viking defines 'best' not as having the ability to be pleasant as part of their job but being pleasant because they are.   That's the award-winning difference.
See Spectacular Travel Moments With Viking Ocean Cruises for more
Best Shore Excursions– It would be easy to say that including a tour at every port brings a high Cruisers Choice Award rank here for Viking Ocean Cruises. Indeed, taking price out of the shore excursion adds value to those who would buy tours on a different line. That value begins with a thought that other cruise lines "charge to take you there, then charge to show you the place" as plainspoken Viking Chairman Torstein Hagen puts it.
What elevates Viking to Best Shore Excursions is the content of the tours themselves, flexible scheduling and a bar for quality that is always being pushed higher.  To those Viking ocean cruise travelers who have sailed with Viking River Cruises, this does not come as any surprise.  On an even smaller scale, the Viking river product grew to a fleet of 61 ships by an intense focus on destinations.
Frankly, as time goes on, I see the line between Viking's river and ocean destination experiences becoming increasingly blurred if not interchangeable.  Now, many of the passengers we meet on Viking Ocean Cruises came from/because of a first-experience on Viking River Cruises. The future will see that booking traffic work in both directions.
The award winning difference here is a mantra that runs throughout every aspect of the Viking experience: They never stop improving. Viking looks at everything they do, all the time, to see what they can do better.  We experienced a number of unique upgrades added less than one year's time, sailing first Viking Star then Viking Sea.
See Thoughtful Details, Focused Experience Tag Viking World's Best, written in reflection of Viking being named #1 Ocean Cruise Line by Travel + Leisure readers in their 2016 World's Best Awards
Best Dining– Like other cruise lines, multiple dining options are available on Viking Ocean Cruises.  Generically speaking, there is a buffet, main dining room, room service, a pool grill and a some alternative dining venues.  Check all the boxes, feel comfortable the Viking's culinary efforts will work for everyone.  Different than many cruise lines, the alternative venues carry no cover charge. Nice to know but not totally unique; on a big ship with 17 different dining options, odds are there will be plenty of good and included choices.
Viking Sea and Viking Star held the top two positions in Best Dining over serious culinary contenders. The lower rank of ships from Oceania, Regent Seven Seas, Azamara and Crystal is a stunning loss for them.  The bona fide documentation of an otherwise extremely subjective element of the cruise experience may very well be a call to action for fans of those luxury lines.  Talking to fans of those luxury lines, "the food is better on_____" often guides their buying decision.
Expected: Menus that reflect destinations visited in some way.  Viking does that well, as a logical part of an overall destination-focused experience.  What puts Viking over the top in dining: every single detail of every single experience is considered AND YOU WOULD NEVER KNOW THAT. Hot things served hot and cold things served cold: expected.  Hot things served amazing and cold things served brilliantly; that's the stuff of greatness.
Truly great stands on its own. Those actively engaging crew members mentioned above?  In a dining venue?  Oh my, there is simply nothing better…be that the World Cafe (what other lines call buffet), The Restaurant (where the owner insists the best food be served) or any other opportunity to eat anything.
See Viking Cruises Caribbean: Island Connected Dining Like Never Before which provides an example of blowing right past the destination focus and into the hearts of diners.
Best for Value– On the topic of buying travel, it's not so much what we pay for something as it is what we get out of it.  Still, at the end of the day, the ticket price is a huge factor in the buying decision for most travel products. Those who promote the idea of cruise travel often tout the inherent value of cruising vs other ways to see the world.  On even the most nickle and diming cruise line around, their deal stacks up nicely to other options.
On the other end of the scale we have inclusive lines, often in the luxury category, that many big ship cruise travelers will never see.
The cost of that inclusivity does not work with their idea of what it should cost to see the world, all things considered.
It's not the money.  They have it.
It's all about value.  They want their money's worth.
They have done the math. Example: they know the value of a big ship Pick Three promo that adds a beverage package, gratuities, dining package or other something they would normally pay extra for. Rather quickly they find that the most inclusive option on a big ship puts that option out of their budget.
Viking has designed an experience that begins by slapping buyers in the face with what is included. Value established.
Best For Value comes as Viking blows past that baseline with an experience that far exceeds expectations from the moment the booking is made until the sailing is over.
Best Cabins- That all cabins have balconies and none of them have an obstructed view goes along way to a Best Cabins Cruisers Choice Award.  Better than other lines: cabins are nicely appointed with the plenty of places to plug things in, king-size beds with luxury linens, large showers, luxury toiletries, heated bathroom floors and large interactive flat-screen LCD TVs with movies-on-demand. Some of that comes from Viking Star and Viking Sea being new ships.  We expect the latest features on them and find a good number of these highlighted features on new ships of other lines.
What we do not see are staterooms designed and appointed from a passenger point of view. Viking did that.  Seems a simple enough way to build the space a passenger will occupy.  Still as with so many other things, common sense is not always so common.
Best for First-Timers- Typical comments I have heard other Viking passengers saying define how Viking Ocean Cruises dare tread into the land of first-time cruise travelers. In my experience, first-timers do not the bulk of Viking fans make, river or ocean.  When a first-timer happens along, the conversation usually elicits comments of this Best-winning sort:
"Well, you sure have set the bar high"
"Reality check: this is an entirely different world than any other cruise line"
"Just so you know, other cruise lines will be disappointing"
"No fair, we put in our time with other lines to appreciate this"
"Don't try to compare this with other cruise lines.  This is entirely different"
Stepping back to where we began, that Best Overall win for Viking, I end this where it began for a reason.  Viking has reinvented ocean cruising in a very unique way, much like they reinvented river cruising.  Both the river and ocean options were custom designed to address areas where other operators were lacking. In the process, a new and unique travel option was born.  Again.
The result is a cruise line that gets better all the time.   Can you say that about your favorite cruise line?