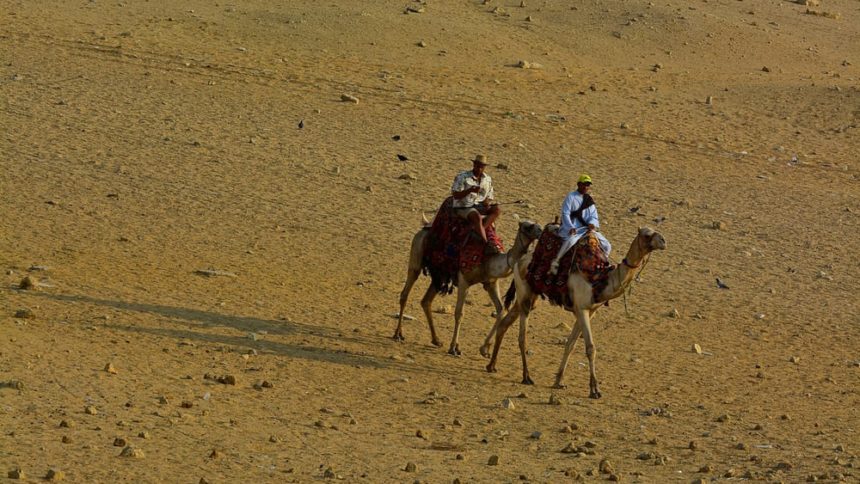 Abercrombie & Kent Luxury: They Can Turn On A Dime
Traveling with Abercrombie & Kent in Egypt has highlighted a number advantages gained by doing so with the leading luxury travel company. We'll continue to rack those up as we go along. Our second full day in Cairo, that list got longer very quickly on our way to ten different scenes we have to share with you today.
On the motor coach and set to go, Tour Director Ibrahim ran down the day's activities. Scheduled to begin with a tour of the Giza Plateau, Ride like a local on a camel, see the Solar Boat Museum and the Great Sphinx and have lunch at a local restaurant in the morning. The itinerary received prior to travel had us continuing on to Memphis in the afternoon, going through an open air museum, seeing a giant statue of Ramses II then end in Sakara, home to the Step Pyramid among more than a dozen others. A rather complicated day of organization, planning and execution, any way one might choose to look at it.
But Ibrahim's rundown of the day was different, with events moved around in a different order. When I asked why, just out of curiosity, the answer was undeniably impressive.   Checking the weather last night, the forecast called for hazy skies in the Giza area which would not make for the best possible photo opportunities. In order for us to get the most out of the day, nimble Abercrombie & Kent rearranged the day's itinerary to offer the best possible experience, on the fly.
Abercrombie & Kent Advantage #8: They Do What It Takes To Maximize The Guest Experience
The plan worked brilliantly as you will see in the photo gallery below. The only hiccup in the plan: by the end of the day the sun was behind the Great Sphinx, making detailed front views difficult. I suppose there are limits to what even the world's top luxury travel company can do. Moving the position of the sun is apparently one of them.   Our personal comfort along the way, is quite another matter.
Like many other places in the world, it is customary to pay for the use of a public toilet. A little thing really, once one gets the hang of it, they come prepared with a few coins to have on hand just for that reason. Taking no chances on that being an issue for A&K guests, Ibrahim gave each of us envelopes with a bunch of those coins for use along the way.
Abercrombie & Kent Advantage #9: They Anticipate Guest Needs And Take Action
So off we went on a glorious day of touring Egypt, first stopping at Memphis for a look at the open air museum and statue of Ramses II. There as in most other places we have visited, locals are happy to pose for photos but absolutely expect to be paid for it. Not much, a dollar or two will do. Also found at every turn here, someone selling something and really getting in your face about it…unless A&K advice is followed to simply ignore them and keep walking. That's not an easy thing to do but even something as easy and natural as answering a question "Where are you from?" opens the door to a conversation you don't want to have. Or do you?
Later in the day on the Giza Plateau, a number of our group members chose to go inside one of the pyramids, no easy task to accomplish. Still, odds are this is a once in a lifetime experience not to be repeated so off the went, bent over to make it through the tiny space, up into the pyramid, returning with the ability to say "I went inside a pyramid in Egypt". Pretty amazing.
Rather than going inside the pyramid, I did something a bit different, turning the tables on the locals there. Instead of a stone-faced walk through the area they had gathered, I picked the one camel with the most authentic rider, ran up to him and asked "Can I pay you to take your photo?". The result was nothing less than amazing as a rather stunned Ahmed The Camel Rider (I made that up) posed for photos, positioning himself one way then another, all to the disdain of his fellow riders.
This is probably not something A&K would recommend for safety reasons but it does bring the opportunity to talk about some security precautions that are indeed necessary.
Quite frankly, this has been a very safe place to visit because we were traveling with Abercrombie & Kent. It's not safe place in general, that's just really obvious. This is not the place to make your own local connection as one might make in so many other places around the world. There are times when we view areas through the windows of a motor coach and that's as close as we will get.   More accurately: that's as close as we can safely get.
Abercrombie & Kent Advantage #10: They Take Safety Seriously
We have already touched on this issue before in this series, and probably will again. Traveler security is a top concern that is keeping tourists away from Egypt. That's a shame because while it would be a bad move to walk down the street in Cairo on our own, it is entirely possible to see this place in safety.
I'll stop right there for today as this is a recurring theme that A&K drives home every day, if not multiple times throughout the day.   Scary? No. Important? Yes.