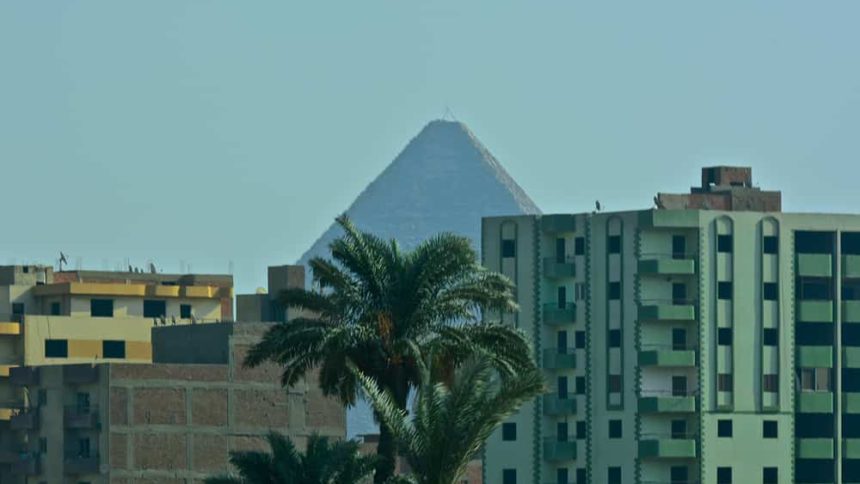 Abercrombie & Kent Luxury: They Do Your Homework
Coming to Egypt for our Abercrombie & Kent Small Group Journey enabled the realization of a lifelong dream: to see the pyramids in person.  We got that the first night, enjoying a pyramid view room at the famed Mena House Hotel.  When considering this A&K trip, two elements of the idea concerned me.
Would one look at a pyramid satisfy that lifelong dream, rendering anything that happened after that less than wonderful?
What about crime and my personal safety in a place that just went through a major civil revolution not all that long ago?
The surprising answers to both questions came today.
It has been a dream of mine to visit Egypt since 7th grade when a Social Studies teacher at Nallwood Junior High school in my hometown of Overland Park, Kansas lit a fire within me that only being here in person could extinguish.  It was a hunger only satisfied by a full meal of Egyptian immersion.  If I had a bucket list (I don't), this place would be on the top.  At a group welcome dinner hosted by A&K at the end of our first day here, it became apparent very quickly that many other travelers along on the trip shared that desire.
It also became apparent that my fellow travelers were sourced from the same pool drawn upon to fill the ships of Viking River Cruises, Azamara Club Cruises, Seabourn and other luxury cruise travel products. This is the same bunch.  Affluent, well-traveled people from North America, the United Kingdom, Canada and Australia.   Got it.  Now back that up to the beginning of that first day and a trip to the Egyptian Museum of Antiquities.
With a collection of over 120,000 artifacts on display and many times that number in storage, a new world-class museum is being built in Cairo.  We spent several hours seeing part of the collection and did not scratch the surface of what was on display.  It was about halfway through that tour led by our Egyptologist Ibraham that it hit me; this is background information needed to appreciate what was yet to come on this journey.
Abercrombie & Kent Advantage #4: They take nothing for granted
One would think that those booking a trip to Egypt would have more than a passing knowledge or interest in this of this part of the world.  Indeed, at that welcome dinner mentioned, many others voiced similar reasons to being here as mine, formally.  After a Welcome Cocktail, an engaging hour-long talk by by a well-pedigreed expert on Egypt and dinner, everyone was asked to introduce themselves, say where they were from and a bit about why they came along.  Not one just happened to book this trip on whim and many had much more than a passing knowledge of Egypt and its history.
Still, day one was filled with background information, setting the stage for what was yet to come.   Interestingly, A&K did that by going through the Museum of Antiquities in a brilliant way: from one well-known artifact to another. This could have easily been a tour where the guide hones in on some area of personal interest, focusing more on the minute details of that area and missing the overall picture. Indeed, we saw a number of guides in the cavernous but crowded space doing just that.
In a way, it was much like an escorted tour of an art gallery in that respect. But unlike a display of art, these were artifacts dating back to 4000 BC and our Egyptologist's narration was engaging.   No question from our small group went unanswered. Better yet, this was not a situation where the 'guide' answers the question quickly and directly to the person who asked it with an obvious focus of staying on the time schedule.   Perhaps that is the advantage of using a certified, pedigreed Egyptologist over a life long resident of the area.
Abercrombie & Kent Advantage #5: They Keep It Interesting
Abercrombie & Kent Small Group Journeys are limited to a maximum of 18 travelers per group. Ours has 12. But at that Welcome Dinner we found that A&K has a total of four groups running simultaneously. As we enjoy our travel, 60 other people are too. We figured that out at lunch when two of the other groups sampled Egyptian fare at the same restaurant.
The interesting, if not differentiating reality: we might not have figured that out.
We knew a number of A&K people were along on our journey in addition to our Egyptologist and Tour Director.   One might have logically assumed that the additional A&K staff on hand was to insure all went well in a part of the world where traveler security has been an issue.   As it turns out, the many other A&K staffers I have seen all around the Mena House Hotel, are the counterparts of our staff members, working other groups.   I think that begins to explain a bit about how we were whisked through security on day one, by passing long lines.
Abercrombie & Kent Advantage #6- They Have A Huge Presence In Egypt
I have a feeling this is a part of the experience that we will revisit several times before this is all over, for some very good reasons. One of those reasons is safety and security, a major concern of travelers worldwide when considering Egypt.
I like that A&K does not try to candy-coat the situation here on the ground. Driving straight through the heart of Cairo to the Museum of Antiquities we arrived on a very familiar scene. Not all that long ago this was the place where the recent revolution took place. I remember watching this story unfold on CNN over a number of days in a place that seemed so far away, yet here we were and not much has changed.
They might very well have taken us through a part of the city less destroyed, looted or filled with trash. Indeed, traveling to other parts of the world, we have had exactly that happen as tour guides took us 'the pretty way', bypassing the actual scene at street level.
Abercrombie & Kent Advantage #7- A Realistic View Of Destinations
Make no mistake, Cairo is not a place where one walks down the street, wandering aimlessly without trouble. This is a country in transition as our dinnertime Egypt expert explained, brilliantly answering our questions rather than droning on and on about some scholarly topic of which she was indeed qualified to speak.
To insure our safety and no disruption of the well-planned itinerary, we are staying at a hotel with two security checkpoints in place before entering the property. Every structure has a guard and security screening procedures in place. When we wanted to come back to the hotel from an optional afternoon shopping trip within a couple minutes walking distance from the hotel, we were escorted back via motor coach. It was right about this time when it hit me: They are protecting two things here; their guests (us) and the carefully choreographed itinerary that they are not going to let be disrupted for any reason.
Impressive.
Appropriate.
Safety issue addressed.
Let's move along.
And indeed we will move along as we dive into more of Egypt, A&K style.
Follow Along On Our Abercrombie & Kent Journey: