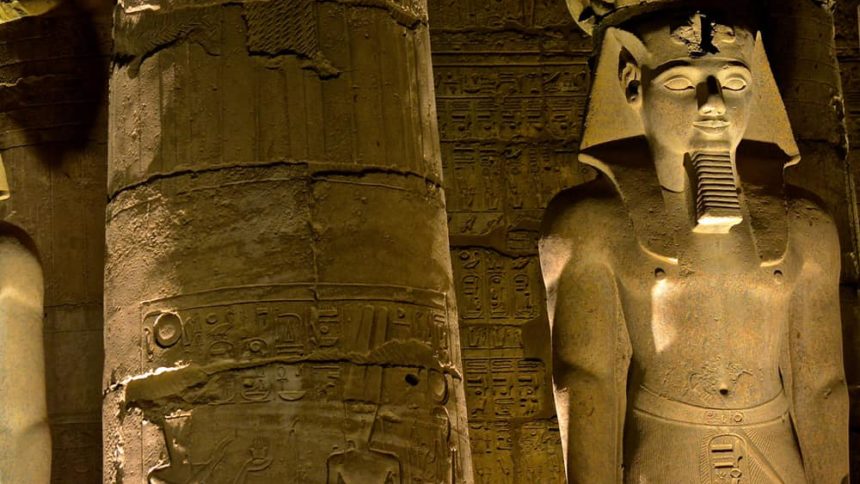 Abercrombie & Kent Luxury: And Then He Paused
There are a number of ways this could have gone, our travel in Egypt with Abercrombie & Kent. Stopping by iconic landmarks seen in films, studied in school and familiar with for a lifetime, it could have been a checklist itinerary. Efficiently delivering us to those sites by land, air and river, A&K did what they got paid for, in style.   But rather than simply accomplishing the rather considerable task of moving us from place to place, they engaged our minds.
We began our day in Luxor in the care of Ibrahim our Egyptologist, going to the next interesting place on our itinerary as we had every other. Today we would visit the Temple of Goddess Hathor at Denderah, return to Luxor for lunch on deck after a lecture on board then sail the Nile through the afternoon.
The morning tour brought interesting and engaging narration, answers to questions along the way and more than a few moments of pause. All along the way, Egyptologist Ibrahim had provided interesting facts, following the timeline of history in flawless detail. Still, we were at about the point where it would have been easy to let site after site become a bit blurred. Like visiting the cathedrals of Europe, after a number of them they all begin to look the same.
And then he paused.
Asking and answering his own questions up to this point, Ibrahim crafted the days tour to include more interesting and engaging questions than in the past, prompting us for the answers. The end result was to draw upon the knowledge he had imparted to us on previous days to elicit our answers. In the process, we thought more about what we had seen, processed the information and owned the topic in a way not before experienced.
Abercrombie & Kent Advantage #10: They Engage Our Minds
Wandering a bit from our group to overhear other A&K Egyptologists with other groups, they too were going through the same process.
In any given situation while traveling, I try to look around and see what others are experiencing. In restaurants, on tour, at meetings and at landmarks to get an overall impression of what is actually being delivered then compare that to the expectation set by that travel company.   It's one of the reasons I promote cruise travel as most cruise lines meet or exceed our expectations. Often the differentiating factor is a small detail, something as little as a pause in narration on a tour to engage our minds.
Stop right there and this product is a win for travelers. But A&K did not stop there. An interesting tag team lecture with not one but two Egyptologists drove home the political and social issues of Arab nations at just the right time. We had experienced quite a bit of Egyptian history, driven through the Egypt of today and had time to reflect on the experience.
Lunch on deck now brought a bit more focused conversation; a little more contemplation of the part of the world we passed on both sides of our ship. Cruising the Nile that afternoon could have been narrated much like scenic cruising in Europe. Instead, thoughtful A&K gave us time to think, relax and enjoy the experience our own way.
The late afternoon brought another marvelous Egyptian sunset on the Nile. At that point we could have called it a day and it would have been quite a memorable one. But we didn't.
That evening, we returned to the Temple of Luxor, previously passed by during the day to see what the place looked like lit up at night. The scene was entirely different as was Egyptologist Ibrahim's narration of what we were experiencing.
So let's review. We have explored the Nile in a number of ways, seen it by day and night, sailed up one way and down another. Why? In a very short amount of time, we have gone through thousands of years of history, considered the current state of affairs of a country in transition and will walk away with a far better understanding of this part of the world than we ever dreamed possible prior to arrival.
Let's pause ourselves to consider that.