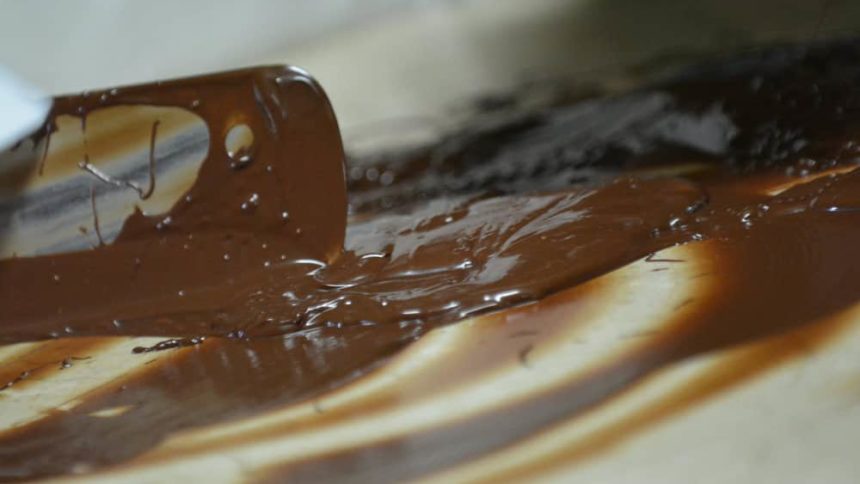 Cruise Ships Sail On Sea Of Chocolate
Cruise travelers are big lovers of chocolate, just about any way they can get it.  How much do they love chocolate?  Carnival Cruise Line alone buys more than 1.3 million pounds of chocolate each year, a half million of which is used for Warm Chocolate Melting Cake, some 4 million of the cakes consumed annually. Carnival is not alone in serving chocolate done a number of ways either.
As one might imagine, Chocolate is big on the love boats of Princess Cruises too.  Princess passengers enjoy more than a million pounds of chocolate every year Princess' fleet of 18 ships, produced by cacao-bean growing countries around the world. That chocolate goes into creations including those highlighted in Princess Cruises' Chocolate Journeys  program that lets passengers sample his 15 extravagant desserts at dinner, bites with afternoon tea, chocolate pastries at breakfast and chocolate cookies while watching Movies Under the Stars. Chocolate lovers can even have anti-oxidant chocolate smeared on their bodies as part of a hydrating treatment at the Lotus Spa. You can even sip loaded chocolate creations in ship bars.
Check this gallery of Princess Cruises Chocolate Creations
Holland America Line showcases high-end Belgian chocolate in cakes, muffins, custards, sauces and cookies – and more extravagant creations by world-renowned chocolatier Jacques Torres, such as his Chocolate Coconut Napoleon and Baked Chocolate Soup.  A passenger favorite is the Grand Marnier Chocolate Volcano Cake at the Pinnacle Grill. You'll also find Dutch hot chocolate served on Holland America Line ships on cool days when you're warming up after seeing, for instance, the stunning sight of a glacier thunderously calving into the sea in Alaska.
American cruisers aren't the only ones obsessed with chocolate.  In Australia, passengers on the five P&O Cruises Australia ships go for sweet treats even at breakfast, the ships baking a half million chocolate croissants each year.  The galleys on British P&O Cruises and sister line Cunard stock chocolate in all sorts of forms including sticks for baking, cocoa powder, chocolate chips, chocolate pastels, cocoa nibs and fudge topping. And then, of course, there are treats placed on your pillow at night – the two cruise lines will distribute more than 9.5 million wrapped pillow chocolates by British purveyor Whitakers Chocolates this year.
"You should never have a menu without chocolate," said Kalman Bauer, development chef for P&O, noting chocolate fondant and chocolate soufflés are particularly popular guest choices. "When you have 2,600 people onboard a ship, about 75 percent will go with chocolate at least once a day."
Carnival Cruise Line chefs will make some 60,000 chocolate-covered strawberries, along with love-themed desserts for Valentine's Day alone, and for good reason. "On a cruise, people are on vacation and enjoying themselves, " said French-trained Master Chocolatier Norman Love, adding "There's also a romantic side to cruising and a romantic side to chocolate as well. Cruising and chocolate are made for each other."
Interestingly, in addition to Princess Cruises (who owns Valentine's Day) and sister brands Holland America Line, Carnival Cruise Line, Cunard Line and P&O Cruises is one more that has something to do with chocolate, new sister Fathom Impact Travel cruise line.  The one-ship experiment by Carnival Corporation will take active cruise travelers on a seven-day impact travel experience (starts at $974 per person + tax) to the Dominican Republic and/or Cuba.
Pioneered by Fathom, impact travel is a whole new category of travel: it's travel with purpose.
Participating in Fathom's ongoing cultural exchange program on board and ashore, legally required to book this, promises the opportunity to interact with the people of the Dominican Republic while docked at Carnival Corporation's $85-million Amber Cove cruise destination.  Amber Cove serves as the starting point of the Amber Cove/Puerto Plata/Fathom trifecta of travel wonder.  (See: Just What The Cruiser Ordered for more) I visited Amber Cove just before it opened to learn more of Fathom, the concept of impact travel and just what travelers taking them up on the offer would do on the sailing.  That they had an association with locally-produced chocolate was a bonus.
Stopping at a chocolate factory where the entire process is done by hand we saw the environment in which Fathom cruise travelers might help. Pausing at a local school, we saw how interaction with English speaking tourists (us) can help kids learn to read and speak English, a valuable commodity in an island nation where tourism is a major industry.
We'll be back with Fathom later this year.  More on that soon.
Seen enough?  Ready to make Chocolate?  Here you go: