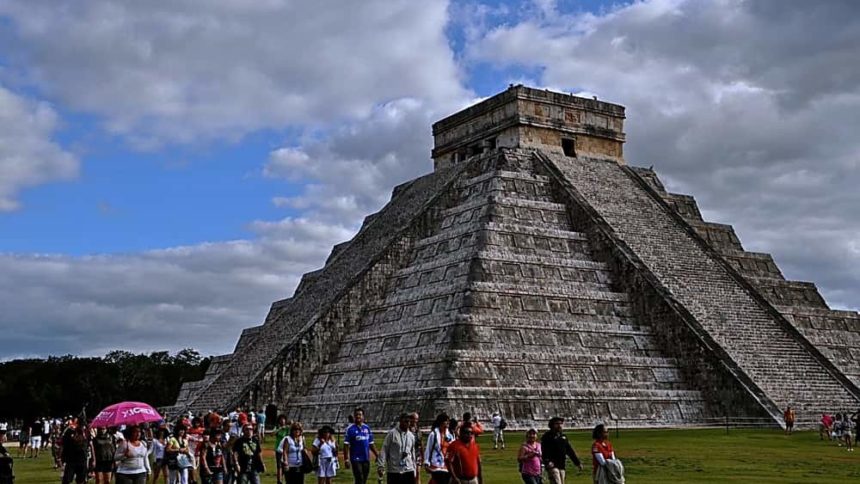 Visiting The Mayan Ruins Of Chichen Itza
When it comes to ocean cruise shore excursions in the Caribbean, I thought I had done most all of them over the years.  Beach breaks, catamaran sailings, zip lines: been there, done that.  Not that each tour does not have its merits, they do and all contribute to the overall cruise experience in their own unique way. But when it comes to Mayan Ruins, the thrill had been long gone until I did a tour of the Chichen Itza Mayan Ruins with Holland America Line.
Ask me a few years ago if I would be interested in an 11-hour shore excursion and I would have just started laughing and walked away, finding the idea hilarious. Unless that tour involved time travel or going to another planet, count me out.  But I was impressed with Holland America's sorting of excursions into collections on our last sailing and the chance to test one of their World Wonders was intriguing.  Throwing all caution to the wind, I chose Chichen Itza Mayan Ruins by Motorcoach.
Getting there took a 30-minute ferry ride and a three-hour bus ride each way.  Once there, we would have a total of  four hours at the site on a guided tour. Do the math; that's 7 hours travel time just to get there and back for a total of 11 hours altogether.  Prepared to be the only one on the bus, there were 39 of us who were either in for a big disappointment or a lifetime-memory quality experience.  It turned out to be the later of the two.
No stranger to UNESCO world heritage sites, I did homework in advance to put my brain in the best possible place for the experience.  "This sacred site was one of the greatest Mayan centres of the Yucatán peninsula," notes UNESCO, a fact verified and expanded upon by our knowledgeable tour guide.  Passionate about the place, he went a bit farther too, providing interesting facts about what we saw that went beyond the guide book version.  This was no scripted commentary, but the first-hand knowledge of someone who had ancestors that actually lived in the area.  Impressive.
Chichen Itza is not a 'See this rock? This is were a giant thing was centuries ago' sort of site either.
Many of the impressive structures are still in tact and visiting them very much has the same feel as seeing the Leaning Tower of Pisa.  Like Pisa, the place draws people of all ages, posing for photos; gathering in groups or simply sitting around considering the place.  On our visit were student groups, families with children, seniors and backpackers stopping by on a trek around Mexico.
Chichen Itza is a once in a lifetime experience absolutely worth every penny of the $189 per person fee.  Advertised as including a box lunch, we got two; one for the way there and one for the way back.  Still, stopping by the one restaurant at the site, I enjoyed some of the best Chicken Quesadillas ever during a generous amount of free time to explore the site on our own.  Along the way in and out of the site are the usual vendors hawking their Itza-themed wares but with a toned-down approach; not as pesky as we have seen at other places in Mexico.
At the end of a long day, everyone agreed that the tour was absolutely worth the time and expense.  Lifetime-quality experiences have a way of coming out on top like that.
Not mentioned in the tour description:
If this is a first visit to Cozumel, this is not the tour for you; there is zero time for anything other than this
If you take regularly scheduled medication, bring it with you.
Hydration alert: this is a long tour but bottled water is provided with box lunches
Bring extra power for electronic devices
Do your homework for a greater appreciation of what you will see.
On the bus ride there, stay on the lookout and have your camera ready on the trip there; we saw Mexican federales holding some young tourists at gunpoint along the way.  Also, the bus almost stops several times along the way to go over speed bumps and photo ops from the bus are many.
See more photos in our Chichen Itza Facebook Photo Gallery
Here's more from National Geographic