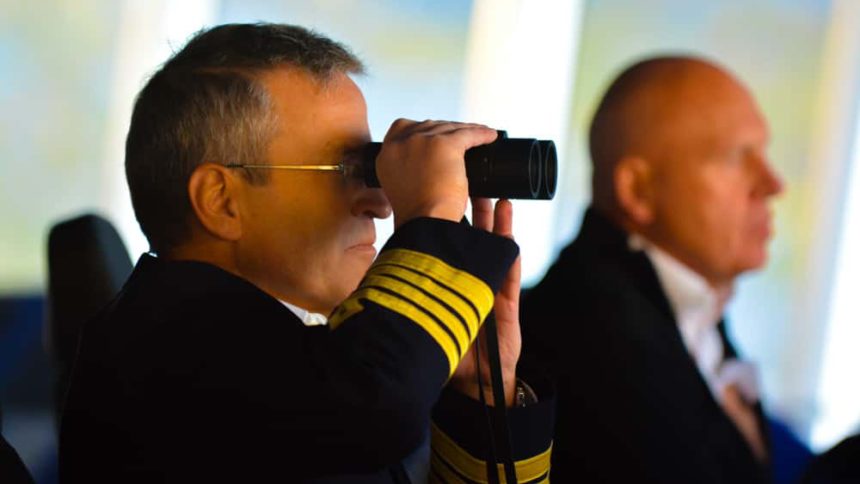 Vikings Explore Prince Christian Sound, Very Carefully
Viking Star's smaller size enables the ship to call in smaller ports and dock in different places than possible on larger ships.  That will be a big plus for the Viking Caribbean experience as we continue the countdown.  That ability also brings an onshore experience that does not include thousands of other travelers deposited ashore at the same place.  Still, some ports are tender ports regardless of ship size.  We'll do just that when Viking Star arrives in Greenland.  Still, we have to get there first and spent most of the day scenic cruising as Vikings explore the Prince Christian Sound.
Kind of like scening cruising in Alaska when a U.S. Forest Service ranger comes on board to narrate what we are seeing, Viking brought their own expert on to begin commentary that started at 6:30am.
On the way to Greenland, the world's largest island, we learned about what we would see once there. Anxious to see Nanortalik, our first port of call in Greenland, we traveled through the Prince Christian Sound, much like ancient Vikings had done in the 10th century, led by Erik the Red.
Those Vikings were pretty smart too, calling the place Groenland , or Greenland, in hope of attracting more settlers.  It's easy to imagine them fishing for crab, hunting hooded seals and welcoming visitors with a coffee party and Greenlandic cake.
On bridge of Viking Star we were treated to a marvelous view of the scene as the ship made her way around treacherous icebergs that dotted the very tight route.  Understated during the experience but quite present, bridge officers watched carefully, maneuvering the ship as we sailed.
Also interesting, just 930 passengers tender faster, allowing more time ashore. That will be particularly important in Greenland as it will be in the Caribbean but for different reasons.  With clear skies expected in Nanortalik, there is a distinct possibility of seeing the Northern Lights.  
Viking Caribbean Countdown Posts – In Progress
Vikings Explore Prince Christian Sound, Very Carefully (this post)
Flickr photo albums
Facebook Photo Albums