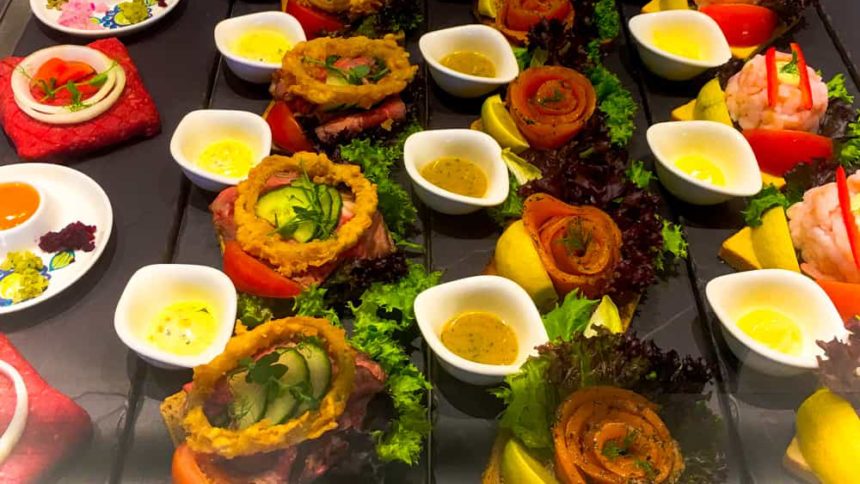 Viking Star Caribbean Dining: New Cuisine For Cruise Travelers
When Viking Ocean Cruises comes to the Caribbean, on board will be a variety of dining options. Arguably one of the main attractions of most ocean cruise experiences, Viking too has placed a great amount of emphasis on their culinary offerings, albeit with a bit different focus.
"When you understand local food traditions, you gain insight into local culture," says Viking, speaking of their Culinary Experiences and nailing the nature of experiential dining as it mingles with a focus on destinations.
"At Viking, we believe cuisine is as much a part of travel as seeing the sights; that's why we feature a sampling of regional specialties."- Viking Ocean Cruises
Indeed, Viking has the array of accommodations set for a focus on the places they visit; every stateroom has a verandah that looks right at wherever the ship goes.  Nicely appointed with comparatively large bathrooms and amenities that add up rather fast as we move up in category descriptions, all those spaces also come with 24-hour room service.  Let's start there with our exploration of Viking Star Culinary Options along with Viking's description of them.
ROOM SERVICE– After a day of enriching shore excursions ashore or various activities onboard, you may dine in the privacy of your suite or stateroom.
An extensive Room Service menu is available around the clock. Enjoy breakfast, lunch or dinner on your private veranda, as you take in spectacular seascapes.
THE WORLD CAFE- With live cooking and open kitchens, the World Café provides a vibrant interactive experience and a wide range of international flavors in a casual environment. Guests can choose their favorite foods—from the deli, the pasta or wok station or the sushi bar—prepared and presented in a stylish setting. Dine indoors or al fresco at shaded teak tables on the Aquavit Terrace, both offering stunning panoramic views.
THE RESTAURANT- Our main dining venue, The Restaurant offers the highest onboard dining experience amidst a clean and streamlined Scandinavian design. In an open and inviting atmosphere, breakfast, lunch and dinner are served with sweeping exterior views through all-glass walls—so your destination will always be close by. Standard continental cuisine is enhanced with locally sourced menus that reflect the ship's location, so guests can explore new cultures through food.
Savor the most discerning meals on board. Start your day with eggs prepared your way, a sweet array of pastries and selections from the grill. Mid-day, linger over finely made soups, artisanal sandwiches and more. At dinnertime, the coming twilight sets the mood for intimate conversation, apertifs and exciting meat, poultry and seafood dishes from the Baltic and Mediterranean. It's all complemented by your preferred beverage, from coffees and teas to wine and spirits.
MANFREDI'S- Manfredi's offers the best of Italian cuisine, whether the farm-inspired heartiness of Tuscany or famed flavors from the heart of Rome. Subdued, ambient lighting creates a warm and welcoming air in this traditional restaurant, recalling Italy's beloved trattorias and a rich European heritage. Chianti by the carafe, freshly prepared pastas and generous antipasto are accompanied by fresh seafood and a true spirit of abbondanza.
Embark on a culinary journey through Italy. Our artful menu features specialties from the country's most treasured regions. Savor cheeses from Parmigiano Reggiano or Campania and balsamic vinegar from Modena. Enjoy lasagna with handmade pasta nestled in Bolognese style sauce, or an elegant veal scaloppini lapped with Marsala wine sauce and a carafe of Chianti. Finish off with our decadent version of classic tiramisu.
THE CHEF'S TABLE– This dining space close to the waterline lets us draw inspiration from the horizon, where the sea meets the sky. In a unique multicourse tasting experience, culinary creations by acclaimed local guest chefs are paired with wines hand-selected by master sommeliers. Dining here is a culinary journey—a marriage of cultural enrichment, gastronomic exploration and local cuisine, expertly prepared and enhanced by the chef's detailed descriptions of tastings and pairings.
MAMSENS – An extension of the Explorers' Lounge, Mamsen's is our inviting gourmet deli serving traditional Scandinavian fare, whether a light snack or a full meal. Norwegian cuisine is the specialty, served in a casual atmosphere from early morning to late night. The wide array of menu items includes sweet rolls with cloudberry jam, salmon gravlax and open-faced sandwiches. The daily "Waffle Hour" provides mouth-watering samples of the beloved treat.
WINTERGARDEN- Late afternoon tea—that hallmark of English civility—is served at the Wintergarden. Freshly made finger sandwiches, richly textured scones and decadent desserts are presented on bountiful tiered carts—all from the kitchen of our masterful pastry chef. The indulgence is accompanied by a selection of international teas, tea ceremony demonstrations and the soft strains of a string quartet. With a park-like setting and panoramic views, it's an inspiring respite.
AQUAVIT TERRACE– In the spirit of the revolutionary outdoor settings of our award-winning river ships, we've created the Aquavit Terrace, providing more al fresco dining experiences than on any ship at sea. Located outside the World Café at the stern of the ship, the inviting terrace is transformed by night into a magical space where your destination is your dining room. By day, it's a relaxing lounge area around the Infinity Pool.
POOL GRILL– For a relaxed lunch or an afternoon snack, the Pool Grill serves casual American fare such as gourmet burgers, hot dogs and French fries, all prepared to order. For a lighter meal, a small salad bar is available. A condiment bar lets you customize your meal to suit your tastes with toppings from grilled mushrooms to sauerkraut. The poolside atmosphere welcomes bathing suits, lounging and leisurely dips in the water.
Also of interest to a number of cruise travelers considering Viking ocean cruises: SPECIAL FOOD REQUIREMENTS-  Every meal has vegetarian options and Viking promises that chefs will make efforts to accommodate special requests. Guests requiring special diets (low salt, diabetic, gluten-free and low cholesterol) should alert us 90 days prior to departure and inform the Maître d' when on board.
Examining What Really Matters we have looked around dining rooms to consider how Viking Star crew members are interacting with passengers in each dining venue.  We like what we see too. We compare the promises made above to the actual experience on the ship, on multiple occasions.   We expect the best from Viking Ocean Cruises and have received nothing but that in the past from sister-line Viking River Cruises.  Still, this is a much larger ship and a new cruise line in a pond that has well-established standards of excellence.
To be fair, the subjective nature of dining makes rating the three T's of the experience (Taste, Texture, Temperature) a tough call.  What I like, you might not.  I get that.  It's not like comparing actual amenities in a stateroom to those advertized; those are either there or not.
Still, comparing the actual experience to that promised in broad strokes, we have done and will do when Viking Star comes to the Caribbean.  The biggest challenge?  Choosing where and when to examine these venues.  I can live with that.
See more of our Countdown To Viking Star In The Caribbean series via these posts written each day as that clock ticks down.  We paused that countdown briefly to focus on the ship's last sailing, a transatlantic sailing themed In The Wake Of Vikings.  Today, we pick right back up where we left off.  In the mail on my return from that marvelous In The Wake Of Vikings sailing, travel documents for our West Indies Explorer sailing
Facebook Photo Albums