Viking Star Ambiance Sets The Mood For First Caribbean Sailing
It was a comparatively quick trip from Orlando to New York City to board Viking Ocean Cruises first ship Viking Star.  Any other sailing with Viking has always required an international flight; well with the investment of time but a long travel day nonetheless. Still, the familiar Viking Star ambiance, experienced in other parts of the world were present all along the way and onto the ship.
Flying American Airlines from Orlando to Charlotte then on to New York was about as easy as air travel gets.  Plenty of time between connections and someone waiting for us just outside of the bag claim area with a Viking sign. In a matter of minutes we were off to the ship through typically heavy New York traffic.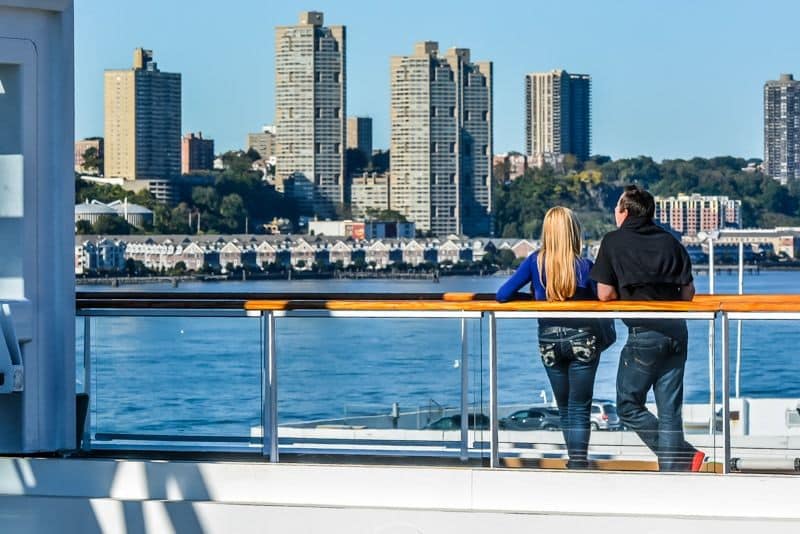 Once on board the New York ambiance was hard to miss and a harbinger of detailed destination immersion to come.  Docked next to the USS Intrepid Museum with the American Flag flying from Viking Star and the same displayed on the giant LED screen of the ship's Living Room, we were no longer in international waters.
Viking Star has made the trip to North America, complete with the friendly and efficient crew and pleasant spaces to enjoy on the upcoming three days at sea.
When a planned sunset sailaway was delayed, we were treated to the New York City skyline on the way out to sea.
Sailaway is always a wonderful time on any cruise ship sailing from New York.  We saw that same scene not long ago when remastered Queen Mary 2 set out on her first transatlantic after the extensive refurbishment.  On that day, we were with travel agent Richard Shane, Founder and CEO of The World's Greatest Vacations in a small ship, following the big ship out to sea.
That experience was entirely during daylight.  Under the cover of darkness, we sailed the same route out of New York on Viking Star. The images here give a good idea of what we experienced this first day sailing with Viking Star from embarkation to sailing off into the night.
[espro-slider id=65925]
Viking Caribbean: Unique In The Caribbean
In New York, My Viking Story Begins
Viking Star Ambiance Sets The Mood For First Caribbean Sailing (this post)
Facebook Photo Albums-
Viking Caribbean: Pre-Cruise Countdown
Facebook Photo Albums