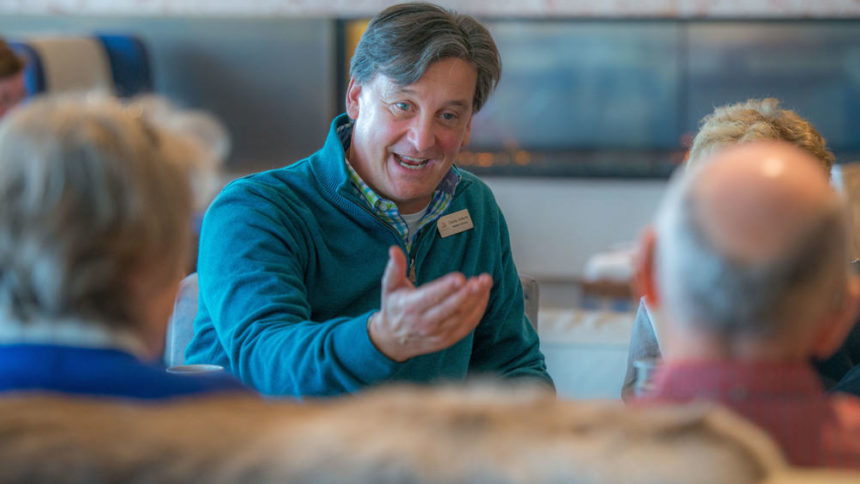 Viking Resident Historians Sustain Quest To Reinvent Cruise Travel
Last summer, Viking Cruises sailed to the Caribbean for the first time and we were there.  Viking Star and twin-sister Viking Sea had been reinventing ocean cruising around the world, sailing the Mediterranean and the Baltics since their launch.  Reports coming back from the 962-passenger ships were fabulous.  Still, the biggest test lie ahead as Viking Star came the Caribbean, a part of the world quite familiar to North American cruise travelers.  There, Viking explorers invaded a sea where big ships had ruled for decades.  All major cruise lines had a year-round presence and the competition was fierce.   Very quickly it became apparent: Viking's "thinking person's cruise" that had played so well around the planet,  rocked the world of Caribbean cruising which would never be the same.  One of the seriously differentiating factors between what Viking does and what everyone else does?  Viking Resident Historians.
Buoyed by a highly successful first Caribbean season, continuing positive reports around the world and a plethora of awards Viking is rolling out its onboard Viking Resident Historian program fleet-wide.  Launching on Viking Star, Viking Sea and Viking Sky this month, a carefully curated faculty of historians will provide the same enhanced level of enrichment for guests we experienced in the Caribbean onboard all of Viking's ocean cruise ships.  Fueling this intelligent move, Viking's clear vision of who they are as well as who their guests are.
"Our guests are explorers – they are curious travelers who want to learn," said Karine Hagen, Senior Vice President of Viking Cruises, who leads Viking's enrichment efforts. "Having a fundamental understanding of iconic historical events in the destinations our guests visit helps bring a deeper understanding of the present – and perhaps also a better perspective on the future."
Viking Resident Historians are charged to provide guests with a high-level historical and cultural education that is specific to their journey.  The goal: offer a framework for understanding the major chapters in world history.
Viking Resident Historians will do that via seminar-style roundtables, small and intimate forums for discussion with guests, examining in-depth subjects related to their own area of specialization and/or particular areas of interest of the guests.  What we experienced with Resident Historian Charles Doherty was an entirely different way of experiencing stops along the way on our 11-day West Indies Explorer sailing, round trip from San Juan.

Viking Resident Historians Bring More Than Enrichment
In addition to Viking Resident Historians, sailing along with Viking guests for the entire journey,  onboard Guest Lecturers will contribute their particular expertise (art, architecture, music, etc.) of the region. The responsibilities of Viking Resident Historians extend well beyond just lectures during each cruise itinerary and include a couple features we enjoyed as well as a few new ones:
Iconic Lectures- Presenting itinerary iconic lectures (examples in Europe and Scandinavia include: The Roman Empire; The Ottoman Empire; The Hanseatic League; Imperial Russia) We enjoyed these several times throughout our Viking Star Caribbean sailing.
Roundtable Discussions- Conducting roundtable discussions (examples include: The Elgin Marbles; Women Explorers; Venetian Naval Power) happened from time to time as we sailed into different parts of the Caribbean
They could have stopped there and had far more than the 'enrichment' lectures featured on a number of other cruise lines.  But that's not how Viking rolls.  Instead, these thoughtful additions to the program are the elements that other cruise lines will attempt to emulate:
Dinner Discussions- Hosting history-themed dinner discussions onboard
Office Hours- Holding daily "office hours" for one-on-one time with guests
Questions And Interactions- Being available for guest questions and interactions outside lectures and office hours throughout the itinerary
The Viking Difference that results in a tapping of the heart and soul of Viking guests to bring a genuinely engaging travel experience will prevent other cruise lines from pulling this off.  It's an infectious passion for what they do that runs throughout the organization.
Even with this spotlight that clearly illuminates a key element of what Viking is all about, the other guys won't get it.
Viking Resident Historian lectures work because they are exclusively produced by Viking, under the tutelage of Dr. Charles Doherty, Chief Viking Resident Historian.  They are not farmed out to Afar, given assumed credentials with a UNESCO sponsorship or rolled out in any other "what will our return on this investment be?" sort of way.  The cost factor is off the table.  Very much on the table is the end result as it affects Viking travelers.  I saw this first hand as Resident Historian Doherty came along on our walking tour of San Juan, engaging both our certified guide and Viking guests along the way with no questions off limits, no interest unaddressed and themes brought up in lectures before arriving at this destination applied as we walked.  He simply did not miss a beat.
Several times along the way I thought "I've been here a dozen times and never seen the place like this", a thought echoed by many of the culturally curious Viking guests along with us that day.
I relate our stellar experience because some interesting quality checks are already in place
To insure that same quality experience fleet-wide, the lectures are standardized as a core curriculum to guarantee consistency, regardless of which Viking Resident Historian is lecturing.
As with other onboard lectures, the Viking Resident Historian series will be presented in The Theater – and each will also be filmed and made available for guests on the in-room entertainment system.
Additionally, the series is currently being professionally filmed in-studio, and in early 2018 will be available in its entirety on-demand through the in-room entertainment system on all Viking river and ocean ships.
Consider the credentials of our Viking Resident Historian as an example of what Viking guests might find on other ships, in other parts of the world:   Charles Doherty, PhD, has lectured in more than 60 countries for The National Geographic Society, the Smithsonian and the American Museum of Natural History. Dr. Doherty received his doctorate from the University of Wisconsin–Madison and attended the Courtauld Institute in London as a Fulbright Scholar.
The first three Viking Resident Historians that will be featured onboard Viking's three ocean cruise ships this spring look to be equally credentialed:
Dr. Mark Callaghan holds a Ph.D. in History from the University of London, an M.A. in Art History from Oxford University and a B.A. in Art History from the University of Manchester. Dr. Callaghan is a specialist in 20th century European art and culture and will serve as the Viking Resident Historian on Viking Sky on sailings of Empires of the Mediterranean this spring.
Lt. Colonel Tony Coutts-Britton is a graduate of the Royal Military Academy, Sandhurst and served with the British Army in Europe and Asia – and later with NATO in the Partnership for Peace program. Lt. Col. Coutts-Britton lectures on the social and political aspects of European military history and will serve as the Viking Resident Historian on Viking Sea on sailings of Empires of the Mediterranean this spring.
Dr. Fenella Bazin holds a Ph.D. from the University of Liverpool, is a graduate of the Royal Academy of Music and is a Research Fellow at the University of Liverpool's Center for Manx Studies. Dr. Bazin is a specialist in the Age of the Vikings and modern Norway and will serve as the Viking Resident Historian on Viking Star on sailings of Empires of the Mediterranean this spring.
While great news for fans of cruise travel and those who thought they had seen the world before with other cruise lines, the launch of the Resident Historian program is just the latest of several recent enriching additions for Viking Ocean Cruises, including:
Munch Moments – In 2016 the company announced an exclusive partnership with Oslo's Munch Museum, designed to celebrate the life and artwork of Norway's most famous artist, Edvard Munch, with daily "Munch Moments," staged for guests each day in the ship's Atrium.
The Metropolitan Opera – Viking has worked with the world renowned Metropolitan Opera to bring Puccini's classic love story "La Bohème" to guests. As part of the Metropolitan Opera's groundbreaking "The Met: Live in HD" series, this Viking Privileged Access experience takes guests beyond an ordinary visit to the opera with behind-the-scenes features such as interviews with cast and crew members.
Viking Art Guide – Viking has launched the Viking Art Guide, a new mobile app available in the App Store, which is a walking tour of Viking's ocean ships and the extensive collection of Nordic art onboard that can be experienced at a guest's leisure.
Want To Know More About The Rocket Fuel That Energizes Viking Cruises?
See these posts that specifically address that topic
This new Viking Video reveals more about Viking Resident Historians