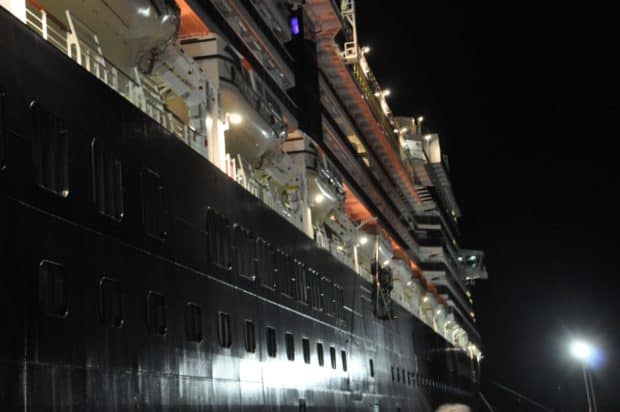 Streaming Live Video Brings Cruise Dreams Home
I remember when we lived in Kansas and counted the days between flights to Florida and the next cruise vacation.  In the winter especially, cruise dreams helped us cope with cold weather, snow, ice and everything that goes with it by tapping into the then few webcams available that broadcast live from Florida.  At the time, my dream was to live on the intercoastal waterway of Fort Lauderdale or Miami and vowed to attach a telephoto webcam to my balcony, so everyone sailing away could wave good bye to the folks back home.  I made it as far as Orlando and may stay put right here, but for those who live far away from the now numerous ports scattered around North America and other places in the world, here is a new list of our favorite web cams.
Port Everglades Webcam is still the king daddy of all webcam sites on our list.  This one made headlines, broadcasting live video when the largest cruise ship in the world, Oasis of the Seas made her way into Port Everglades for the first time and continues to broadcast today.
Port Miami webcam gets better with time as internet speeds increase, delivering high-quality video 24 hours a day.  Going further south in Florida to Key West, I remember watching and waving to friends back home at the live webcam on Duvall Street, still in operation today.
Port Canaveral webcam is the closest to our home in Orlando and its a good thing they have it too.  Before moving here we thought we would go to the beach all the time.  As it turns out, we don't go often at all, kind of like how we have lived here nearly ten years and have yet to see Universal Studios, other than stopping by Jimmy Buffets for a Cheeseburger in Paradise.
The Port of Galveston has a great cam that is seeing increasing action these days, as more ships sail to and from the Texas port.  We visited Galveston not long ago, prior to Carnival Cruise Lines becoming the largest cruise ship operator sailing from Galveston, a great city for a pre- or post- cruise hotel stay as well.
Bermuda has a web cam too,featuring 24/7 live streaming HD-quality Internet video broadcast in association with the National Museum of Bermuda.  Watch cruise ships, yachts, ferries, sail and fishing boats or just simply marvel at their fabulous island views and ships including new Norwegian Breakaway.
Mazatlan Mexico, now back in the cruise business and better than ever has a semi-live webcam that refreshes regularly and is worth a look, just to see how very beautiful this destination is.
New York Harbor webcam shows ships coming and going around the clock, as does the Hudson River webcam.
On the West Coast, the Port of San Diego webcam gives a live audio weather forecast (automatically)
Now, we can even see commonly visited Caribbean destinations, live via streaming video, including  Anguilla, Aruba, Bonaire,  the Cayman Islands,  Costa Maya, Mexico,  St. John, Barbados, Phillipsburg, St. Maarten and more. Today, there are entire websites set up to bring streaming live video from around the world including Krooz-Cams.com, CruiseCams.com and others that add cruise ship bridge cams and beach cams as well.
And to think we used to sit in Kansas with dial up speed, hoping to stay connected long enough for a single live image of the port.  I remember that.  But then I also remember when people would bet cigarettes on the outcome of a casual wager and the desired outcome was to win.  Times change.