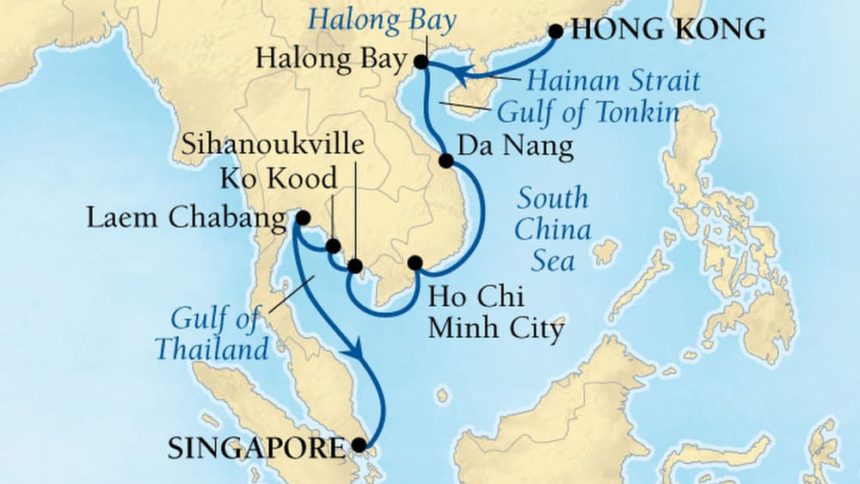 Sold Out Seabourn Food And Wine Cruise Starts In Two Weeks
The sold out Seabourn Food And Wine Cruise 2016 starts in Hong Kong on January 3, ending in Singapore 14 nights later.  While it's too late to join the 2016 the Taste Of Asia sailing, fans of cruise vacations, fine cuisine and amazing wine can come along with us and a team of culinary experts on a connoisseur's cruise around Asia.   There is a lot to look forward to on this third version of the Seabourn Food And Wine Cruise which seems to get better each time.   Let's take a look at the planned highlights then roll right into getting ready to go and getting there as we begin a more focused coverage of what looks to be a fabulous journey.
Sold Out Seabourn Food And Wine Cruise Itinerary
As was the case on the first and second Seabourn Food And Wine Cruise, the itinerary alone is good enough reason to hop on Seabourn Sojourn for two weeks. Different on this sailing, there is not one place on this itinerary that we have been to before.
The first Seabourn Food And Wine Cruise in 2014 racked up 44 individual events on a 10 day sailing. 2015's sailing got more intense with 47 individual events in just 7 days. Bigger and better than ever, the lineup of events for the 2016 Seabourn Food And Wine Cruise numbers 90 right now. If this one goes as the last ones, that number will no doubt swell to over 100 by the time it is all said and done. Let's take a brief look at what Seabourn has in store for those who come along for what is sure to be the at-sea culinary event of the year, yet again:
Asian Epicurean Welcome Party with local lion dance show
Colonnade: Chinese Market Dinner featuring local Peking duck
Sail away with Live Entertainment and Chinese Desserts
Wine Themed Movie: Red Obsession
Cooking Demonstration with our Celebrity Chef
Dim Sum Bar
Mixology Demonstration
Local Chef Lunch
Culinary Team Trivia
Galley Tour
Wine Tasting Seminar with our Guest Sommelier
Chinese Tea Ritual
Captain's Welcome Reception
A Taste of Seabourn Chef's Dinner
Shopping with the Chefs In Hanoi
Wine Lecture with our Guest Sommelier
Vietnamese Deck Event with Local Entertainment
Vietnamese Hot Pot Market Dinner
Street Food Dinner at the Patio Grill
Mixology Demonstration: Creating Fresh, Local Cocktails
Live Noodle Making Demonstration
Noodle Themed Lunch
Spring Roll Bar at the Patio Grill
Mixology Class: The Use of Herbs in Cocktails
Galley Tour
Cooking with Chilies Demonstration
Wine Tasting Seminar with our Guest Sommelier
Vietnamese Tea Time
Seabourn's Signature Block Party
Celebrity Chef Dinner
Shopping with the Chefs in Da Nang
Wine Lecture with our Guest Sommelier
Local Market Lunch
Officers on Deck Event featuring Asian Flavors
Dessert Under the Stars
Rock the Boat Dance Party
Nightcap Cocktails with our Mixologist
Vietnamese Cooking Demonstration
Sushi Making Demonstration
Pho Bar at the Patio Grill
Galley Tour
Wine Tasting Seminar
Food Bazaar Dinner
Liquor Tasting with our Mixologist
Shopping with the Chefs In Ho Chi Minh City
Local Market Lunch
Shopping with the Chefs In Ho Chi Minh City (because we overnight there)
Vietnamese Market Lunch
Epicurean Sail-Away Event
Wine Lecture with our Guest Sommelier
Mixology Demonstration: Balancing Acidity in Cocktails
Cooking Demonstration with our Celebrity Chef
Local Ingredient Food Exposition on Deck
Wok and Stir Fry Lunch
Sate Lunch at the Patio Grill
Asia vs. Europe Cooking Challenge
Wine Lecture with our Guest Sommelier
Galley Tour
The Durian Fruit Challenge
Cocktail Tasting with our Mixologist
Wellness Day with Healthy Themed Events
Cambodian Themed Market Lunch
The Fine Art School of Phnom Penh Local show
Mixology Class: Creating Cocktails with Local Ingredients
Seabourn's Signature Beach Barbecue
Caviar in the Surf
Coconut Drink Bar
Local Beer Tasting
Shopping with the Chefs In Bangkok
Local lunch featuring Tom Yum
Patio Grill: Curry Bar
Local Show followed by Thai Themed Sail-Away
Thai Dinner
Creating Thai Cocktails with our Mixologist
Thai Curry Demonstartion
Fruit and Vegetable Carving Demonstartion
Thai Lunch
Phad Thai Bar at the Patio Grill
Galley Tour
Mixology Demonstration
Wine Lecture by our Guest Sommelier
Captain's Farewell Party and Crew Farewell
Celebrity Chef Dinner
Cooking Demonstration
Seabourn's Signature Galley Market Lunch
Culinary Team Trivia — Final Round
A Conversation with the Culinary Team
Mixology Demonstration
The Best of Seabourn Dinner
Culinary Movie: Eat, Pray, Love
Guest Chefs Join Seabourn's Culinary Team
CHEF BERND SIENER

A native of Mainz, Germany, Chef Siener received his education at the Steigenberger Hotel School and the University of Heidelberg, ultimately earning certificates as both a Master of German Wines and a Master Chef. His career has been spent among a veritable constellation of Michelin stars including Franz Keller's Schwarzer Adler (2 stars); Heinz Winkler's Tantris (3 stars) and Tristan (2 stars); and Harald Wohlfahrt's kitchen at the Kurhotel Traube (3 stars). Chef Siener applied his skills to other star-rated establishments in the United Kingdom, Spain, Colombia and Turkey before creating his own culinary domain at the Restaurant Bel Etage in the 5-star Vila Vita Rosenpark in Marburg, Germany. After ten Michelin-starred years as an award-winning chef and then culinary director at Bel Etage, he is now culinary director at the Vila Vita Gastro in Marburg. Chef Siener has also co-authored a number of cookbooks for the celebrated culinary publisher Teubner. He is married, with two young children.
GYPSY GIFFORD

Gypsy Gifford, born in England and raised in Southern California, is a CIA alumna and valued culinary instructor. She worked for several years in New York City in the restaurants of Daniel Boulud, Terrence Brennan and Rocco DiSpirito. In New York she worked as Executive Chef at Rain Restaurant, transitioning a long time Thai Restaurant into a successful modern Asian restaurant and earning the Emerging Tastemaker Award from Food Arts Magazine. She left New York and headed to California to run Café Pinot, the acclaimed jewel of the Patina Restaurant Group. From there she moved onwards to work as Corporate Chef for Disney Studios where projects focused on sustainability and overhaul of foodservice at employee based cafes. Highlights of the time at Disney include the development and implementation of a 4-acre farm which delivered 10K pounds of produce per year to Disney foodservice locations as well as an equal amount in donations to local food banks. Chef Gifford's cooking is much in tune with her personality, free spirited, driven by curiosity, and likely to pull from all corners of the globe.
In her time at The Culinary Institute of America, Chef Gifford has developed and launched a challenging semester abroad for US-based Bachelor's students. This Asian Concentration takes students on a culinary journey that spans the Silk Road and maritime Spice Routes of the greater Asian continent. Chef Gifford has been traveling to Asia for over 12 years and has resided in Singapore since 2012. Her personal and professional research projects are focused on Southeast Asian foodways and culinary traditions.

Follow Along With Us
We fly on New Year's Day from Orlando to Hong Kong via Dubai on Emirates Airlines, our new favorite international carrier.  Follow along every step of the way, right here and socially a number of ways:
At ChrisCruises.com– a new post every day.  Click here for all of them or pick topics of interest, as they are published
Pre-Cruise:
Live From Seabourn Sojourn
Flickr Photo Albums- posted as we travel
Pinterest Boards- One for each port of call, every event and more
Twitter- follow @OrlandoChris for moment by moment coverage of the Seabourn Food And Wine Cruise + an assortment of cruise and travel topics

Google +– Follow along every step of the way

Facebook Photo Albums– one for each event and port of call