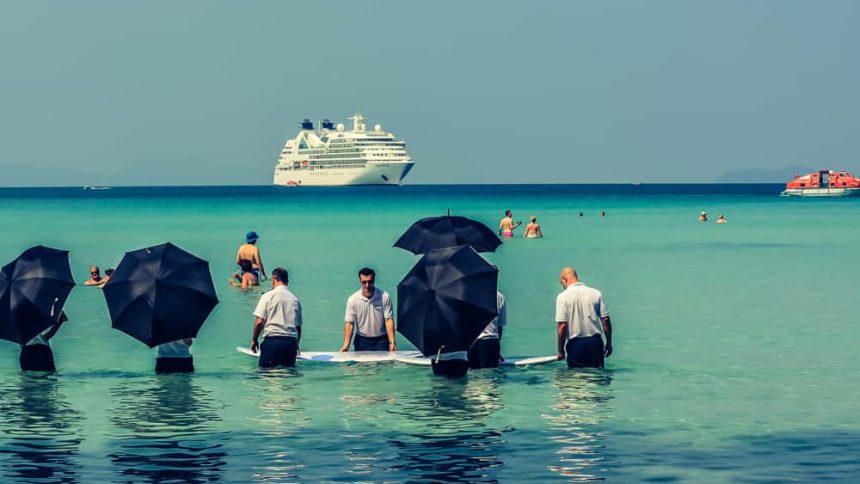 Seabourn Win Continues Luxurious Lead In Upscale Cruise Segment
Continuing to dominate the Best Small Ship Cruise Line category, Seabourn again scored #1 by the readers of Conde Nast Traveler.  That makes a total of seven years in a row for Seabourn to rate highest in the respected Conde Nast Traveler Readers Choice Awards.  We have some ideas about how that happens.
"Conde Nast Traveler readers are well-traveled and well-versed in luxury and high-touch service, and it has been an honor to receive this award year after year," -Seabourn President Richard Meadows.
Earning the Conde Nast Traveler Readers' Choice Award verifies what fans of Seabourn already know. Much of the ultra luxury line's success comes from an array exceptional itineraries. sailing to all seven continents. The icing on the cake: outstanding service that continues to attract sophisticated travelers year over year.
Seabourn's excellence has been rewarded by other publications as well. World's Best Awards for Best Small Ship Cruise Line from readers of Travel + Leisure in six of the past 10 years, as well as the 2016 Cruise Critic U.S. Editors' Picks Award for Best Luxury Cruise Line confirm Seabourn's place as top ultra luxury cruise line.  Speaking to Seabourn's focus on all things culinary, a 2015 Good Taste Award win from Saveur came from an expert panel of industry experts and prominent culinary and travel editors similarly acknowledged Seabourn as Best Culinary Cruise Line in 2013 and 2014.
Seabourn's Intimate Ships boast spacious, thoughtfully appointed suites, many with verandas; superb dining in a choice of venues; open bars throughout the ship; fine wines poured at lunch and dinner; award-winning service and a relaxed, sociable atmosphere that makes guests feel right at home onboard.
Interesting itineraries take Seabourn ships around the globe throughout the year, sailing to many of the world's most desirable destinations, including marquee cities, UNESCO World Heritage Sites and lesser-known ports and hideaways.
Chef Thomas Keller- As ultra-luxury cruise lines go, there are higher standards for every part of the travel experience.  Rightfully so, luxury cruise travelers pay a premium price and expect their personal experience to meet or exceed the premium expectations set in advance of sailing. Seabourn understand that and figuratively wrote a book that defined the ultra in ultra luxury.  A solid differentiating factor that separates Seabourn from other luxury cruise lines is that they rarely cease to evolve what they do.  Walk onboard a Seabourn ship a few months after your last sailing and odds are something will be different, improved or new.   Significant here is that those different, improved or new things are welcome additions.  Seabourn's partnership with Chef Thomas Keller brings a new signature restaurant and is a textbook example of how they go about being the best.
Seabourn and UNESCO have been working on their partnership for quite some time now, a number of ways.  Promising and delivering a deeper appreciation for the many World Heritage sites the world's finest luxury cruise line visits around the world, Seabourn today announced the next group of speakers for their Seabourn Conversations program.
It's the latest in  the Seabourn UNESCO partnership, an ongoing effort that adds real value to sailing with the ultra luxury cruise line.
Shopping With The Chef= A major attraction on any Seabourn cruise, Shopping With The Chefs takes passengers off the ship and into city markets to source raw ingredients for something they will make back on board. That's the definition of the Seabourn signature event.  In practice, shopping in a local market with chefs from the ship connects the destinations we visit in a unique way.  Rather than passively walking by a colorful city market, passengers make a direct connection that goes beyond a keepsake photo…but photos we have to share.
The sights, sounds and smells one encounters in these places is something to be experienced first hand.  On a recent Seabourn sailing we began in Hong Kong then sailed through the South China Sea to Vietnam, Cambodia, Thailand and more, stopping at each port to engage destinations by shopping with Seabourn chefs.
Signature Events like Champagne In The Surf set Seabourn apart from other luxury cruise lines as well. Seabourn Signature experiences serve as an accurate way to describe a lot about what makes the ultra luxury cruise line tick.   Visiting Thailand on our 14-night Taste of Asia Food and Wine Cruise, we stopped for the day in Ko Kood Thailand, the location of our day at the beach that included Champagne In The Surf.

The Seabourn Food And Wine Cruise has been an annual event for several years now.  Bringing on board celebrity chefs, multiple sommeliers, culinary publication editors and destination experts, it does not get better than this for those passionate about culinary matters.  A sailing on any Seabourn ship brings top culinary events as just part of what they do on each and every voyage.  That's the norm.  Adding an additional layer of  excellence makes for a stellar event at sea that is difficult if not impossible to reproduce on land. The result is a riot of food, wine and culture, with a particular focus on gourmet cuisine.
Kudos to Seabourn Cruises for another well-deserved win.