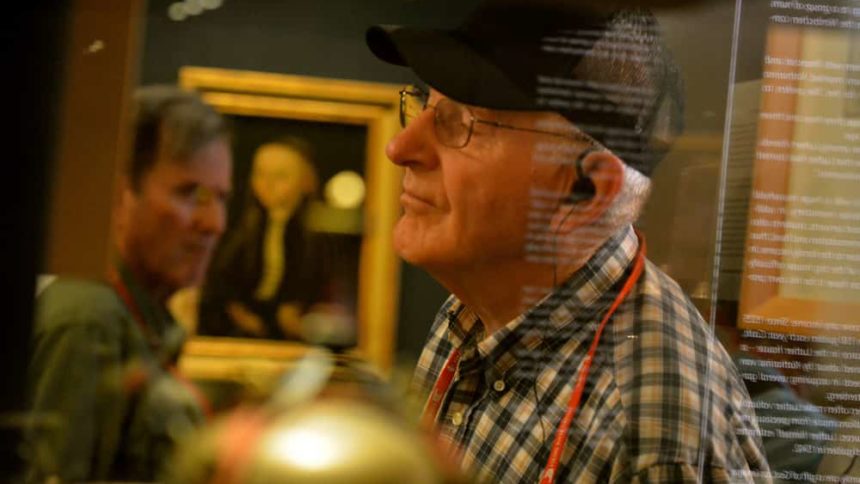 Sailing Viking: Visiting Lutherland
For a number of us on Viking River Cruises Elegant Elbe trip, the stop in Wittenberg was the main attraction.  Home to Martin Luther, father of the Protestant Reformation who planted the seeds that would eventually become modern day Lutheranism.  Lisa and I were married in the Lutheran church, in spite of my Jewish grandmother's spirit which still haunts me today over that decision.  Sydney and Whitney were baptised in the Lutheran church and we attended regular church services there for a number of years.  Martin Luther is to the Lutheran church of today as Walt Disney is to the Disney company of today in a way.  Both men had interesting and revolutionary ideas and both succeeded in changing the world.
Walking around Wittenberg it's hard to miss the references to Luther on everything from souvenirs to street names.  Luther's image in Wittenberg is as present as Mozart's in Vienna, especially when we get to places where Luther lived, worked and made history.
Sailing Viking: Guides Make A Difference
When it comes to tour guides, we have had everything from yackety yack people who appear to just love the sound of their voice but have little of interest to say, to engaging local Viking guides who seem to be a step up from the rest.
Then there are exceptional guides like our friend Christine Couper, met via Viking on a tour of Bordeaux.  Guides that play on this higher level make connections with us and provided a conduit for us to make connections with the destinations we visit.  At the end of the day, it boils down to three qualities: Engagement, Knowledge and Purpose.

We found all three and a bonus in our Wittenberg guide, Dr Silvio Reichelt.

Dr Reichelt brought not only the knowledge that comes from someone who has devoted their life to the study of their subject but an engaging way of delivering it that was interesting and had purpose. In this case we enjoyed a guide who was a historian doctorate with a thesis on the Protestant culture of remembrance.  There is something captivating about having someone show you their world who is passionate about it.

When we moved to Florida a decade ago, I realized I would never possess as intense of a body of knowledge about the place we live now as back in Kansas where I lived for half a century.  In Kansas there was a memory on every street corner and accumulated knowledge that takes nearly a lifetime to amass.  Dr Reichelt had that amount of knowledge plus the bonus of studying it in an academic setting and shared it freely as we walked through Wittenberg.
I know all tour guides can't be of this quality but walking the streets of Wittenberg with Viking-sourced guides we often feel like they are sharing their world with us,  not simply reciting a memorized script to go along with iconic landmarks, art galleries and famous statues.  That makes a big difference, especially when traveling with a company that includes a tour at every stop along the way.  Lousy tours get old really fast and what was a key factor in the value of a travel product does not just drop off but becomes a liability.
White Beats Red And Green
In the past, Viking River Cruises used what I thought was an ingenious system to hold guides accountable; red and green comment cards.  After a tour, Viking passengers were encouraged to fill out a green card for any guides they thought were outstanding or a red card for guides that fell short of expectations.  That system is gone now, replaced by an even better system that has all white cards.  Apparently, guides would see the Program Director coming with a hand full of red or green cards and miss the point of the program; providing constructive feedback.  Now they see the Program Director coming with a hand full of white cards and they don't automatically become defensive or giddy with satisfaction.  Smart.
But 'smart' could be called the middle name of Viking River Cruises who has managed to turn mud into gold on our Elegant Elbe adventure.  Not sailing one inch on a Viking Longship due to low water levels on the Elbe River, we will walk away from this with an experience far better than we had anticipated prior to our arrival.  It's a commitment that goes beyond just delivering us to amazing places to see interesting things ranging from pretty flowers to world class attractions.
By making some very smart decisions and keeping the passenger experience at the forefront of all they did during our time with them, we gained more than we bargained for; a lot more.  Such will be the topic of an upcoming post weighing what the brochure promised and what we actually experienced.
Follow Chris and Lisa on their Viking River Cruise, right here and any or all of these engaging ways: