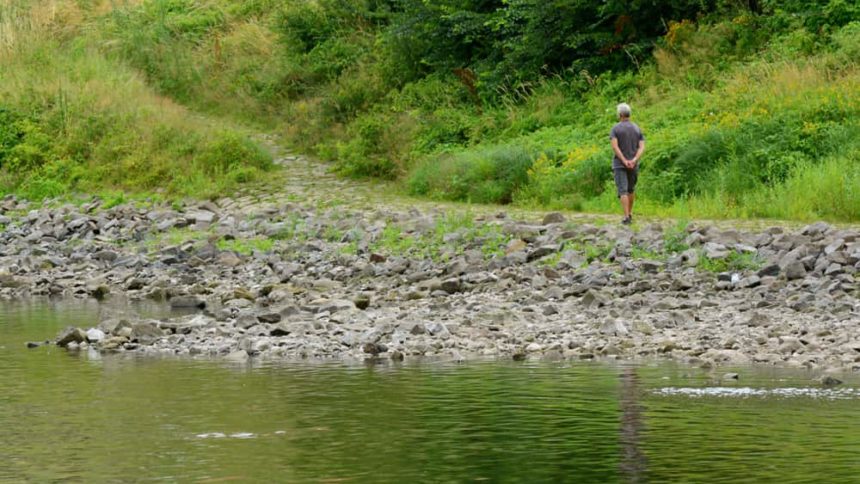 Sailing Viking: Scenic Cruising, No Ship Required
DRESDEN, GERMANY- Resigned to the fact that Viking Astrild is resting on the Elbe River bed and going no where, we were rapidly settling in to a relaxed daily pace. We were good with that, like most other well-traveled Viking guests on board. While parked within walking distance of Dresden's city center, today would bring a tour by motorcoach and on foot to some of the area landmarks. That was the plan we began the day with but one that would very quickly change. At the end of the day we were left with one of the most memorable experiences of the trip. We also got a first hand look into what Viking is all about.
Known as the Florence of the Elbe, Dresden was a wonderful place to park your cruise ship for a few days, offering a number of places to visit within walking distance. That's just how I started my day too, with a self-guided tour that took me up and down the river bank and into the city center for a total of 4,221 (Fitbit) steps; for me about 2 miles.
Driving around town in the Viking motorcoach, we passed through upper end neighborhoods, past the Volkswagen factory and then spent time on foot exploring the Old Masters Picture Gallery at Zwinger Palace.
Significant here was the amount of time we spent with an uber-informative guide through the gallery. No photos allowed but our unrestricted access to magnificent works of art was not just a simple walk through with a museum guide. Ours was a qualified historian who provided accurate detail and analysis of a number of works from artists around the world.
Like so many places in Dresden, pretty much leveled in World War 2, Zwinger Palace has been rebuilt with modern technology in the walls but to exacting detail that has brought back the city as it originally way.
It was about half-way through this tour that we were interrupted by Viking Astrild Hotel Manager Michael who had some news for us. While our original schedule called for the entire afternoon to be free time, he and the Captain had arranged for us to enjoy scenic cruising on the Elbe River, courtesy of a ferry company that runs back and forth between Dresden and Meissen all day.
The move by Viking to add this scenic cruising experience at a time when none was expected was more that just good thinking, it speaks to their commitment to those who travel with them. Even better, this decision was made at ground level, by the front line people on the ship, unencumbered by a process that might prohibit such a move with another company. Impressive.
Not a big surprise to us as we have seen Viking in action before and know their heart is in enabling us to see the world in the comfort of their Viking Longships. It's more than a slogan and we really like it when documentable evidence of that mission comes into play. Smart move.
I was glad that those who had not sailed before did get more than a taste of scenic cruising even though it is really not as much of the overall experience as one might expect. As detailed in Sailing Viking: Free Time Jackpot, as a rule, most sailing is done while we are ashore on a tour or at night.
Here we got every bit of the scenic cruising experience as we saw locals walking the dog along the riverbank. Kids played, couples strolled hand in hand, beer gardens and restaurants dotted the shoreline while we glided up and down the Elbe river.
Tomorrow we will leave Viking Astrild and go off on tour to Meissen where we will visit a porcelain factory, tour the city, have lunch in a local restaurant and eventually end up checking in on Viking Beyla.
A twin sister to Viking Astrild, Viking Beyla will have a different crew but our Emma Payne, our Program Director, will be with us all the way to the end. That continuity will probably be what makes the ship swap work for us, having that familiar and friendly face along for the ride.
Follow Chris and Lisa on their Viking River Cruise, right here and any or all of these engaging ways: