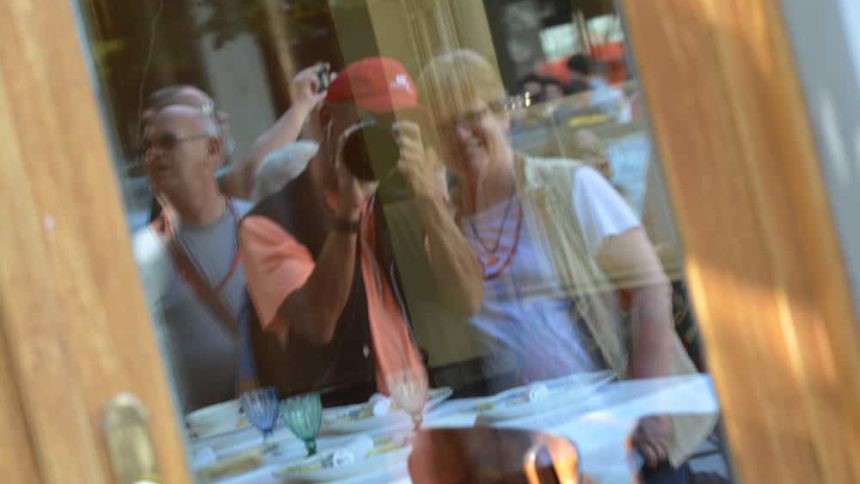 Sailing Viking: Our First (Very) Full Day
One of the unique parts of our Viking Elegant Elbe adventure is that it includes a pre- and post-cruise hotel stay, stretching what would otherwise be an eight day trip into ten.  On our first full day, we hit the ground running, covering a lot of territory.
We liked the idea of the pre-cruise day because we usually try to come to the embarkation city a day before anyway.  A lesson learned on ocean cruising, doing so takes a lot of worry out of getting us to the ship before it sails away.  In this case, low water on the Elbe would keep Viking Longship Astrild from sailing so being left behind was not a concern.  Knowing that however, allowed us to focus singly on the day at hand, which proved to be a wonderful experience.
Starting at the Prague Hilton, an included breakfast buffet got us out the door early and on busses color coded to match luggage tags given us during check-in at the hotel.  That put us and our luggage on the motorcoach that would eventually take us to the ship later in the day.  At this point, the experience was very much like a pre-cruise extension we did before a Christmas Markets river cruise in Nuremberg last December.  During that experience too, we had not seen the ship yet and went on tour prior to boarding.
Our Prague City Tour was a combination bus and walking tour that began with a general overview of the city while on the motorcoach.
First stopping at the historic city centre, we stopped by Old Town Square which features the Astronomical Clock.  A bit ahead of schedule, we watched the clock chime along with hundreds of other travelers then paused at a cafe for cappuccino and espresso.
Back on the bus we made our way to the Castle District for an hour-long guided walk that featured a changing of the castle guard and repositioning of troops that protect what is the Czech equivalent of the White House.
Back to the Hilton, it was lunch on our own time and many chose to walk around the area in search of a place to enjoy a bit more of Prague before saying good bye in the afternoon.
Now loaded back on the motorcoach, we enjoyed a scenic drive through the Czech countryside, stopping in Litomerice where we had a choice of tours from which to choose.  Some went to the Terezin Memorial which I can't tell you anything about because we chose the Walking Tour and Beer Tasting option.  I think we made the right choice.
Visiting on a Sunday, it was as though we had the place to ourselves and the tour went rather quickly. This is one of those quaint little places one might want to come back to see some day.  Lisa and I stopped for coffee at a lovely little hotel that we added to our list of places to return to one day.
Normally not a big coffee drinker in the afternoon, it looked like this would be a late night on board with the introductory ship briefing beginning at 9:30, so (excuse) another cup of coffee at a nice little cafe was again in order.
Beer tasting at the city's 300 year-old brewery was probably one of the best ideas ever and really helped our little group come together.  Tasting three different kinds of beer brewed there probably helped that effort along too.  We bought (dirt cheap) beer some to take back with us since we were on the way to the ship, our next stop.
Passing over the border from the Czech Republic and into Germany did not even slow down the bus as both countries are members of the European Union and travel between them is virtually unrestricted.
Arriving at Viking Astrild, it was immediately clear: this is a much smaller ship than the other Viking Longships we have sailed.  Less than 100 guests and less than 40 crew brought an instantly intimate feel to the vessel and we felt right at home.
Staterooms are about the same as other Viking ships: nicely appointed with plenty of places to plug things in, store belongings and move about freely.  More on those later.  For now, a quick tour of the ship in photos gathered early this morning while everyone else was sleeping.