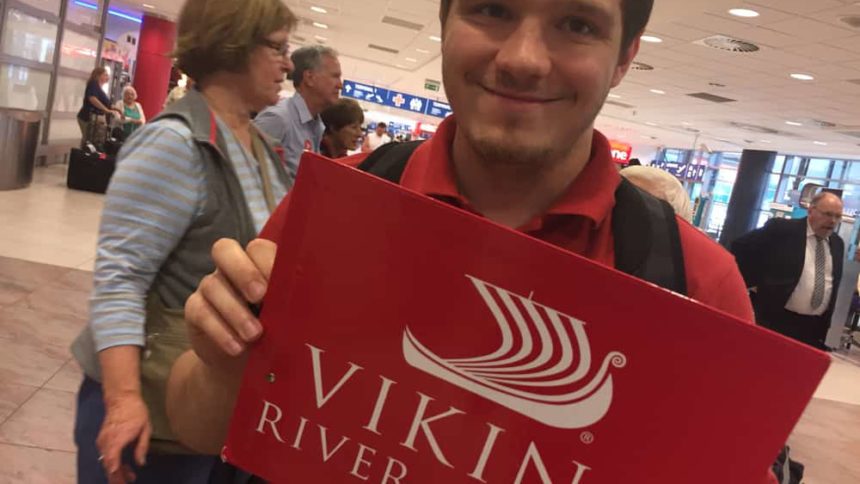 Sailing Viking: Flying Across The Pond
Making our way to Prague in the Czech Republic required flying internationally from our home in Orlando.  There is just no way around it.  Those who balk at the thought of a long flight often cause that apprehension to keep them from seeing some of the most marvelous places on the planet. Do it once, experience amazing things, go back home, think about it and there's a good chance you'll want to do it again.  Still, we have to get past that first trip over the pond so today we will detail that for y0u as we arrived to begin our Viking River adventure.

Starting at our home airport in Orlando, the afternoon flight on Lufthansa was about as good as it gets. Departing at 8PM, we would be scheduled to arrive around 11AM the next morning.  While that appears to be a 15 hour flight, it's really only 9 hours because of the 6 hour time difference.  I say that flight was scheduled to arrive 'around' 11AM because that can change too.  A brisk tailwind brought us into Prague a half hour early, even though we left about 15 minutes late.
We have a number of tips here on flying internationally that can help make the experience not only bearable but enjoyable, if your head is in the right place.
Among the more significant:
Leave plenty of time between connections.  Doing so not only insures that you and your luggage make it to the next flight but allows for travel at a leisurely pace.  There are interesting people and things to see everywhere we go, if we take the time to look.
Try flying with all carry-on luggage.  That means paring down the clothing and non-essential items to 3 or 4 outfits, total, per person.  The good news when traveling with Viking River Cruises; there are no formal nights. Pick luggage that is close to the dimensions dictated by the cruise line, choose keeping luggage with you at all times as your default setting unless an airline representative specifically asks you to check it and all will be well.
Forget the fashion show.  If trying to travel with all carryon luggage is intimidating, don't do it.  That effort will just be transferring the anxiety from one source (fear of lost luggage) to another (I have nothing to wear!)  On the other hand, we think comfortable is more important than making a fashion statement and lean towards that sort of clothing.
Forget the airline food.  On an overnight flight, we arrive at the airport with enough time to have  ceremonial burger and beer.  We realize that the next 8 or 9 hours will be spent on an airplane at a time when we are normally sleeping.  The airline will want to feed us a meal shortly after departure then another one before we land; all of which we would not have consumed when sleeping at home.  Is it any wonder than so many travelers have a difficult time sleeping on an overnight flight?
See International Flight Tips For Occasional Travelers for more on this topic
As we recommend to others, our air schedule was booked through Viking River Cruises and transfers were included all the way around on both ends of the trip.  That's an especially big advantage when departing the baggage claim area which you need to pass through regardless of luggage was checked or not.  That's where we look for the friendly Viking representative who is pretty hard to miss.
Viking sends along little red stickers to apply to ourselves so they can spot us even if we can't spot them. Those come in the welcome kit sent just before sailing along with good pre-cruise information that gives a nice overview of what to expect.
After a 30-minute ride to the Prague Hilton, a lovely property that (oddly) allows smoking indoors, we were greeted by Program Director Emma Payne.  She would be with us for the entire journey, from our hotel stay in Prague at the beginning through our overnight in Berlin at the end of our Viking adventure.   More on Emma shortly.
I say Viking Adventure because, while conditions can change at any time, as of our arrival we would not actually be sailing on a Viking Longship but using two of them as bases from which to explore. To us, that's exciting for a number of reasons we will get into a bit later.  Today was all about getting there and getting settled in.  Viking makes that easy with a courtesy desk set up in the hotel, again clearly marked and easy to find where Viking representatives are available to answer questions or just suggest some things to do in the area.
In Prague, there is an abundance of things to do and see causing many we would be traveling with to come in to town a few days early.  Those just arriving today could choose to go on a "stretch your legs" walking tour, a brief orientation of the area around the hotel.  That's a great idea for those who might need to pick up some last minute personal items or find a place for dinner on their own.
We chose to stay at the hotel, have a leisurely dinner at one of their restaurants and call it a day.  I'm glad we did too.  The hotel's restaurant had a very nice schnitzel on the menu as well as some other favorite items.
Day one would be a busy one, starting early in the morning when we would have an included breakfast, set our luggage outside of our hotel room and go off on tour for the day, ending up on one of the two Viking longships we would enjoy for the majority of our time on the ground.
Stick around and follow along.
In Journal Form-See the post stuck to the top of the list here at ChrisCruises.com, I'll add more to it every day
Story By Story- Don't want to follow along day by day or just want more on a particular experience? We will add a short post right here tagged Sailing Viking:
Follow Chris and Lisa on their Viking River Cruise, right here and any or all of these engaging ways: