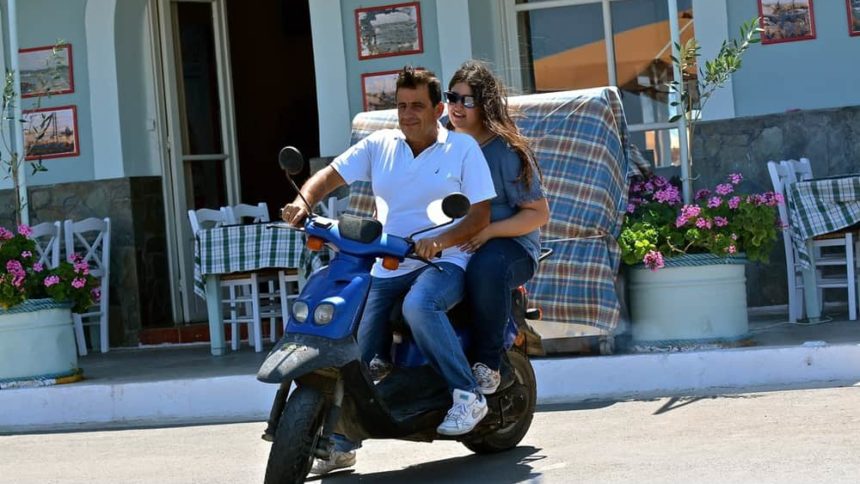 Sailing Azamara: Gythion By The Beach
Sailing with Azamara Club Cruises allows visiting ports not often seen by larger ships.  Unique itineraries take the well-traveled passengers aboard their twin ships to places those big ships can't get to or would overwhelm with thousands of people going ashore.  The Greek port of Gythion was one of those places and served as an interesting first stop on our 12-night sailing.
Like many small ports, Gythion is a tender port, one of many on our itinerary requiring use of the ship's lifeboats to get back and forth from shore.  Like other small ship lines though, this is an easy process with multiple tenders sailing back and forth all day.  For those to whom the thought of tendering is a deciding factor in choosing one itinerary over another, forget that.  There is no clogging the stairwells waiting for the first tender to go ashore, no lines of people wanting to be first and no wasting time for a long tender operation. I don't see that situation developing for a couple of reasons.  First, Azamara stays in port a long time, almost always after other ships have left for the day and often into the late night.  That takes a bit of the pressure off passengers to hustle ashore, take care of business then get back before the ship leaves.  Also, this is a bit different clientele and rushing is not something they do, regardless of their age or background.  Most have thoroughly researched each port, have an idea of what they want to do and have probably booked a shore tour to do take care of that desire.  As those on tours are escorted off the ship with priority, the tender operation is made a smooth running process.  That the ship is smaller and can anchor closer to shore probably does not hurt that timing either.
My tour du jour (I have one booked for every port of call) was the longest of the bunch at a scheduled five hours.  On a number of other lines, that would leave little time for going it on my own, a favorite thing to do in any port, on any ship, in any part of the world.  That our ship would be in port until 7PM allowed plenty of time to linger at a beachfront cafe; an activity that turned out to be the icing on a very tasty cake.
Called Medieval Wonders Of Mystras it was one of two Azamara Land Discoveries tours available.  Traveling up high into the mountains, by motorcoach, we walked back down to town, stopping along the way at a number of places, with free time allowed at each.  "Free time" is an interesting animal that those on destination focused cruise vacations get extremely greedy about about two tours into the trip.
It's like a very lovely legal drug that is easy to become addicted to.  Still, to cover the advertised ground and enable travelers to see all they want to see, guides need to keep the group moving along.  That our tour included free time throughout rather than only at the end as one might anticipate is a huge benefit and dynamic differentiating factor I hope to see on other tours as well.
Interestingly, as I was getting off the ship before this tour, Azamara Journey Hotel Director Heike asked which tour I was going on.  When I told her, a look of joy came across her face as she said in a you-don't-doubt-it sort of way "Oh, you'll like that!".  She was right.
Ending the day back at the Gythion port I stopped by H Trata cafe where I found the local flavor that defines a place to me.  Seated within view of the ship until time to leave, that activity harkens back to Caribbean cruises on ships that would stay in port a longer time, wanting to squeeze every drop of fun out of the day.  I miss those days as ships seem to spend less time in port and more time at sea generating onboard revenue.
Gythion By The Beach
Enjoyed: 3 giant Greek beers, a big plate of Greek olives swimming in Greek olive oil with crusty bread to soak it up and a jumbo Baklava that served as the perfect ending, for a couple of reasons.  Baklava in Greece is a must-have confection/dessert/sin that presents one of those situations where one has to just look beyond the calories.  When I asked my waiter for some, I think he could see the hunger in my eyes.  This was not something they had on the menu.  He paused, thought about it, looked around in all directions, then said "Yes, I get that for you".
A couple minutes later, I saw him speed away on a motorcycle, briefly, and return with that Baklava.  It was an enchanting, leisurely afternoon for a grand total of 10 Euro.  Unbelievably inexpensive in price yet rich in direct destination contact.
This is more like it.  This was lovely.  This is the Azamara I remember, now even better.
Check Back Every Day, A Couple Ways
Come back tomorrow for the latest about our day right here.
Catch up by reading about the entire journey from start to end in journal form at A Sailing With Azamara Club Cruises No jump.  No Pop-ups. No Ads.