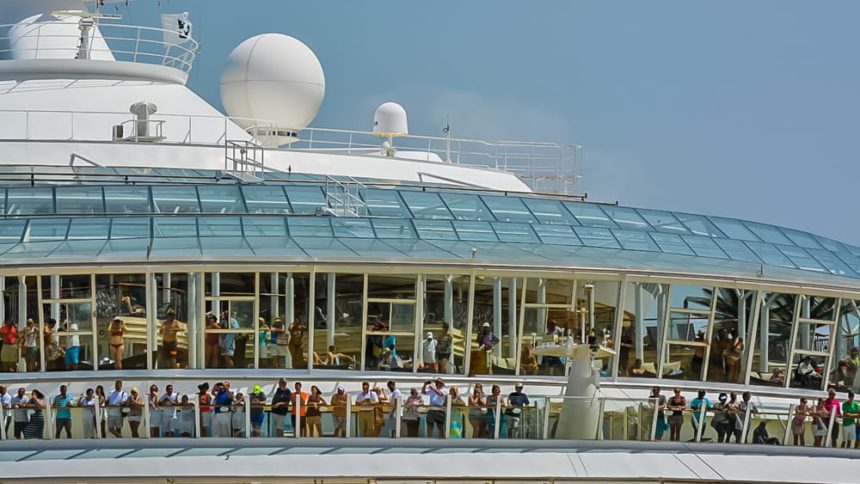 Royal Suite Class Detailed
Lately, we have devoted a lot of time and attention to luxury cruise lines; smaller ships that make a living pampering those willing to spend a bit more to go to amazing places with a few thousand less of their friends.  We like those.  We also like big ship cruising and have spent a good amount of time on ships several times the size of those offered by boutique luxury lines.  The reason: big ships have luxury accommodations too, some with exclusive amenities for those staying in those lovely staterooms.  Today, in the first of our Big Ship Or Small Ship: Both Can Be Luxurious series we begin examining the notion that the travel experience on a big ship in top-end accommodations compares favorably to that of small luxury ship cruising.
Some big ship cruise lines go as far as to set aside a part of the ship for the exclusive accommodations and services.  Also known as 'a ship within a ship', it is entirely possible for those passengers to never see the rest of those onboard or even mingle in common areas.  Royal Caribbean International has done a good job taking care of luxury travelers in their Royal Suite Class, an exciting program that aimed at those looking for the best of a luxury experience combined with the top entertainment, service and activities at sea.
Royal Caribbean's new Royal Genie department will reach out to travel agents to gather some fun facts about their clients before they sail to deliver them a truly personal experience. Who is their favorite singer? What are their favorite sport teams? What are their favorite foods? Imagine walking into your suite with music from your favorite band playing, your favorite foods to welcome you and a jersey as a gift from your favorite sports team……and that's just the start.
A Genie On A Cruise Ship
Royal Caribbean Royal Genies are there to cater to your needs whether it be in room dining every night, pressing  clothes at a moments notice, getting them special seating for shows or poolside. Remember all the extra amenities you will receive as well.
Only on Royal Caribbean Oasis and Quantum Class ships
Enter the Royal Suite Class, only on Royal Caribbean Oasis and Quantum Class ships, to enjoy the thrill of unique onboard experiences designed to ensure seamless satisfaction with privileges of exclusive access, preferential seating and their own personal Royal Genie who will arrange whatever adventure they choose to pursue.
Check these Suite Benefits, available depending on which class of service chosen:
Ultimate Beverage Package
Complimentary Specialty Restaurants
All Day Access to Coastal Kitchen
Special In-Suite Dining
Suite Lounge
In-Suite Hand Crafted Cocktail Service
Complimentary Minibar
Specialty Bottled Water
Nespresso® Coffee Maker Service
Complimentary VOOM Internet, Fastest Internet at Sea
Complimentary Fitness Class
Complimentary Spa Thermal Room Access
Exclusive Access to Signature Activities
Daily Gratuities Included
Complimentary In-Suite Movies
Luxury Bathroom Amenities by L'Occitane®
Duxiana® Mattress
Frette Linens, Towels and Bathrobes
In-Suite Welcome Amenity
Divided nicely into three different classes, each gets some or all of the above.
Star Class
Star Class- As a Star Class Suite guest, you'll enjoy the round-the-clock services of an exclusive Royal Genie personal assistant. During your voyage, your Royal Genie will attend to, and anticipate, your every need and desire. Your wish is your Royal Genie's command.  This is the top level and all benefits listed above apply.
Sky Class
Sky Class- As a Sky Class Suite guest, you'll have special access to an exclusive concierge who will remain at your service throughout your time with us to assist you with priority reservations and theater seats, securing access to the private suite Sun Deck and any other requests that may arise.  Benefits include
All Day Access to Coastal Kitchen
Special In-Suite Dining
Suite Lounge
Specialty Bottled Water
Complimentary VOOM Internet, Fastest Internet at Sea
Complimentary Spa Thermal Room Access
Exclusive Access to Signature Activities
Luxury Bathroom Amenities by L'Occitane®
Luxury Pillowtop Mattress
In-Suite Welcome Amenity
Sea Class
Sea Class- Pamper yourself with luxury bathroom amenities by L'Occitane. Let the ocean gently lull you into the slumber of a lifetime on your luxury pillowtop mattress.  And enjoy exclusive dinner access and breathtaking views through floor-to-ceiling windows in our Coastal Kitchen, where Mediterranean and California coastal influences mingle for a culinary experience you won't soon forget.  Benefits include:
Dinner Access to Coastal Kitchen
Specialty Bottled Water
Luxury Bathroom Amenities by L'Occitane®
Luxury Pillowtop Mattress
Photos and Graphics: Royal Caribbean International