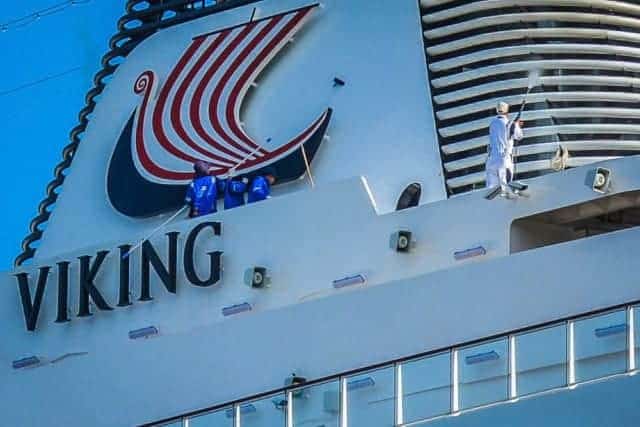 Robust Viking Expansion: Good News For All Cruise Travelers
At a time when a number of other cruise lines are rebranding, repackaging and taking a fresh look at what they do to remain relevant, Viking Cruises continues robust expansion on a steady path of growth.  Hmm, did I just throw just about every other cruise line on the planet under the bus?  In a way, yes.  In other ways, not so much.  Let me explain.  At the end of the day, it's good news for cruise travelers.
In countless posts in a number of voices, we tried to get the message across. On every major social media platform, the message was clear.  Over and over again we said it and others chimed in to warn the rest of the travel industry:  There's a new cruise line in town and they're going gobble up your cut of the pie if you don't watch out.  Super-resonating Viking River Cruises was in the ocean cruise business and a tsunami of change was coming.
Now, nearly three ships in on a planned six ship fleet, rumors are spreading: There might be more.  Maybe eight.  Maybe ten.
While the total number of ships in the Viking Ocean Cruise fleet may appear limitless, one element comes more into focus every day: Viking has redefined the ocean cruising experience. It's not a marketing claim, this is a proven fact as the cream of nearly every cruise line continues to be skimmed over to Viking.  Experienced travelers and crew alike are eager to get on board. Viking is the place to be.  The Viking experience consistently delivers and surpasses what they promised. The consensus of opinion among experienced travelers: many other cruise lines fall short of expectations OR cruise travelers have lowered the bar, expecting less.  Viking continues an upward momentum that seems to defy the laws of business physics.
I write this as Viking Ocean Cruises has taken delivery of third ship Viking Sky. In February, the new 930-guest vessel will set sail from Rome's port at Civitavecchia,  make her way through the Mediterranean on a maiden voyage, then sail spring itineraries throughout the Mediterranean.  New ships on other cruise lines have and will debut in a similar manner… up to that point.  In June, this story takes a different turn, a fearlessly Viking turn that up until this point might have defied comprehension.
That's when the world of ocean cruising will focus its attention North as Viking Sky is christened in Norway,  a nod to Viking's Norwegian heritage. Stop right there and this is an interesting story but nothing spectacular.  Norwegian ship, christened in Norway, got it.
But the story does not stop there even though this is where industry watchers move along to the next new ship, crossing Viking Sky off the list.
This is where Vikings dig in deep to fearlessly define their place in the cruising stratosphere.  You see, Viking's 'Norwegian heritage' is not simply a marketing ploy or descriptive phrase.  This is what Viking is all about, from inspiring yet soft-spoken Chairman Torstein Hagen to every single person in the Viking organization who absolutely understands and delivers what cruise travelers want.
The difference here: The Viking organization has been enabled to deliver what cruise travelers want with a high degree of consistency.
Of particular importance: Viking is never, ever satisfied with what they have attained at any given point in time. They are always improving, always evolving.
The "news" here is that Viking took delivery of their third ship and a plethora of sources covered that event as such.  Surely that is quite an accomplishment for a company that did not even exist just a few years ago.  Still, it's one feat to build a bunch of ships.   Crafting vessels that change the complexion of cruise travel forever is quite another matter.
Some interesting observations that speak to why the robust Viking expansion continues:
New But Based On Proven Track Record– Viking River Cruises celebrates their 20 year anniversary this year after revolutionizing the European river cruise business, also with steady, planned growth.
Clear, Simple Message- The Viking message is rather simple really: Enable the culturally curious to travel the world in comfort.  Not since Carnival's Bob Dickinson broke down all they do as simply "The Fun Ships" has has there been such clarity.
Documentable Proof- This year Viking River Cruises will launch two more Viking Longships. A small number in comparison to their Guinness Book world record launches of the past but perhaps even more meaningful: the two new Viking Longships come at a time when other river cruise lines are scrambling to fill existing ships, perhaps wishing they could recall ships on order.  How popular are Viking River Cruises?  Lisa and I will experience Viking's Grand European Tour this year, a second time for me and her first.  The soonest we could get on board is September and that was lucky timing.  Other sailings are sold out, have limited availability or are waitlisted.
Familiar Song, Different Marvelous Singer-Viking Ocean Cruises growth stems from the same tree of success that served Viking River Cruises so very well.  In fact, I often talk to other passengers on Viking Ocean Cruises who began their Viking journey on the Viking river version.  Pre-sold on the intense and sincere Viking destination focus, adding their first Viking Ocean cruise was a natural move.  No, make that adding their first Viking Ocean cruise was preordained.  I don't think I have ever used that word in this space before….but unprecedented is part of what Viking does. Not once. Over and over again.
It's Not All Bad News For Fans Of Other Lines
One might think this to all be bad news for fans of other cruise lines.  It is not.
As a result of Viking entering the marketplace, other cruise lines have stepped up their game, some more than others.  Want to know if your favorite cruise line is on the right track?  Two of the actions (as opposed to mere words) to look for:
Branding is out, creating new and unique experiences is in.  Branding made for a nice segue to being different.  Nothing against celebrity chefs, big name entertainers and game show hosts but it's time to move along now.  Best bet: enable the ship chefs to create. The can and will.  They are the ones that will be there on each and every sailing anyway.
Bigger is not better. Nothing against big ships and building lots of them but sheer numbers of vessels is not a win.  We're not playing monopoly here.  Listen to us: we are cruise travelers and we all have (gasp) different ideas of what makes for a good travel experience.  You'll need to deliver that with a high level of consistency.
On the horizon, cruise travelers want it all and will get it from multiple sources.   Forget the cruise experience of yesterday, it is gone and not coming back. Look forward to a new experience that is better in every way.  That can be seen now on Viking Ocean Cruises as it currently exists.  Blink twice though and it will change for the better.  Guaranteed: by the time the first passengers sail on new Viking Sky the Viking ocean cruise experience will have evolved to be something even better than on the existing fleet is offering now.
It's Not Just Me
Finally, some select posts that were a harbinger to where we are today, from other sources so this is not Chris saying "I told you so", although I did: