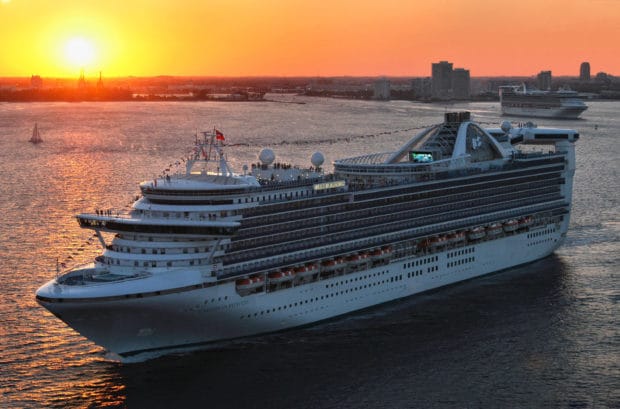 Princess Dining Takes (Exciting) Next Step
Cruise lines know how important the dining element of the overall experience is to travelers.  After all, that dining is included is a major factor considered when choosing a cruise vacation over land options where it is not.  Still, just having 'food' is one thing and having great food is quite another.  Complicating matters, our tastes change, making having the right food an ever-evolving effort that cruise lines try hard to stay on top of.  Princess Cruises knows that and knows those who sail with them.  Still, up to now the burden of satisfying the tastes of Princess cruise traveler has been largely on their highly-skilled corporate chefs.  Looking to the future, that's about to change
Princess Cruises has announced a new exclusive partnership with Australian Chef Curtis Stone (Good Food, Good Life). This collaboration will serve up new culinary offerings designed by Chef Stone, dedicated to fresh flavorful cuisine, ultimately creating memorable experiences as guests travel the world.
"Just the word 'cruise' puts me in my favorite mood – relaxed. Princess Cruises is known for visiting great worldwide destinations – I'm set on bringing a new culinary experience to the sea to enhance and complete a cruise vacation," -Chef Curtis Stone
An esteemed restaurateur, New York Times bestselling author with 6 cookbooks to his credit and television personality, Stone has roots in Michelin-starred restaurants, has appeared on a number of top-rated cooking programs and is host of the Food Network's Beach Eats (premiering August 12). His first solo restaurant, Maude, opened to rave reviews in Beverly Hills, Calif. in 2014 from respected outlets such as Time, Travel +Leisure, Eater LA, Los Angeles Magazine, Angeleno and more.
Chef Stone will focus on three unique areas to begin
"Crafted by Curtis" menu items available in the main dining room across the entire fleet
A new specialty restaurant concept and menu designed by Chef Stone
A special Chef's Table by Curtis Stone experience
Princess Dining To Come Back New Too
Princess Cruises promises that their guests will Come Back New after sailing.  Still, that does not happen all by itself.  Passengers need to embrace the onboard programming and interesting destinations visited by the Princess fleet around the world.   Adding potential depth to Princess Cruise culinary options could go a long way to enabling Come Back New.
"Crafted by Curtis" menu items offered in the main dining rooms will debut  aboard Golden Princess in the fall and roll out fleet-wide through the end of 2015.
Chef Stone's first restaurant at sea will debut in December aboard Emerald Princess, sailing from Ft. Lauderdale to the Caribbean and Ruby Princess, sailing from Los Angeles on cruises to Hawaii and Mexico. The rollout will continue on Coral Princess cruising the Panama Canal and then Sun Princess, which will bring Chef Stone's restaurant to his home country,Australia.
Curtis Stone's Chef's Table experience will debut across the fleet beginning in early 2016.
"We take tremendous pride in preparing and serving our guests freshly made dishes served with passion and care," said Jan Swartz, Princess Cruises president. "This is an exciting step for Princess and sure to delight our guests since Chef Stone also believes that great meals bring people together to create lifelong memories, much like travel."
More program details, including the menu items, specialty restaurant name and concept, as well as a complete roll out schedule will be announced shortly. For more information, visit www.princess.com/curtis-stone.
Here's more, direct from Chef Stone:
 Cover photo- Princess Cruises