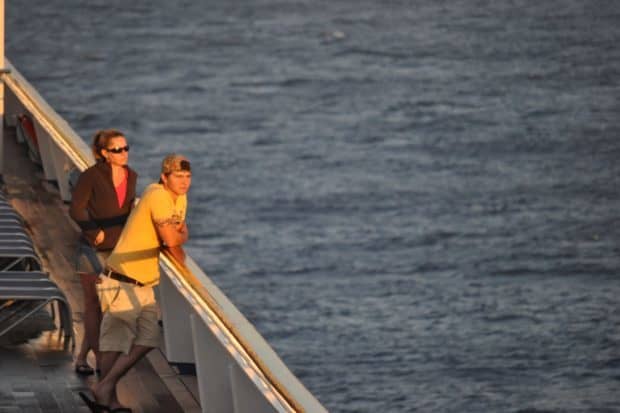 Port Canaveral Vividly Green, In A Number Of Ways
Florida's Port Canaveral has joined a North American initiative committed to advancing environmental excellence in maritime transportation; the Green Marine environmental certification program, . This marks a major milestone as the Canaveral Port Authority is the 100th participant to join Green Marine.  Also looking green, the coffers of Port Canaveral with a record number of ships set to sail from Central Florida's closest port.
Green Marine is a North American environmental certification program for the maritime transportation industry. Started in 2007, the Green Marine program stems from the cruise industry's voluntary initiative to surpass regulatory requirements. The Green Marine program's unique character derives from the support being earned from more than 50 environmental groups and government agencies. These supporters contribute to shaping the program.
Contributing to Port Canaveral's success, an ever increasing number of cruise ships sailing from the Space coast on over 50 different published itineraries.  Here we have all the ships that are sailing now or will sail in the near future:
Carnival Cruise Line From Port Canaveral
Carnival Valor- 4 nights to Nassau and Freeport
Carnival Valor- 3 nights to Nassau
Carnival Valor- 4 nights to Half Moon Cay and Nassau
Carnival Valor- 5 nights to Freeport, Half Moon Cay and Nassau
Carnival Valor- 5 days to Grand Turk and Amber Cove
Carnival Valor- 6 nights to Grand Turk, Nassau and Amber Cove
Carnival Valor- 7 days to Costa Maya, Cozumel, Mahogany Bay and Belize
Carnival Valor- 7 days to Grand Turk, Amber Cove, St Thomas and San Juan
Carnival Valor- 8 days to Grand Turk, San Juan, St Maarten and St Kitts
Carnival Valor- 8 days to Grand Turk, Aruba and Bonaire
Carnival Valor- 8 days to Grand Turk, Aruba and Curacao
Carnival Victory- 4 nights to Nassau and Freeport
Carnival Victory- 3 nights to Nassau
Carnival Victory- 2 nights to Freeport
Carnival Victory- 4 nights to Half Moon Cay and Nassau – A Carnival LIVE concert sailing starring Journey
Carnival Victory- 5 nights to Freeport, Nassau and Half Moon Cay
Carnival Victory- 7 nights to Cozumel, Costa Maya, Belize and Mahogany Bay
Carnival Magic- 3  nights to Nassau
Carnival Magic- 5 days to Grand Turk and Amber Cove
Carnival Magic- 6 nights to Nassau, Grand Turk and Amber Cove
Carnival Magic- 7 nights to Costa Maya, Mahogany Bay, Belize and Cozumel
Carnival Magic- 7 nights to Grand Turk. San Juan, Amber Cove and St Thomas
Carnival Magic- 8 nights to St Maarten, Grand Turk, St Kitts and San Juan
Carnival Magic- 8 days to Grand Turk, Aruba and Curacao
Carnival Sunshine- 5 nights to Freeport, Nassau and Half Moon Cay
Carnival Sunshine- 5 nights to Grand Turk and Amber Cove
Carnival Sunshine- 7 nights to Cozumel, Belize, Mahogany Bay and Costa Maya
Carnival Sunshine- 7 days to Grand Turk, Amber Cove, San Juan and St Thomas
Carnival Sunshine- 8 days to Grand Turk, Aruba and Bonaire
Carnival Sunshine- 8 days to Grand Turk, Aruba and Curacao
Carnival Sunshine- 8 days to St Maarten, St Kitts, San Juan and Grand Turk
Carnival Sunshine- 8 days to St Maarten, St Thomas, San Juan and Grand Turk
Carnival Sunshine- 8 days to St Kitts, St Lucia, St Maarten and Barbados- A Carnival Journeys Sailing
Carnival Victory- 8 days to Bermuda (overnight)
Carnival Sunshine- 13 days to St Thomas, St Kitts, Martinique, Grenada, Scarborough, Barbados, Dominica and St Maarten- A Carnival Journeys Sailing
Disney Dream and Disney Magic

3 nights to Nassau and Castaway Cay
3 nights to Castaway Cay
4 nights to Castaway Cay and Nassau

Disney Fantasy and Disney Magic

7 nights to Tortola, St Thomas and Castaway Cay
7 nights to Key West, Grand Cayman, Cozumel and Castaway Cay
7 nights to Cozumel, Grand Cayman, Falmouth and Castaway Cay

Disney Magic

14 night Transatlantic to Boston, Sydney, Dublin, Liverpool and DoverRoyal Caribbean
Majesty of the Seas- 3 nights to Nassau and CocoCay
Majesty of the Seas- 4 nights to CocoCay and Nassau
Enchantment of the Seas- 3 nights to Nassau and CocoCay
Enchantment of the Seas- 4 nights to Nassau and CocoCay
Freedom of the Seas- 5 nights to CocoCay and Cozumel
Freedom of the Seas- 7 nights to CocoCay, St Thomas and St Maarten
Freedom of the Seas- 7 nights to Labadee, Falmouth, Grand Cayman and Cozumel
Freedom of the Seas- 7 nights to Grand Cayman, Roatan, Costa Maya and Cozumel
Oasis of the Seas- 5 nights to Labadee and Nassau
Oasis of the Seas- 7 nights to Labadee, Falmouth and Cozumel
Oasis of the Seas- 7 nights to Nassau, St Thomas and St Maarten
Oasis of the Seas- 8 nights to Labadee, Falmouth, Costa Maya and Cozumel
Oasis of the Seas- 8 nights to St Kitts, St Maarten, San Juan and Labadee
Norwegian Spirit- 7 days to Costa Maya, Grand Cayman, Ocho Rios and Great Stirrup Cay
Norwegian Spirit- 7 days to Nassau, St Thomas and Tortola
Norwegian Spirit- t days to Key West, Grand Cayman, Ocho Rios and Great Stirrup Cay
Norwegian Spirit- 14 days to Nassau, St Thomas, St Maarten, Port Canaveral, Costa Maya, Grand Cayman, Ocho Rios, Great Stirrup Cay
Norwegian Spirit- 21 day Transatlantic to Key West, Grand Cayman, Ocho Rios, Great Stirrup Cay, St Thomas, St Maarten, Funchai, ending in Barcelona
Norwegian Spirit- 14 day Transatlantic to St Thomas, St Maarten, Funchai, ending in Barcelona