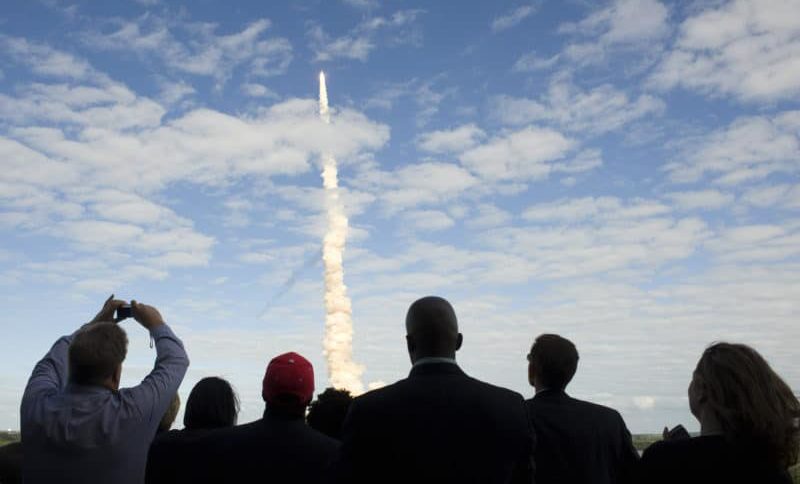 Orlando Attractions Bump Port Canaveral Popularity Higher
Port Canaveral may not be the easiest embarkation port to access when flying to Florida for a cruise.  Port Everglades is right across the street from the Fort Lauderdale airport. Port Miami has eternally trendy South Beach and The Florida Keys. Port Tampa Bay and Jacksonville too have their own allure.  Still, when travel professionals were asked which destination they were actually booking for 2017, Orlando was ranked number one*.  It's another reason why Port Canaveral popularity continues to increase, full speed ahead.
Based on the findings from Travel Leaders Group's authoritative 2017 Travel Trends Survey, Orlando maintained its #1 ranking domestically. Thinking of places good for pre- and post-cruise stays, that makes sense too.  Walt Disney World, Universal Studios and other attractions continue to bring more for travelers to enjoy than all other Florida cruise ports combined.  Port Canaveral itself is becoming a Space Coast destination worthy of visiting in and of itself too.
New at Port Canaveral, Exploration Tower is a captivating architectural landmark that provides visitors with seven floors of exhibits and interactive activities. Located along the East Coast of Florida, Port Canaveral's Exploration Tower is a stunning architectural landmark providing visitors both fun and education.  The Cove is a waterfront recreation area at Port Canaveral with restaurants, lounges, shops, charter boats and a casino ship
Over at Kennedy Space Center, a new Visitor Complex is organized into Mission Zones where attractions and tours are grouped by chronological era. From the dawn of space exploration to current and ongoing missions, you can get an up-close, hands-on feel for the story of humans in space. Fuel your quest for inspiration right here.
Zika-Free Florida Highlights Demand For Travel, Port Canaveral Popularity
Earlier this month, the Centers for Disease Control announced that Florida is Zika-free.   That's good news for many cruise travelers who are clearly comfortable booking popular Florida destinations like Orlando.  Also highlighted in the survey results: the strength of the U.S. dollar is still a driving factor in consumer decisions.
"Our travel agent experts have also been telling us that there's pent up demand for travel."-Travel Leaders Group CEO Ninan Chacko
As the second busiest cruise port in the world, Port Canaveral welcomes over 4 million cruise travelers annually.  Again, that's not because the location is close to the airport, although transportation options are plentiful and cost as little as $15 per person to get there. Still, with eighty percent of the Port's revenue generated from cruise travelers, Port Canaveral has state-of-the art facilities ready to service today's largest and most sophisticated cruise ships.
How do other U.S. Destinations Stack Up?  Here are the top ten:
| | | |
| --- | --- | --- |
| Rank | 2017 Top U.S. Destinations | |
| 1 | Orlando, FL | 37.20% |
| 2 | Maui, HI | 36.20% |
| 3 | New York City, NY | 34.10% |
| 4 | Las Vegas, NV | 32.00% |
| 5 | Cruise – Alaska | 29.40% |
| 6 | Honolulu, HI | 20.00% |
| 7 | Los Angeles, CA | 18.60% |
| 8 | Washington, D.C. | 14.90% |
| 9 | San Francisco, CA | 14.20% |
| 10 | Miami/Miami Beach, FL | 12.90% |
When we plan a cruise vacation, a number of variables are considered.  A travel window is established, defining when travel can occur at a time that is convenient to our schedule. A budget helps narrow down that search.  Personal traveler interests help decide which cruise line will be a good fit too.  Throwing Port Canaveral into the mix, perhaps with a bit more focus now, is also a good idea.
Another reason to sail from Port Canaveral?  You might just see a rocket blast off as we did on Carnival Cruise Line's Carnival Magic earlier this year.
Informative Planning Links Found In This Article:
*Based on actual booking data, Travel Leaders Group's survey was conducted November 17-December 9, 2016, with responses from 1,689 U.S.-based travel agency owners, managers and frontline travel agents from the flagship Travel Leaders brand and Travel Leaders Group's All Aboard Travel, Cruise Specialists, Nexion, Protravel International, Results! Travel, Travel Leaders Corporate, Tzell Travel Group and Vacation.com units.
Cover photo- Open Science Federation