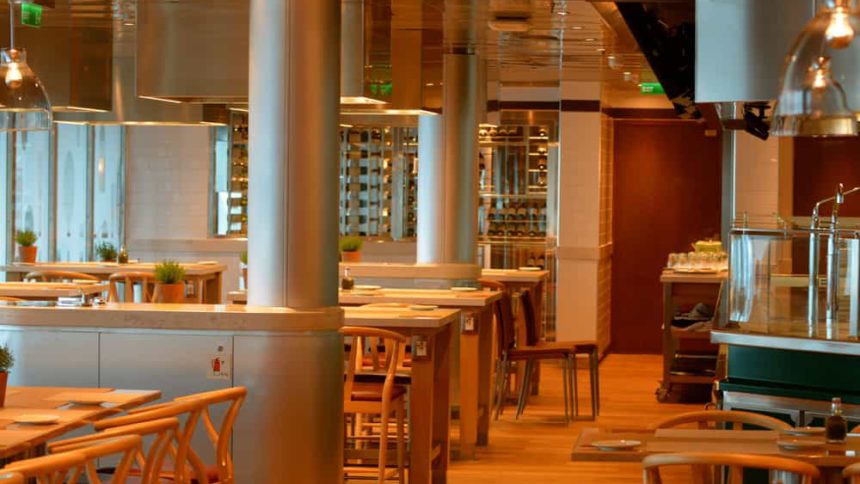 Koningsdam Interactive Culinary Dinner A Hit
The Culinary Arts Center on Holland America Line's fleet of ships provide an interesting and entertaining venue not found anywhere else.  Its a display kitchen of sorts where cooking demonstrations are commonly performed on days at sea.  New ms Koningsdam has a Culinary Arts Center too.  Different here, The Culinary Arts Center on this ship turns the tables a bit, inviting the diners to join in.  The two-way interaction between guests and chefs turns a normally passive entertainment experience into an interactive atmosphere where foodies can get right up close to the action.  That's the short version of what they do at the Culinary Arts Center.  Dig a bit deeper and we see this is far more than anticipated.
The light, airy space occupied by the Culinary Arts Center is considerably more intimate than with previous versions.  Seamlessly integrated into the overall ship decor, the contemporary design the space makes sense, inviting passengers to come in and browse around.
Dinner at the Culinary Arts Center is prepared and plated as diners watch, free to ask questions and engage those actually making what they are about to enjoy.  It's a different perspective, driven home by a visit from the chef to each table after service is complete. 
In apparently no hurry at all, diners enjoy a casual conversation about the meal or some other culinary topic.  It's all a very relaxed atmosphere, much like Koningsdam overall.
The alternating menu changes every night, making dining twice at the Culinary Arts Center over the course of a 7-day cruise a great option.  By reservation only, there are tables for two or four which can be combined for larger groups…which is actually more unusual than one might believe as many cruise ship dining tables are bolted to the deck.
This Roasted Heritage Carrot Soup with crispy parsnips and coriander was the hit that started the meal on the night we dined in the Culinary Arts Center.
Recipes of all menu items are available on the way out of the Culinary Arts Center aboard ms Koningsdam.
Broccoli and Baked Ricotta Salad featured wild rice, asparagus pesto and roasted pine nuts.
Pumpkin Ricotta Parcels with olive oil snow, balsamic pearls and forage pesto is a vegetarian choice that proved popular to others as well.
Herb Crusted Beef Bavatte included dehydrated garden  vegetables, wild mushroom puree, shallot marmalade and a drinkable marrow sauce.
Dessert that night was a choice of an Artisan Cheese Plate with wild honey or Garden Berry Gallatte featuring red currants and basil cress.
Curious about any of the above mentioned items?  The chef is standing by to answer questions.

Why Start Here?
I begin with this venue because the experience is quite typical of what we are already seeing all over the ship: a nice, relaxed sailing on a stunningly beautiful ship.   At an "Ask The Captain" event this morning, passengers enjoyed a virtual behind the scenes look at the off-limits navigational bridge (the first totally electronic 'mapless' ship in the fleet), engine room and more in the World Stage showroom followed by a Q&A.
Interestingly, several of the questions were from young people interested in joining Holland America Line's Cadet program.  Whatever the topic, the mood set by an amiable Captain and interestingly appropriate Cruise Director continued to lock in a relaxed atmosphere.  More on those two later and why these shoes are significant.
Follow Along With Us
BACKGROUND- Recent posts that brought us here:
PHOTOS- consider these Flickr Photo Albums created prior to this sailing:
Posted Live as we sail  the North Sea to Norway
Facebook Photo Albums
Flickr Photo Collections
coming soon check back often