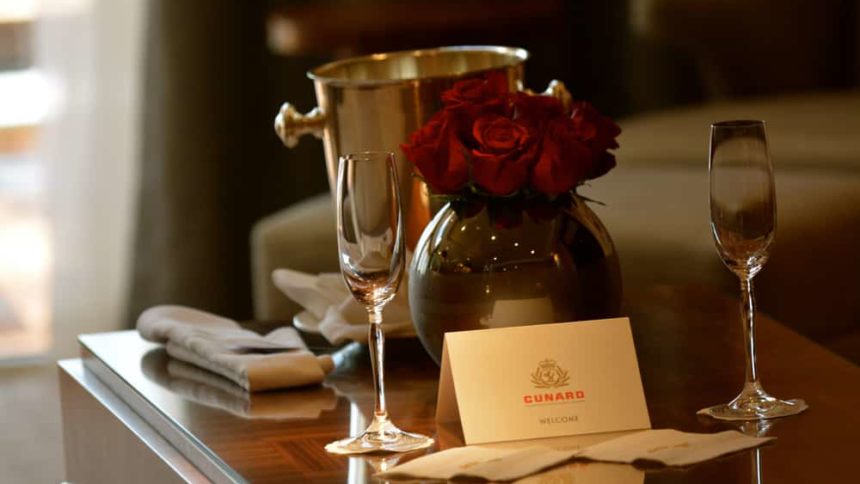 Inside The Cunard Grills Guest Experience
Cunard Line is well-known for the luxury cruise experience it provides all who sail with them.  Commonly associated with transatlantic crossings, Cunard ships sail around the world, on a variety of itineraries around the globe.  Still, to passengers who set the luxury bar even higher, Cunard Queens Grill guests are appreciated with even more.  Two recently released videos take us inside a world few see, including me.
Sailing a crossing on Queen Mary 2 in a very nice, standard stateroom, we were unable to see the world of Queens Grill guests, until now. The Butlers of Cunard Video details just what butlers do and feel about their positions and The Grills Video takes us inside a world reserved for the upper crust of cruise travelers.
"Cunard has a long and storied history of providing attentive service in a refined atmosphere. Cunard ships have been christened by royalty and visited by some very famous guests, from Elizabeth Taylor, Bob Hope and Barbara Walters, to presidents, baronesses and ambassadors, so we understand and deliver the proper attention, space and high level of service our most discerning guests expect," – Richard Meadows, Cunard's North America President

The Butlers of Cunard Video
Queens Grill guests enjoy a personal butler, on hand throughout the voyage to assist with everything from unpacking suitcases and shoe shining, to organizing in-room gatherings, pouring Champagne and assisting with guests with donning cuff links and red-carpet worthy gowns.   We like their attitude about it, illustrated in these quotes released with the new video"
"I'm proud to be a butler on Cunard," says Claudio Marcelo Cuevas Jarpa, a polished crewmember from Chile dressed in a crisp uniform and white gloves. "We make magic happen for our guests. We anticipate their needs before they even know they have them," he says with a smile as he straightens a guest's bowtie before a glamorous formal night on board, another hallmark of Cunard's storied brand.
"A good butler is hard to find, one who perceives, for example, the way guests like to live, the way they like their stateroom, their amenities" says David Hamilton, a veteran hotel manager on board Queen Elizabeth. "Everything is delivered and presented in a very personal way."
"Details are everything, and I pay attention to every bit of it," says Natalia Kustova, a butler on board Queen Elizabeth.
The Grills Video
The Queens Grill guest's life includes more than professional butlers who serve as personal assistants too. Grills guests enjoy more luxurious, deluxe suite accommodations along with a dedicated Grills concierge to orchestrate tee times, spa appointments, customized excursions and even impromptu cocktail parties with other guests.
Grills guests also enjoy
The comfort of intimate, sophisticated spaces reserved exclusively for them
Dining tables reserved in the exclusive Queens Grill or Princess Grill restaurants where guests are encouraged to order anything they desire.
The newly created Grills video tells the story of the Cunard Grills Guest Experience through guests, their butlers and senior on board officers
"Here at Cunard, we are still delivering the levels of service that it's very difficult to find anywhere else," says David Hamilton.
"We never say no – if it's on board, we get it," says a Queen Mary 2 butler.
"The Cunard Grills experience is wonderful, it's the epitome of luxury," says Sharon Angel, a Queens Grill World Cruise Traveler.
"Guests in the Queens Grill have been around the world in top restaurants and top hotels, so their expectations are always very high," says Osman Pinaulglu, Senior Maitre'D Hotel, Queen Mary 2. "We provide the highest level of service: we know what they like, how they like it, and when they like it."