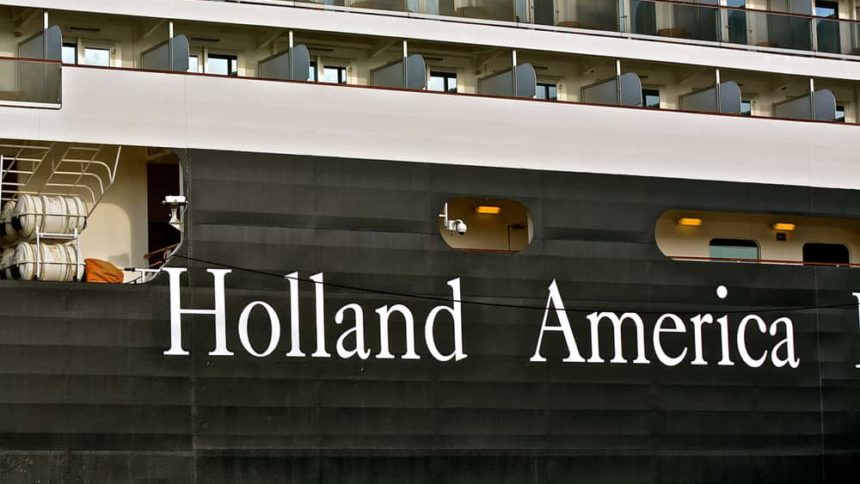 Holland America Video Highlights New Ship, Direction
Holland America Line's Koningsdam is a new Pinnacle Class of ship for Holland America Line, set to debut shortly. On board, cruise travelers will find several innovative concepts, new public spaces and venues.   Still featuring popular amenities guests associate with Holland America Line, Koningsdam will build on those base experiences, bringing new features that should set the line sailing smoothly well into the future.  That focus is highlighted in the line's 6th Countdown to Koningsdam video, taking us to the shipyard and beyond with aerial views  of the ship's recent sea trials.
"The ship's sea trials were a huge milestone in construction, and we're excited to share video footage of the beautiful Koningsdam sailing," said Orlando Ashford, Holland America Line's president.
Indeed, sea trials put new ships to test and are also referred to as a "shakedown cruise", usually the last phase of construction.  Taking place in open water, sea trials can last from a few hours to many days.  Before Disney Cruise Line debuted Disney Fantasy, Whitney was onboard.  Calling us from the ship she said "Dad, we're doing donuts in the ocean!" which pretty well describes tests of a new vessel's maneuverability.
The sixth Countdown to Koningsdam is hosted by Koningsdam's cruise director, Johnathan Rogers and features the new 99,000-ton ship's Captain Emiel de Vries who tells us more about sea trials as well as the bridge, his future 'office'.   Captain de Vries reports the ship behaved very well and shares the thrill of taking the ship out to sea for a test run.
"Watching the ship move so gracefully across the water really brings Koningsdam to life. The delivery is not far away now, and we're looking forward to officially welcoming Koningsdam to the fleet."- Orlando Ashford, Holland America Line president.
In the video, viewers set sail with Koningsdam as it takes to the open ocean for the first time. The two sets of sea trials occurred in January off the coast of Italy with Captain de Vries participating and observing as the ship made its way from Fincantieri's Marghera shipyard to dry dock at Trieste. The ship then returned to Marghera where finishing touches will be completed before its April delivery.  Let's take a look at this latest in the Countdown to Koningsdam series.

In a focused nod to families,  Holland America Line takes a giant leap forward in their appeal to multigenerational cruise travel, featuring the line's first purpose-built staterooms for families. Solo travelers will not be left out either, with new single staterooms among its 1,331 guest accommodations.  Still, for new Koningsdam, Holland America Line builds on their well-deserved reputation for having some of the best dining at sea with new venues and a renewed commitment to fan favorites
Countdown To Koningsdam – Culinary Focus Continues
Dining is a big part of the Holland America Line experience and Koningsdam guests will enjoy even more choices, including
New Sel de Mer, a new French seafood brasserie
New in the Culinary Arts Center, an immersive farm-to-table concept dinner experience
Redesigned Lido Market with themed serving stations;
A stunning main dining room;
Favorites Pinnacle Grill, Canaletto Italian restaurant and pan-Asian Tamarind.
Countdown To Koningsdam- Appropriate Entertainment
Onboard entertainment, already a drawing card for Holland America Line, brings the energetic Music Walk area featuring a 270-degree LED projection at World Stage along with new concepts for show-time performances that will immerse the audience in panoramic visual and sound effects. We saw the depth of Holland America Line's Entertainment department as ship dancers competed side by side with world class performers during the popular Dancing With The Stars: At Sea series of sailings.  Now, Holland America Line steps up their onboard entertainment programming, partnering with some new, quality brands.
Lincoln Center Stage -all genres of music showcased in venues including Lincoln Center Stage, offering chamber music nightly
Billboard Onboard, where live musicians rock the crowd with chart-topping hits
B.B. King's Blues Club in the Queen's Lounge, bringing the best of Memphis music to sea.

Countdown To Koningsdam: The Video Series
Each "Countdown to Koningsdam" video features one of the ship's officers or a Holland America Line executive who shares ongoing developments on board the line's newest vessel, currently being built at Fincantieri's Marghera shipyard in Italy.
Future videos include Kuppens discussing crew arrivals and Prince showcasing the new Music Walk entertainment area.
Of Particular Interest
When I get press releases and gather information from cruise lines and other cruise travel information sources, a good number of them include the standard list of facts and figures, promotional material and a whole bunch of flowery words you never see here.  We weed through those things in an attempt to get to the facts which is often quite a task. Every once in awhile we run across a bit of information that serves as a defining statement about the direction we think a cruise line is going in.  Included in the announcement of this latest in the Countdown to Koningsdam series, a quote noted above from Holland America Line president Orlando Ashford, a relative newcomer to the world of cruise vacations but no stranger to appreciating things of beauty, something we think most all big cruise ships qualify as.
"Watching the ship move so gracefully across the water really brings Koningsdam to life" said Ashford a nod to the elegant and refined profile of the new ship as she sailed smoothly through sea trials. Not all cruise line leaders get that, focusing on each 'floating hotel' as though it were merely an asset of the company.  We like that.