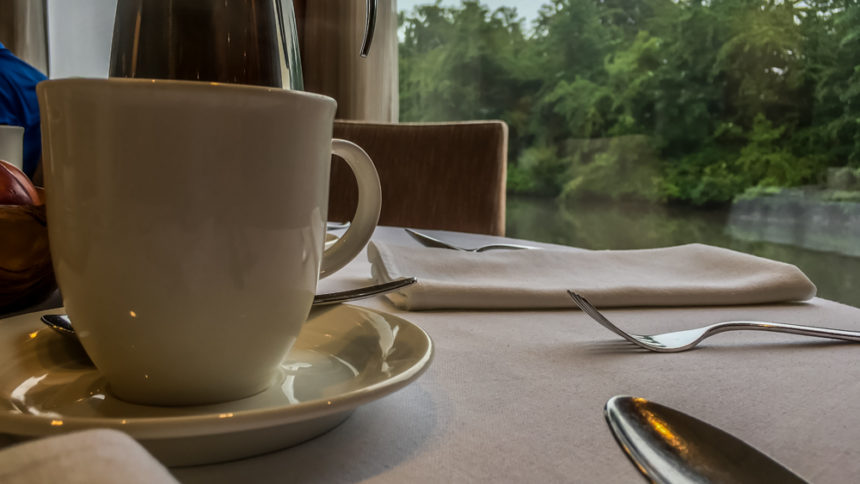 The Impressive Evolution Of Viking River Cruise Dining
Two of the most Important elements of any travel experience include a place to sleep at night and food to eat along the way. Get those two right and off to a good start we go.  Select a cruise over air or land options and a comparatively superior value is realized rather handily. Choose the right cruise line and we can see the world with a like-minded traveler if that is important to us.  On Viking River Cruises, actual king size beds are about as good as it gets when traveling.  Circling back to dining then becomes the primary element to get right.  Let's take a look at how that happens with the Viking river cruise dining options aboard Viking longships.  It's an impressive evolution.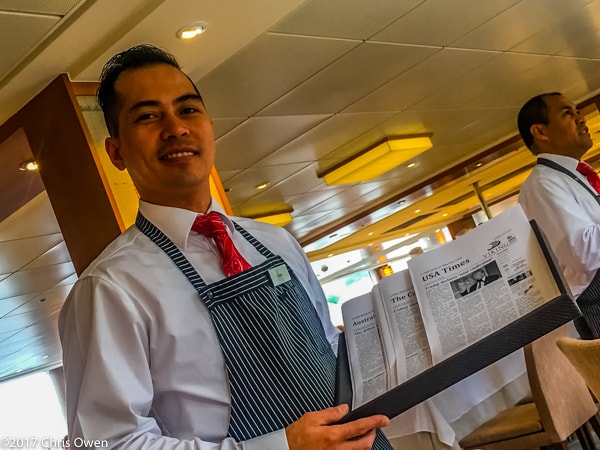 Breakfast, Lunch, and dinner are part of the deal, served a couple different ways.  In the ship's Restaurant, everyone can dine at the same time in one open seating for all three meals.  In reality, breakfast and lunch see Viking travelers arrive at their leisure during operating hours in an Anytime Dining sort of way.  Dinner is open seating as well, no assigned tables or seatings and usually sees the most diners arrive at the same time.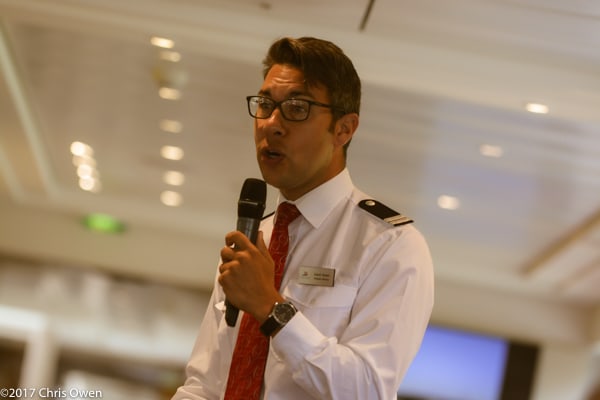 That's primarily because everyone gathers about 6:45 at night for a briefing by the ship's program director on what the next day's schedule will bring. The Executive chef previews the menu then off nearly everyone goes to the Restaurant.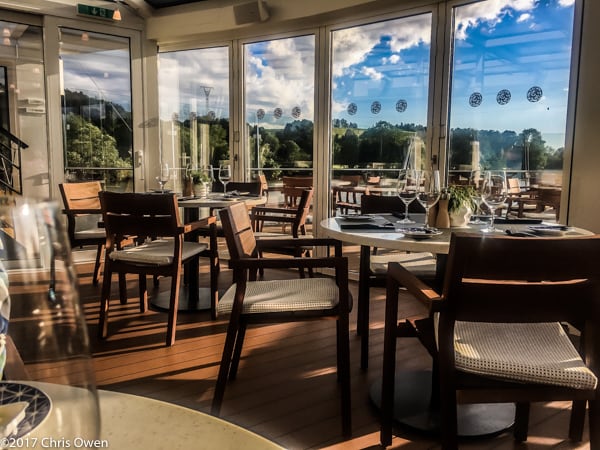 Some Viking travelers will linger in the lounge, arriving in the Restaurant later if they so desire.  Others will go forward of the lounge to the longship's Aquavit Terrace where an alternative dining option is offered.  An abbreviated menu, different than what is being served in The Restaurant, choices will be limited and prepared to your order.  Unlimited though is the view.  On our particular sailing, the weather was warm and large, floor-to-ceiling sliding windows and doors were open as we sailed past lovely landscapes along the way.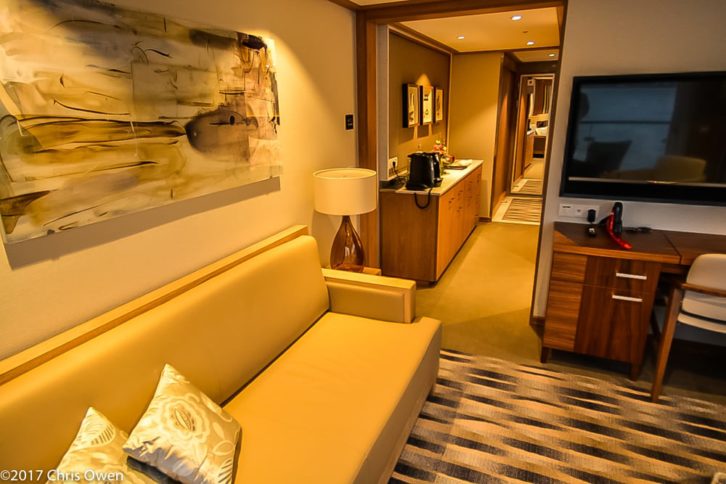 Room service?  Not really offered other than breakfast for those in top end Explorer Suites and that makes sense.  On Viking Longships, it's not like travelers have to leave a trail of breadcrumbs to find their way back after dining.
24-hour coffee stations are always available.  A bit before 6 am freshly baked breakfast pastries appear here followed by the Viking Cookie Collection throughout the day and evening.   Also at those coffee stations, a choice of iced water or bubble water the later of the two which may not be familiar to North American travelers.  Give it a try.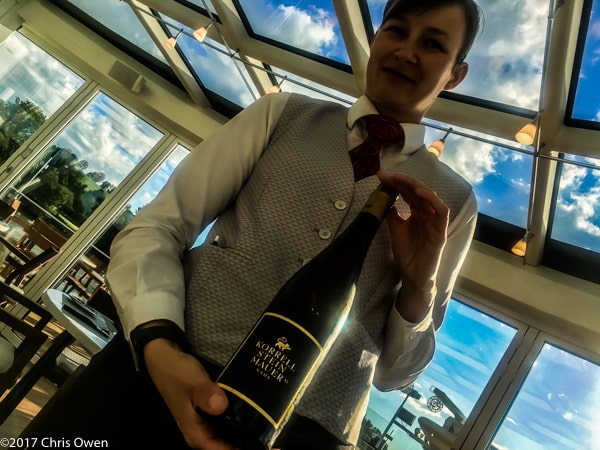 The Aquavit Terrace is also an option at lunch with a self-service buffet that features something that is being grilled and a soup of the day, commonly served by the Executive Chef.  Significant here: the Executive Chef is no stranger to Viking travelers.  In addition to nightly suggestions from a diverse menu that reflects the places we are traveling through, the Executive Chef can be found going table to table during breakfast, offering fresh bread he just pulled out of the oven.  We might also see him greet us as we return from a tour with a little wonderful something.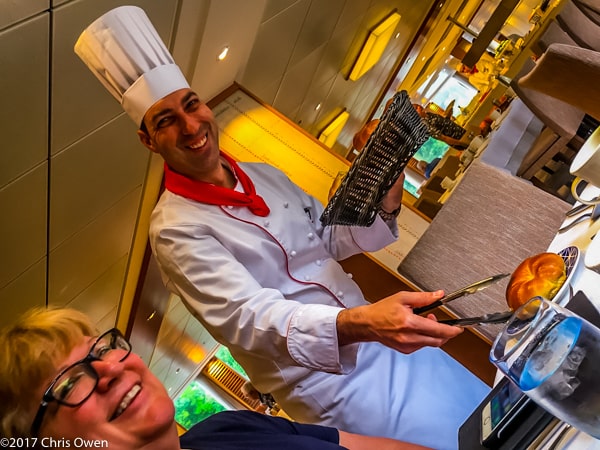 One of the little parts of the culinary operation with big impact is tiny snacks served during onboard events and salty treats that come along during cocktail hour each evening.
Also to note: there is no such thing as a corkage fee on Viking Longships.  Travelers are even encouraged to bring wine and/or beer back on board to enjoy.  We have done that in the past but did not on this trip for one big reason: the included beers and wines during meal times have expanded even further, offering an even more complete reflection of the areas of the world we are traveling through.  Those who want a double dose of destination immersion often choose the Silver Spirits package which expands those offerings even further.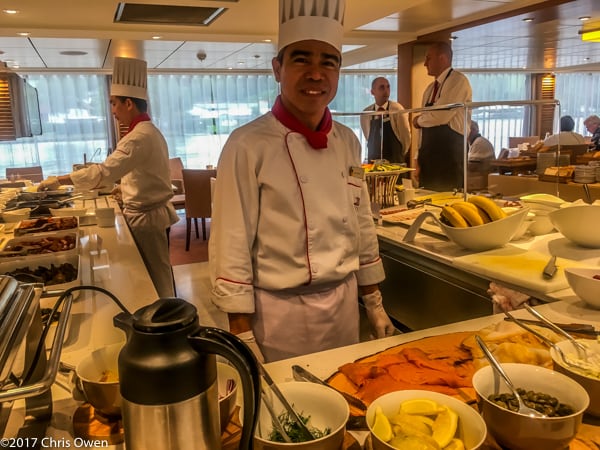 Particularly impressive, the culinary staff on board Viking Longships work in a space about the size of a two-car garage.  Still, while we can count chefs on one hand, the entire operation numbers less than a dozen people.
Here are some of the menu items we have enjoyed on our 15-day Grand European Tour