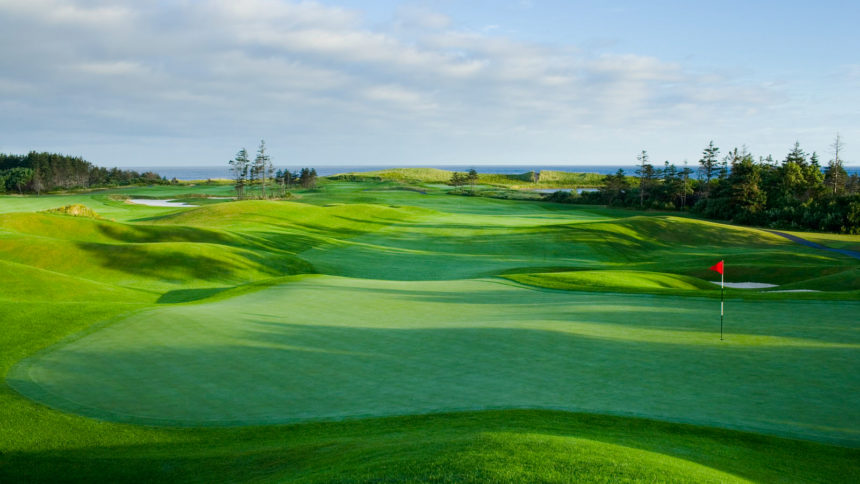 Golf + Cruise Voyage = Efficient Play On Multiple Courses
Experiencing the world by ship continues to gain in popularity as travelers take advantage of more options to do so than ever before.  Regardless of the cruise line, ship or itinerary, cruising is an efficient way to bundle otherwise ala carte elements of traveling from point a to point b. Some ships come packed with features so numerable that passengers might not go ashore at familiar locations.  Other ships squarely frame destinations in a way that resonates with specific individuals.  Frankly, the smaller the ship, the more flexible onboard programming seems to be, allowing many land-based interests to be explored while traveling.  Golf is one of those land-based activities and one that ranks high with cruise travelers.
Think 'cruise' and 'golf' and the minds of seasoned cruise travelers will automatically think of a miniature golf course on the top deck of a ship.  It's one of the features that basically takes up top deck space that can not be used for something else.  Playful miniature golf is not what we're talking about here today though. This golf story is serious as Canada's leading expedition cruise specialist One Ocean Expeditions (OOE) is introducing a new golf and cruise voyage designed for travelers wishing to live the ultimate golf experience offering 6 different courses around the maritime provinces.
In between courses, wildlife and photography excursions have been created to explore the wonders of Canada's East Coast, including mystical Sable Island and its wild horses.
Canada's East Coast Golf Expedition: Fiddles and Sticks ($3395 pp+) begins and ends in Louisbourg on Cape Breton Island, Nova Scotia, a region evolving into a premiere golf destination, attracting golfers from around the globe. Golfers joining the voyage have the opportunity to play North America's most talked about courses including, Cabot Links – also known as Canada's most authentic and demanding of all seaside courses.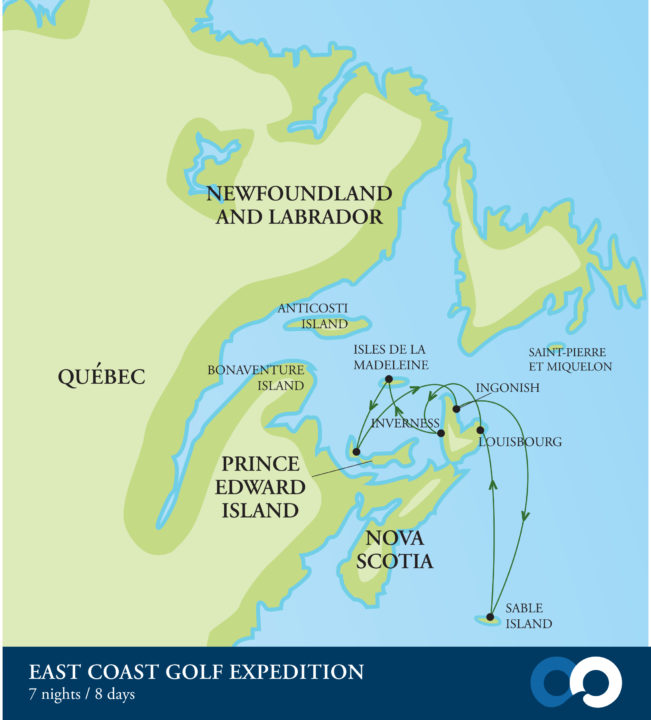 The voyage will visit Prince Edward Island (PEI), one of the most picturesque of the three Maritime Provinces and also the smallest in both land and population. From the air, PEI appears to be one giant golf course with its rolling greens, sand and water traps, which create an ideal terrain to house over 25 golf courses. A top-notch destination to explore for golfers and non-golfers alike, from the greens, beaches or charming communities!
Born and raised in Cape Breton, I've always wanted the world to discover this special place," said Andrew Prossin, OOE's Managing Director. "I've sailed and golfed all over the region and I know our guests are in for a treat with this one-of-a-kind expedition experience.
Les Isle-de-la-Madeleine, is Quebec's most culturally diverse destination. Guests choose to experience the breathtaking scenery from a zodiac, sea kayak or standup paddleboard. Or, some might opt for a land-based sightseeing option and choose a guided bike excursion. Bike tours will take cyclists along gentle rolling hills to discover small, colourful villages where they will be charmed by the distinctive local Madelinois accents.
Throughout the journey, OOE's guests may golf as well as enjoy daily zodiac and wildlife viewing excursions, guided hikes and visits to coastal villages – all of which are included in the price of the voyage. They will also take part in educational seminars given by special guest speakers and expert staff in various fields that range from marine biology, geology and history, to photography and visual arts. Guests savour Atlantic lobster and local seafood, dance and laugh with local fiddle players and animated storytellers, for which they are famous.
Before heading back to Louisbourg, Cape Breton guests relish in a day excursion to the mystical Sable Island, Nova Scotia – one of the trip's many highlights. The island is home to the infamous wild horses as well as diverse flora, rare bird colonies and hundreds of shipwrecks – a reminder of the ill-fated journeys of many early European settlers.
Here is more of what passengers might see along the way:
To celebrate the inaugural "Fiddles and Sticks" Golf Expedition Cruise, 27 June – 4 July 2018, OOE is offering a limited time booking incentive of US$750 per person. Prices start at US$2645 based on a triple-share cabin and include early booking incentive, green fees, accommodation and meals onboard as well as daily excursions.
Photos- One Ocean Expeditions