Getting There To Begin My Viking Story Was A Breeze
One of the current promotions being run by travel companies is reduced price or free airfare to Europe from North America. The idea addresses several objections of first-time river cruise buyers in a very effective way.  Still, while travelers like the idea, how well those air program plans resolve in real life can have a huge impact on any trip, river cruises no exception. Fail to deliver what is promised and the trip gets off to a bad start that travelers, especially those new to international travel might not be able to get past. Taking advantage of a long layover in London before our last flight, the one that will get us to Budapest to begin our Viking River Cruise, I documented some thoughts on how it went for us as well as actions we took to ensure success.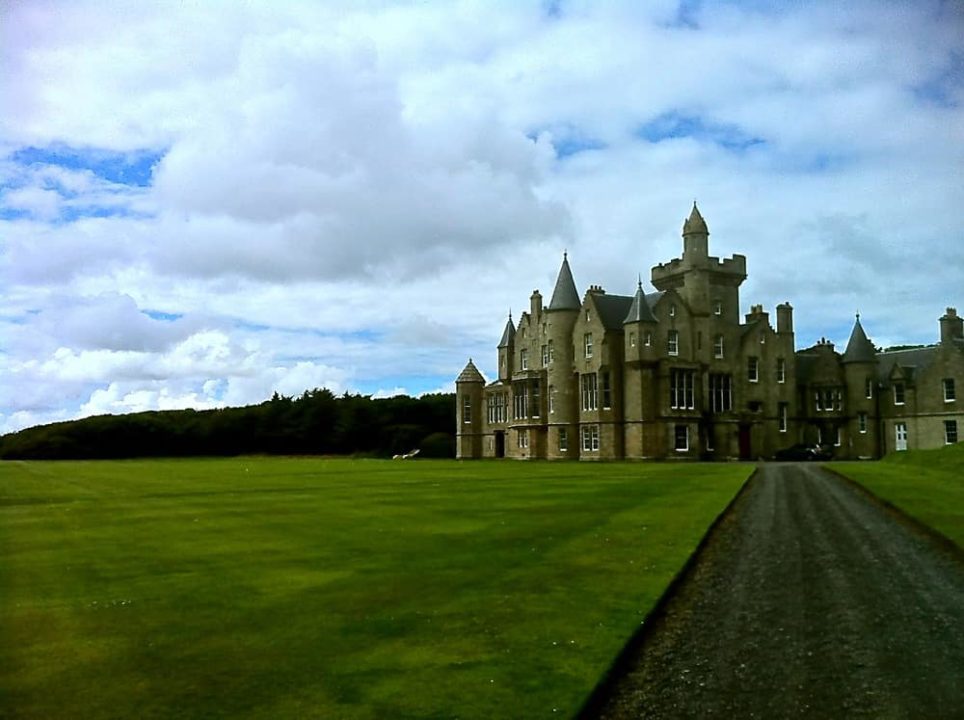 I saw the effect of less than lovely flights first on a United Airlines flight to Edinburg, Scotland to begin an otherwise marvelous sailing with Azamara Club Cruises.  That 2012 flight was just after the Airline Passenger Bill of Rights had gone into effect.  The event proved to be one of the first real tests of that legislation. In a Gadling article titled Bad Flight Saved By Airline Crew, New Laws And Amiable Passengers, I profiled just how wrong things can go. After a bunch of delays, a passenger demanding off the plane while in line for takeoff, returning to the gate for more fuel and just about everything other than someone being dragged off the aircraft, the flight was canceled.  All that kept the scene from turning very ugly was the positive attitude and some quick thinking of United's Rick Chase, International Service Manager on the flight.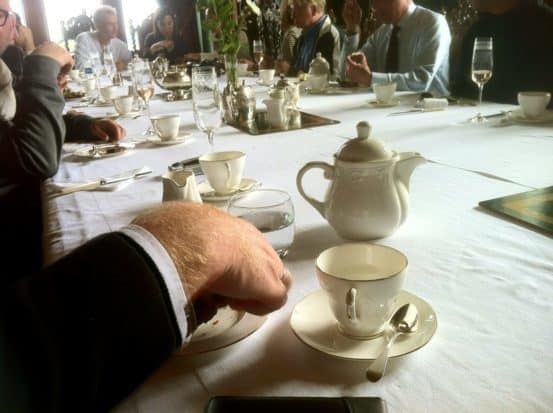 Fast forward to today and the totally unrelated Viking River Cruise we are about to begin. Our airfare ended up being about half price as well.  A bargain while sitting at home in the buying and planning stages.  Still, with previous experience in mind, we chose to upgrade the long leg of our outbound flight to business class on American Airlines.  Using miles earned partly by travel but also via our AAdvantage credit card, the price was reasonable: 25,000 miles per person.  That put us in lay down flat business class seats for about as good of a nights sleep as one might hope for on an overnight flight.  Still, that's just one benefit from the paid upgrade.  There were more.
Expedited Connections
We always look for about two to three hours between any flights when there is a connection to make. That allows a buffer of time that can make or break an otherwise flawless air schedule.  Still, that's not the cure all for potential missed connections, something I was reminded about on our first flight from Orlando to Charlotte.
Highly suggested: monitor actual flight times on your flights starting a few days before your travel.  See what's on time and what is not.  
Ask The Right Questions
Have answers to these questions before and during your travel day:
At what gate does your flight normally arrive at the connecting airport and what gate does the next flight normally depart from? While not a guarantee, odds are your flights will arrive and leave from the same gates if monitored a for a few days just before your flight. That's important information to know if it means a long walk from one to another.  That came up on our first flights when we sat on the runway for a half hour waiting for a storm to pass.  No big deal to us, others were nervous about missing their connection. Viking's air department had added plenty of time between connections.
If in the air with a tight connection and there are open seats more toward the front of the aircraft than yours, ask a flight attendant "Can I move more forward to get off the plane quickly and help with my tight connection?"  The flight crew will almost always do that if asked.  In the case of our flight, no one asked. Specific connection information for individual passengers is not something the in-flight crew monitors.  In other words, they can't help if you don't ask.
What else could possibly go wrong? Think outside of the box too by asking and/or researching unusual circumstances that might affect your flight. In our case. SpaceX was scheduled to blast off a rocket from Cape Canaveral at the exact time our flight had been scheduled.  We know that airspace around the launch is normally closed for a period of time within a certain radius of the Space Coast.  In this case, it was not an issue as the same weather that held us on the tarmac scrubbed the launch.
Considering all of the above, we chewed up about 45 minutes of the 3-hour layover in Charlotte before our long flight to London Heathrow.  No big deal for us but others may or may not have made their connection.  Still, a missed connection is nothing to let ruin the day.  The airline will rebook those affected passengers getting them to their final destination in the most efficient way possible.
Reality check: Passengers calling the airline from the aircraft before it is actually late are simply wasting their time.
Business Class Benefits
Going back to the value of being in Business Class, some other advantages afforded by that elevated level of service:
Expedited Security Recheck: Once in London, an additional security screening was needed.  Being in business class put us through the express lane with little removed from our luggage. Sort of like going through TSA Precheck in the United States.
First Off The Plane is just a better way to go all around. Shorter lines upon arrival in Budapest where passing through an immigration check is required is just more efficient. Business class luggage comes off the plane first too so less wait in the bag claim area too.
Don't get me wrong, not being in Business Class does not mean getting there to begin My Viking Story would have gone poorly.  We know better than that.  Without requesting specific flights or schedules, Viking will get us there.  Still, there is a whole lot of good that comes out of a relatively small amount of expense when considered as a percentage of the total trip price.
We'll revisit this topic later with more information and accounts of other passenger flight experiences too.  For now, let's just say if the thought of upgrading needs a little nudge to pull the trigger, let this be it.
The best part of what we call "Travel Day" ?  Twitter version now, details next: Arriving at the Budapest airport, we walk out of the baggage claim area and immediately see three Viking Greeters who whisk us off to the ship.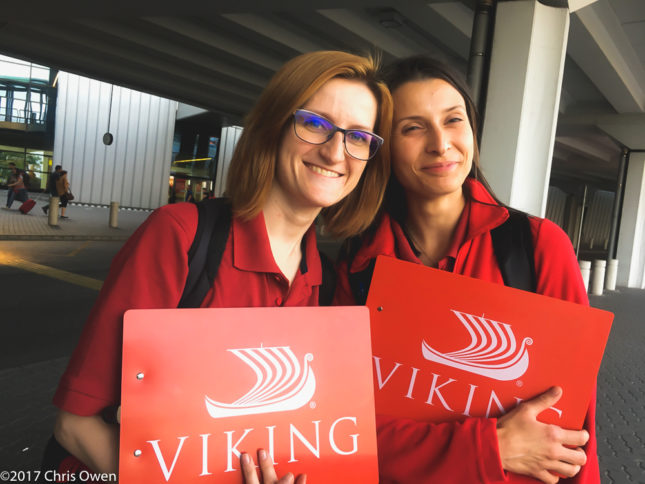 Arriving at the Budapest airport, we walk out of the baggage claim area and immediately see three Viking Greeters who whisk us off to the ship.  On board, Viking crew greets our transfer and takes our bags.  A quick check of our passport and we're done checking in. Maybe one minute tops.  Dinner in progress as we arrive, Maitre d' Lukas Noskovic has held a table for us.At our table we meet a lovely couple from Canada who are about our age and also have two daughters. Lukas personally taking our order then delivers dinner without a pause as the ship begins scenic cruising.  We make it up to the top deck to enjoy scenic cruising up and down the River Danube.   On deck we meet another couple who had also sailed with Star Clippers as I did with Whitney and a lovely chat ensues.  All the while Program Director David Parker narrates the scene as the sun goes down and Budapest is lit up.  Viking Longship Ve turns to deliver a magnificent view of the scene where Parker adds, with absolutely perfect timing:
"Welcome To Budapest"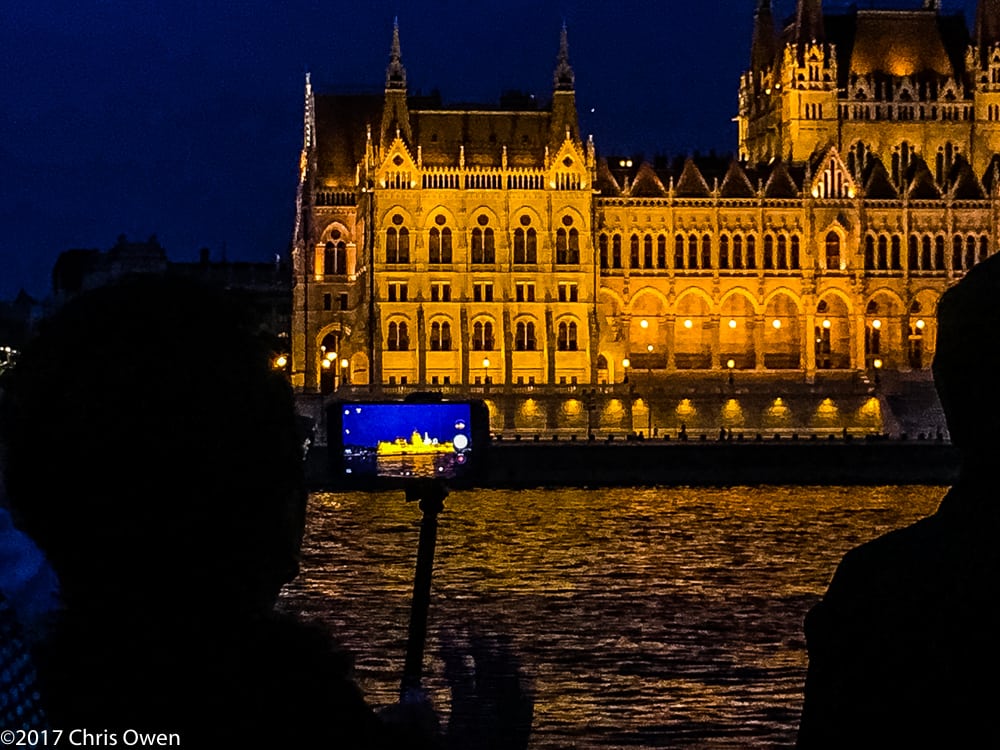 Details next…