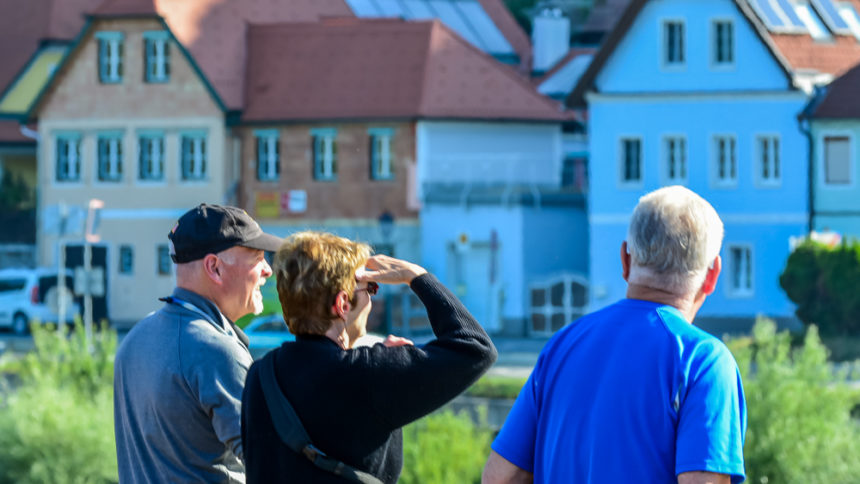 Fresh Back From Europe: Your Viking River Cruise Questions Answered
Just back from a 15-day Grand European Tour with Viking River Cruises, we went armed with reader questions.  As we sailed, other questions came up along the way too.  Today we have the answers, to take with one caveat.  Every sailing is different, influenced by a multitude of variables.  One example: Viking schedules time to pass through locks a season (or two) in advance.  Still, advance scheduling does not ensure transit during the 20-minute window allowed either side of the scheduled time.  Other factors come into play including navigational challenges, mechanical issues or medical emergencies.
Focusing on medical emergencies, river cruise ships do not carry doctors or nurses although the crew is trained in first aid, CPR, etc.  When a medical emergency happens on board a river cruise ship, that ship gets priority over all others when it comes to navigation. These are unpredictable variables we don't see in brochures that can make your sailing different than mine.
That said, questions and general answers, as requested:
The Daily Routine
"What about the schedule of each day?  Can you save the daily ship's newsletter to share with us?"
I'll give you the first page of each day. The gallery below will give an idea of what happens and when.  It would not be fair to share the inside information: we have to leave room for unknowns, a big part of travel for anyone!  Important to note: When tours leave and when the Program Director's briefing is.
Stateroom Selection
Which Stateroom Category To Choose
"I'm trying to decide what category of stateroom I want.  Tell me about how the ships dock side by side.  What am I apt to see from my balcony?"- George O- West Virginia
"Stateroom location? Important?  – Frances S- Colorado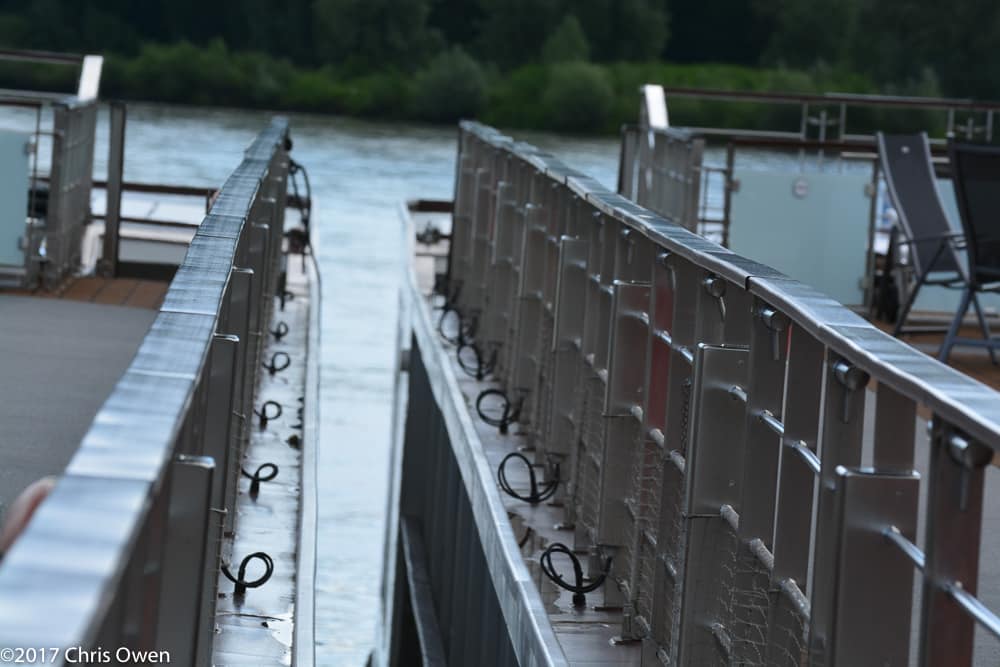 Ships do indeed dock side by side from time to time. While they can be up to four ships deep away from the shore, the most we had were two deep. Actually, this is one of a number of items we were looking for on this sailing, right in the peak of summer season.  This was about as busy as docking gets and about as many people as we were apt to see at any of the iconic destinations visited along the way.
Regardless, that means someone will have no view from their balcony,  except the balcony on the other ship if it is a Viking Longship.  If it is the ship of a different cruise line, it could be the window into someone's stateroom or a public area, depending on where your stateroom is located.  Our Viking Longship docked beside a ship from another line once in 15 days.
Of note on our particular experience, we did quite a bit of sailing during the day and at dinner time, making scenic cruising a far larger part of it than on previous sailings.  Also common, tour groups get off the ship at a strategic place to begin a tour then the ship sails off, picking them up later and further up (or down) the river.  Like scenic cruising on an Alaska sailing, passengers need to be on deck for the best view of everything.  Alternatively, if the 'great big wonderful thing' is coming up but not quite here yet, the bridge cam points forward and gives a good idea of what is coming with time to make it up on deck.
Interesting Points Brought Up By Readers As We Sailed
Which Deck To Choose Or Does It Matter?
"I would have been better off on the highest deck (3) for my balcony stateroom.  That would have provided a better view.  In the majority of locks, I would have had a better view while staterooms on lower decks were looking at the cement side of the lock". – Sal A- New York
On our sailing it did not really matter all that much, the majority of the passengers were on the top deck going through locks which happened to be a part of scenic cruising.  After passing through the first few of 67 locks, the thrill might have been gone on them but not gone on the scenic cruising part.
Note: we had lovely weather every single day and the temperatures were quite comfortable.
A minor drawback of having a stateroom right below the top deck: You will hear major activity like when the crew breaks down the top deck to go under bridges. On the flip side, you will hear them set it up when clearance is not an issue which may very well be music to your ears and serve as an early warning system that the top deck is about to be opened
Starboard Or Port?
"I wish I had thought of which direction the ship was sailing and which side of the ship my stateroom would be on. I happened to be on the side of the ship that faced the sun in the afternoon so it got hot in there." – Ralph W- New Mexico
A lot of that cabin heating up in the afternoon (or full sun morning) has to do with where and when the ships are docked. Longship in motion, staterooms do not heat up as much.
Also important to remember on any itinerary: the sun rises in the east and sets in the west.  See map of our Grand European Tour above.  If the ship sailed directly North to South (or reverse), which side of the ship would truly be an issue. Our itinerary was more east to west so this was not a major issue and either side of the ship would have been a good choice
When sailing, in direct sun or not, the new fleet of Viking Longships keeps staterooms about as cool as one might want.
Also, the most common times to be in the stateroom is after lunch and/or after dinner.  Mornings will probably be off the ship.  Late afternoons bring the evening's cocktail hour, Program Director's Briefing, Executive Chef's Menu Preview and Suggestions then on to dinner.
See our guide to stateroom selection: Viking Longships Illustrated for more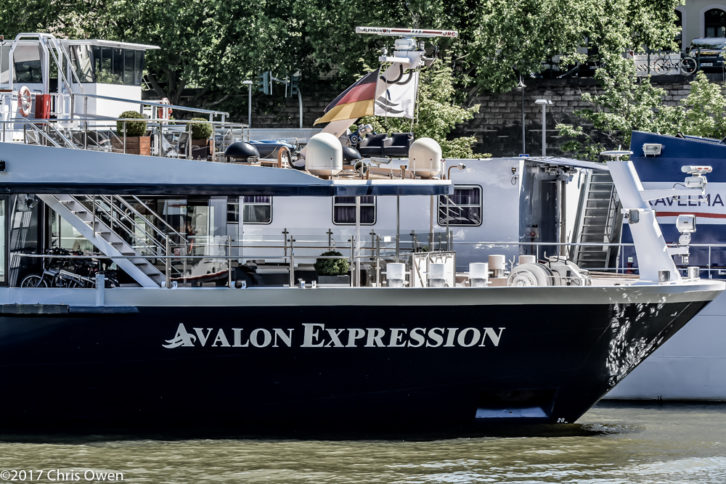 Which Ship Is My Ship?
"I'm a big Viking fan and have sailed several times. But one part of a river cruise that has been hard for me to figure out when ships are docked in a row and they are all Viking ships: which one is mine?!  Any tricks on that?" Robin H- Kansas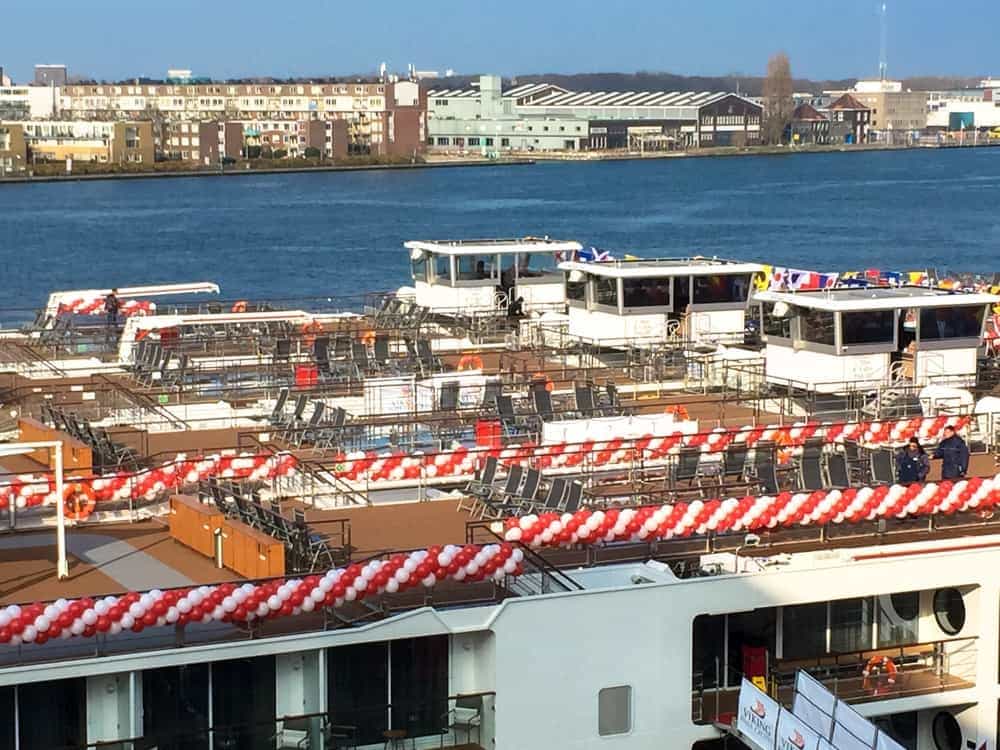 Good question Robin.  Especially since the Viking Longships are all identical except for the name. When it is some other cruise line's ship: you'll know it.  Beyond the decor differences, you'll feel out of place. Still, that's probably difficult to wrap your head around when dreaming about your cruise from home in Kansas City.
A good idea: Take a photo of the painting at the top of the stairs and make it your smartphone home screen photo. You will be able to see it when accessing the ship on any deck other than the top deck.
This was not an issue on our sailing because we never docked more than two deep.  In that case, remember the name of your ship (Viking Ve), if that was not the name seen when approaching the ship from land, the other one is your ship.  The process of elimination.
Also, after a day or two, most passengers know the crew.  Focus on the people who work the reception area.  One of them will be on duty all the time.  They also take questions and you would not be the first passenger to holler "Is this (insert name of your Viking Longship)?" like I did.
Another idea and one that has multiple uses: On your stateroom television are photos of the crew and what department they work in.  I capture those images to help me remember their names.  Seems only fair: they remember mine.
One other observation and maybe something coming to a river cruise docking position near you- this nifty LED display dockside in Budapest.
Security Concerns
We received quite a few comments and questions about safety and security during the trip. After we got back home, the same topic came up again.  It's surely on the mind of many travelers.  Here, we have a representative sampling of those comments and questions:
"With all that is in the news lately about terror attacks here and there, it worries me to go to Europe. – William B- Arizona
"OK, you're back now so tell me: did you feel safe on your trip?   Would you go back and do it again?-  Roger C- Oklahoma
"Were there any places that seemed more or less secure? – Jim C- Florida
"Why don't river cruise ships have more security??  That really surprised me on our trip a few years ago."  Roberta K- New Jersey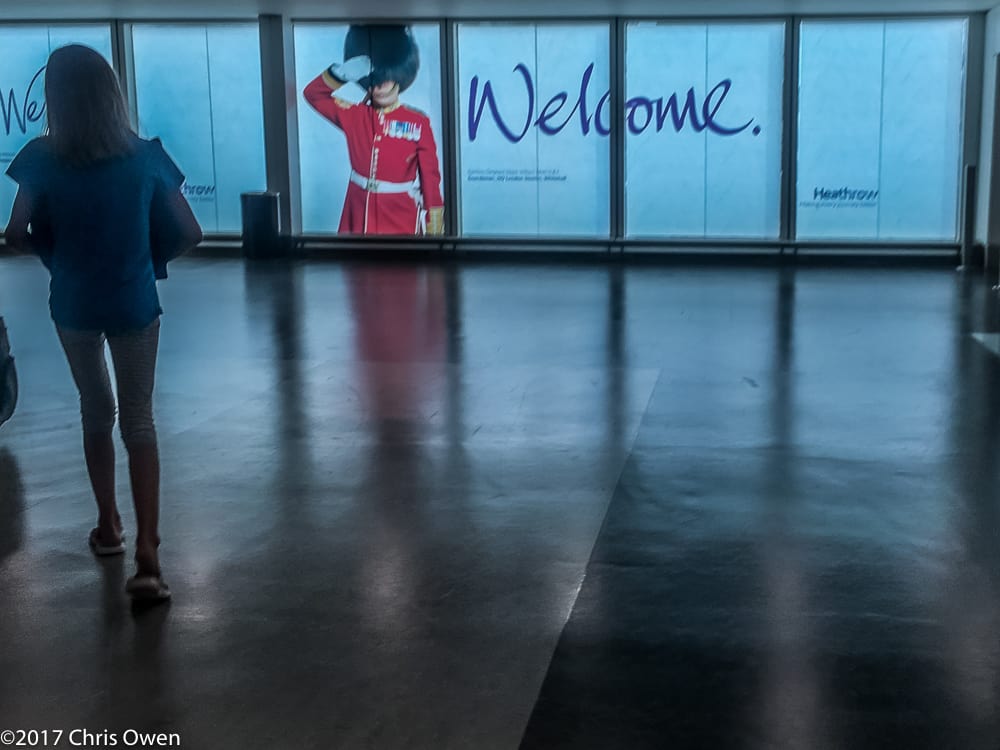 Good questions all and good reason to revisit the topic of our personal security when traveling.  Anywhere.
The Terror Threat In General
Over the course of our cruise, the topic came up several times, as it usually does these days when traveling.  On the way to Budapest to begin our 15-day voyage, we passed through London's Heathrow Airport at the same time a van struck pedestrians on London Bridge. We were no were close to that scene but being in the area does give one a moment of pause to reflect on something happening so very close by.
One of the parts of travel I like best is meeting people along the way.  Traveling with Viking is no exception, in rivers or on oceans.  On this particular trip, get to know some other passengers over dinner, at the evening briefing or on a tour and topic of travel safety comes up.  It's just a natural item that comes up on the agenda of casual conversation as logically as the weather, where we/they are from, our/their opinion of a tour, Viking, etc.   Interestingly, it is not the people who are traveling who fear for their personal security. They got over that for a number of reasons ranging from "the clock is ticking, I have only so much time to travel and a lot of places to see" to "I stay alerted and plan for travel disruptions".
We do not have to go far to be touched by unexpected violence.  As we sailed, back home in Orlando was the one year anniversary of the Pulse nightclub shooting where 49 people were killed.  That location, the site of the second-worst terrorist attack on United States soil, is less than an hour away from our home.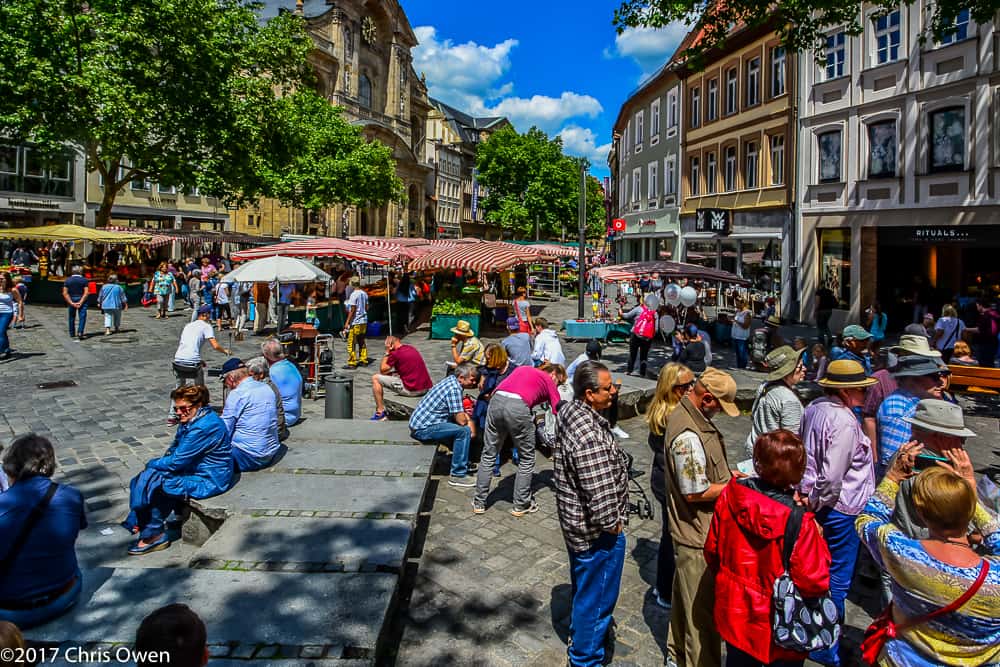 River Cruise Security
Compared to my 2013 sailing of this same itinerary, security has indeed been elevated.  When docked at night, ships are secured to the point where only those with ship key cards can enter.  We saw more secure docking positions too.  Were ships docked in places with security barriers, guards and what we see with big ocean ships? No, and I don't think we want them to be.
One of the best parts of a river cruise is that ships often dock within walking distance of major landmarks and UNESCO World Heritage Sites.  Dock a ship at a secure marine facility and it would be much farther from the places we want to visit.  That would require more motor coach transport; something we did little of on this trip.
Being close to those iconic landmarks and historic places is also being close to security.  These places are national treasures that, if nothing else, are huge tourist attractions.  Over the years, security has been built into the experience so as not to detract from the esthetic value of such locations. In other words: they are watching, we just can't see them.  Such a case came up in Cologne, in front of the Kohlner Dom cathedral which draws millions of visitors a year.  A backpack just sitting out in the open with no one around it instantly drew our attention.  Before we could react (probably move away), someone from the plain clothes security force was there to address the situation which was resolved just as quickly.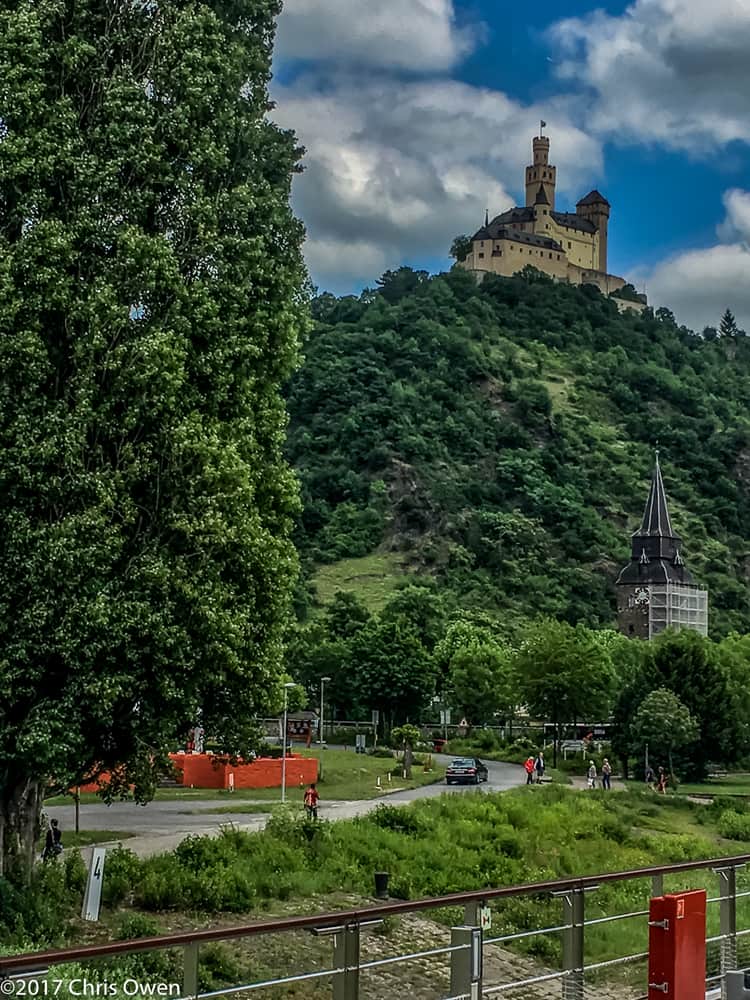 We Would Do It Again In A Heartbeat
I thought before boarding that fellow passengers might think it odd that I was repeating this itinerary…until I met others who were doing it for the third or fourth time.  Considered the classic European river cruise, every river cruise line has a version of it.  Indeed, I saw many other ships seen on the same rivers traveled on both of my sailings.  I would do it again but I would do it with Viking.  On this trip, we noticed again that Viking ships were docked in preferred positions, closer to iconic landmarks as they were in 2013.  While river levels were about as anticipated on this voyage, we have sailed in both high and low water situations, highlighting an unadvertised value of sailing with Viking: an increased flexibility due to the massive, identical fleet of Viking Longships
While river levels were about as anticipated on this voyage, we have sailed in both high and low water situations, highlighting an unadvertised value of sailing with Viking: an increased flexibility due to the massive, identical fleet of Viking Longships.
One last thought to keep in mind considering two weeks on the ground in Europe. The vast majority of that time was spent at places with very little population, a key ingredient in the formula of where terror events happen.  Actually, you can see that for yourself.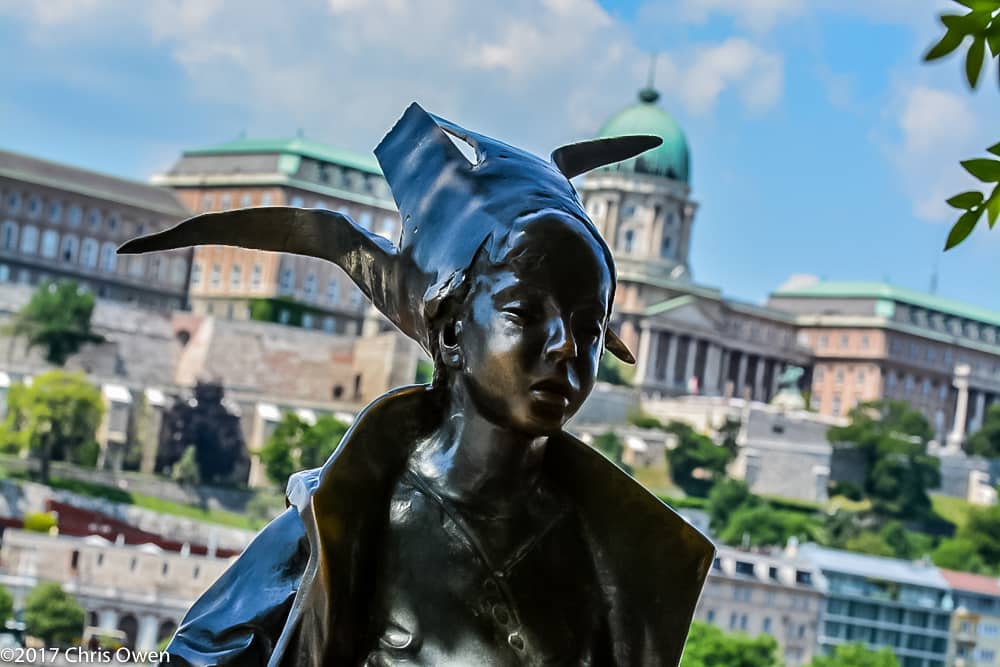 See more of our Viking Grand European Tour including photo galleries and everything we shared socially while traveling.