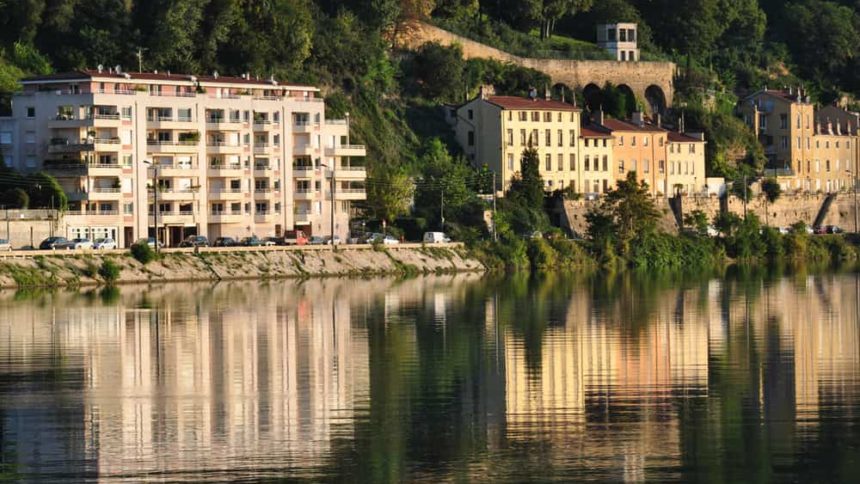 Experience France In Comfort: Viking Travelers Preview Destinations
Continuing our series on Sailing France In Comfort, I think back to preparing for travel with Viking River Cruises on an itinerary themed Portraits of Southern France.  Working hard to prepare for the experience, we took Viking up on their recommended reading list, tapping a variety of sources for rich background information.  We took those books along with us too, supplementing what we experienced along the way.  To me, it's all a part of getting the most out of the experience.  Prepared Viking Travelers do that.  Here's how.
Viking's recommended reading list brought about as deep of an understanding of the places we will visit as possible without actually going there.   To get a good overall idea of where we were going, I highlighted our itinerary on the Rhone Valley Map sent along with our Portraits of Southern France package ($69) purchased through Longitude books.   Another map available when we reached Viking Hermod in Avignon, France (and available on all Viking river cruises) is produced by Viking and available for sale on the ship.  One of the few optional items to buy on board, the Viking map is one to have and refer to throughout the voyage.
Knowing we would be sailing through the famed region of Burgundy, I was especially interested in Mary Frances Kennedy Fisher's Long Ago In France, about her three-year stay in the region.  Fisher's work highlights the notion that food and wine are very much a part of life in France, weaved together in a number of ways that we saw first-hand on our visit, since we knew what to look for.
Province is a geographical region of southeastern France on the left bank of the Rhone River , visited on our Viking River Cruise.  A Pig In Provence by Georgeanne Brennan provided good reason to savor each meal in France, with interesting and informative narrative about this enchanting part of the world, in advance.  The author of many cooking and gardening books, Brennan details a different Province food in each chapter, tipping us off with information on not-to-miss culinary opportunities we did actually experience along the way.  Goat cheese and Bouillabaisse top the list and were featured both on Viking menus aboard and at restaurants and cafes we visited.
Not really very interested in history as a kid, I have come to appreciate the subject more in recent years.  Maybe its Viking's destination-focus or maybe its because I have lived through a lot of it now, but history is all of the sudden interesting.  Still, I need help with studying it and found just that in The Road from the Past, suggested reading from Ina Caro.  Mixing history in with the details of a driving trip, Caro began in Province and ended in Paris.  We did not go that far on the Portraits of Southern France itinerary.  Still, written from an American point of view, Caro's trip visits places in chronological order as they appear in history, which made a whole lot of sense to me.
Interestingly, a new Viking Longship is doing a round-trip Paris itinerary titled Paris & the Heart of Normandy that looks just marvelous and would make for a great follow up (or prelude) to Portraits of Southern France itinerary.  I mention this one because it speaks to Viking"s keen attention to where they send us and what we do when we get there.
On the Paris & the Heart of Normandy itinerary a stop in Giverny puts Viking Travelers on a Monet Foundation tour of the home and gardens of Claude Monet.  Sailing the Seine river, the itinerary stops in Rouen, a place I last visited several years ago, going inside Monet's studio that remains much the same today as it was when the celebrated artist worked there long ago.
Also in Rouen, a Paris & the Heart of Normandy tour takes Viking Travelers on a Normandy Beaches and American Military Cemetery tour, with the evening free for exploring on their own.  In the area, a stop by the Palace of Versailles is a natural with another evening (that's 3 total) in Paris.  Here too is another highlight of traveling with Viking.  Paris, arguably one of the most beautiful cities in the world, is also one of the most expensive to stay and dine in.  A huge advantage Viking Travelers have is that their Viking Longship often docks close to the city center, within walking distance of major attractions.  On board, Viking chefs prepare menus reflective of the regions we are sailing in too.
Also focusing on Province, a more standard travel guide resource from Eyewitness Travel with pick-and-choose information, was handy and contained helpful information on specific places we experienced on our 8-day river cruise. Cutaways and floor plans from major sites, a huge selection of restaurants we might want to try as well as festivals happening when we were there were highlights.
One of our favorite things to do on any trip is to find a sidewalk cafe or local restaurant to enjoy, if not spend the day at.  This Eyewitness Travel guide gave us just that.  We did not have to look very long to find a wonderful cafe in Lyon, mentioned in this guide book.  Still, had we not had the paper guide book, we did have our local Viking tour guide and they always have good recommendations for where we can spend the abundant 'free time' offered at the conclusion of each walking tour.
Tip: Pay attention to your Viking guide throughout the tour, they often point out places that would be good choices to return to later in the day, on your own schedule.
Why did we bring this reading material along with us on the trip?   I thought for sure this would happen: we are at an amazing destination or some obscure place that was covered in one of the above and I would l forget the details.  Also, I thought having fact-filled resources at hand would make for easy caption ideas on photos posted to Instagram, Facebook and elsewhere; something I am horribly bad at including.  In the past, I figured "a picture is worth a thousand words" and skipped captioning.  Apparently a picture may very well be worth a thousand words but a few are a good idea anyway.
What we found were no lack of places to see, things to do or words to accompany our photos.  Simply taking the time to enjoy the day at any one of a dozen places along the way made all the difference in the world.  The only resource we needed were each other and the shared experience provided just that.
Want More Information?
See our library of Viking River Cruise information
Stop by our friend Jeff Titelius' EuroTravelogue.com
Search Twitter for #VikingSocial to find a wealth of information from notable sources
Chris is not a paid spokesperson or brand ambassador.   Not compensated by cruise lines, what you read here are his observations, thoughts and interpretations, biased only by a positive outlook and appreciation for what cruise vacations have to offer travelers.