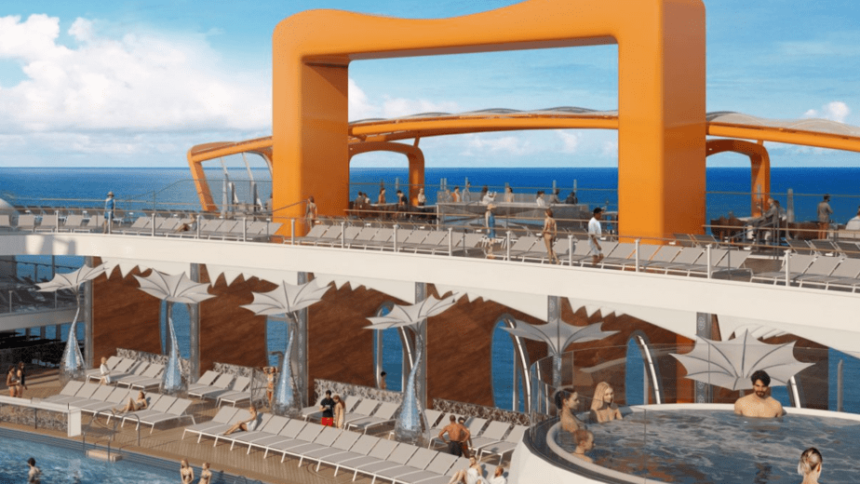 Celebrity Edge Features Metamorphic Spaces, Magic Carpet Ride
Every Spring the cruise industry gets together in south Florida for what looks to be a convention of sorts. Over the years,  we've talked about Seatrade as the SXSW of cruising in passing.  Since news is not really what we do here, our focus is more on the promises of cruise lines and industry leaders.  We listen and file those commitments away to match up with what we (and you) actually experience on ships.  The enduring thought here: people drive this very people-focused industry.  What they promise and what they deliver should be reasonably the same….which brings us to a new class of ships coming from Celebrity Cruises.
Celebrity Edge
Arguably one of the biggest stories from this year's Seatrade conference: new ships for Celebrity Cruises.  2, 918- passenger Celebrity Edge sails in quite a different direction than Celebrity's Solstice Class vessels.  Fans of Equinox, Solstice, Eclipse and sisters, don't run off quite yet.  You might like this idea.
The promise: Push the boundaries of ship design and evolve luxury travel at sea.
Design boundaries pushed, Celebrity Edge will be the first cruise ship fully designed in 3-D. I'm not sure why we should care about that but ok, that's nice. Let's hope the designers enjoyed that experience. Of more importance to big ship cruise fans, Celebrity Edge will feature rooms with infinite verandas, designer suites and a Rooftop Garden with fantasy trees and soaring cabanas. Also interesting but not the big story.  That's the Magic Carpet ride.
The Magic Carpet is a platform the size of a tennis court that's cantilevered from the side of the ship. It serves as a lounge-like tender embarkation area where travelers will be whisked ashore via sleek Edge Launches.  Basically: a Royal Caribbean International brand gets another application out of the elevators that straddle the Royal Promenade to raise and lower the YMCA cast to the delight of the crowd below.  Smart.  Sort of like how animation technology introduced in the first Jurassic Park had a really lifelike T-Rex chasing humans around.  We saw that science applied in many films moving forward.  Collaboration among brands under the Royal Caribbean International umbrella = good.
Transformative Celebrity Edge Features
The Magic Carpet can rise from sea level all the way up to Deck 16, where a 'Dinner on the Edge' experience for up to 90 people will be unlike any other. Or, when alongside Deck 14, the Magic Carpet becomes an extension of the pool area. And, at Deck 5, it provides alfresco seating for the restaurants.
Possible Loyalty Perk: High level Captain's Club members/ those in suite accommodations will get the first Magic Carpet from high on the penthouse deck to sea level at the dock below when visiting ports.  I'm thinking Elite Plus or Zenith members of the pecking order.
Possible Accommodations To Be Discounted:  The balconies on the right and left side of the Magic Carpet Ride as it goes up and down.  Staterooms in that location look to be reminiscent of the zero privacy peek-a-boo balconies on Princess Cruises Royal and Regal Princess viewable from the Seawalk.  Maybe give travelers who book those free cupcakes too.
Click here for the complete story from Seatrade
The super cool part of this story is that Royal Caribbean brands have a solid record of actually delivering what they promise, however bizarre those promises might seem.  Drink-making robots come to mind as do the virtual balconies of otherwise interior staterooms and a long list of amazing new things added to great big glorious cruise ship cities.
Here's more about Celebrity Edge features:
The Celebrity Edge Reveal- Long Form from Artex Productions on Vimeo.
On Sale Now
Celebrity Edge will sail 7-night Eastern and Western Caribbean itineraries from Florida's Port Everglades in Fort Lauderdale beginning December 2018.  Those voyages are on sale now with pricing starting at $999 per person + tax.
In Other Seatrade News
Windstar Cruises will be sailing to and from New York on its first Canada/New England itineraries in summer/fall 2018. The 212-passenger Star Pride will embark on four new sailings (with…
Royal Caribbean International unveiled its strongest lineup of North American itineraries in 2018-19, when a fourth Oasis-class ship, Symphony of the Seas, begins sailing from its new PortMiami terminal.
Holland America Line's master chef and culinary consultant Rudi Sodamin, the creator of Sel de Mer aboard Koningsdam, is launching the French brasserie as a pop-up in the Pinnacle Grill…
Carnival Corp. & plc adding a second technologically advanced Fleet Operations Center—following the one in Hamburg—with a new facility in Seattle, and an additional center is under construction in Miami.
After formerly unveiling EXC Explorations Central last December, Holland America Line layered on more detail on the multi-varied elements of its new destination immersion experience onboard Koningsdam's Crow's Nest Sunday…