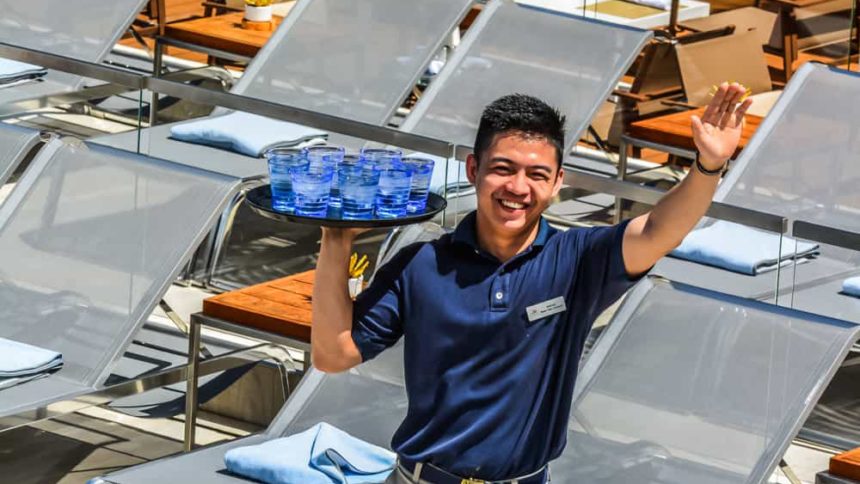 Caribbean Comparison Underscores Viking Difference
We tried to stick with the thought "it's not fair to compare Viking Ocean Cruises to other ocean cruise lines…to either side.  The Viking experience offered as "just what they do" casts a spotlight on the service-focused, relaxed ambiance  on Viking Star.

Choosing not to classify their new ocean cruise experience as one of luxury, Viking promotes and delivers a very comfortable way to travel.  Believing that the cruise industry had lost its way in the world of customer service, Viking places a high value on it.
Staterooms You Will Use
Staterooms with multiple USB Ports and plugins are nicely designed and a pleasant place to spend some time on the balcony.  All Viking Star staterooms have balconies and they all enjoy unobstructed full ocean views.  Free wi-fi gets you online, subject to the temperament of the satellite that makes this happen.  The ship's intranet system is not subject to silly satellites and is a fast, efficient way to see the daily schedule, check to see if you have reservations for tours and dining.  Also part of this system, the Cruise Directors' daily summary, available anytime.   Better yet, viewing Live TV and films happens via the inter-ship system not the satellite.
Dining has options going on all the time in one part of the ship or another.  The World Cafe is often the first dining venue visited, commonly for the standard cruise ship embarkation buffet.  There will be crowds, it will not be relaxing…in some other universe.  Viking plays in their own galaxy.
Viking handles their version of "crowds" on the 930-guest Viking Star without issue, efficiently moving people in small groups that do not overlap on tour.  Usually about 20 Viking travelers seem to make up a group and the content is an overview of wherever it is we are for the day.  Some travelers choose optional tours, either in advance of sailing or once on the ship.  This is where many the Caribbean lover gets their beach and sand fix.
Optional tours in the Caribbean always have a beach/sun/fun option, often many of them.  The included tours of the day steer clear of beaches, but there are ways to do both.  Choosing a Luxury Catamaran Tour, a beach oriented tour or some other choice would bring sun-filled adventure.   In addition, walking off Viking Star, passengers find plentiful cab drivers standing by for a private tour or direct drive to the beach.  So far, included tours are not going to be beach focused except to mention named beaches as part of orientation.
Back on board after tour, we like that crowding is usually not a part of the experience.  All public areas seem fully staffed.  Better yet, that  highly-skilled crew is having a good time taking care of business.  As far as "Good Fits For The Caribbean", the onboard ambiance of Viking Star is a natural for the Caribbean.  The 'feel' of the ship fits in just as well in the Caribbean as it has everywhere else in the world so far.
The Viking difference also brings multiple ways to engage the destination.  A regional specialties menu evolves as we sail bringing unique variety to the culinary program. The ship's World Cafe connects with the destinations visited by Viking Star.  Better yet, while giant floor to ceiling windows provide great views, they also provide temperature and humidity level control, encouraging guests to linger longer.
We've been talking a lot about onboard features that are fitting in nicely in the Caribbean, but there is also the Caribbean, the destination.  Here are some images from our tours so far:
[URIS id=66132]
Follow Along On Our Viking Ocean Cruises West Indies Explorer sailing:
Viking Ocean Cruises In The Caribbean
Caribbean Comparison Underscores Viking Difference (this post)
Facebook Photo Albums-
Flickr Photo Galleries
Viking Caribbean: Pre-Cruise Countdown
Facebook Photo Albums