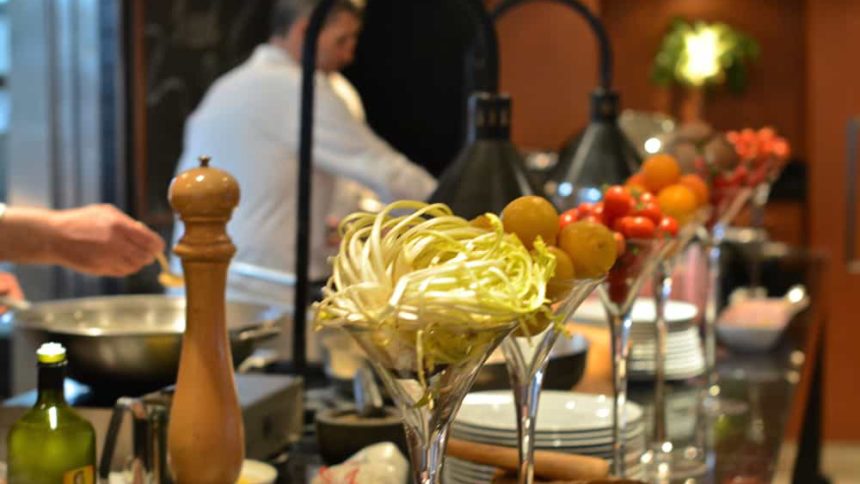 The first in a series of posts defining the Seabourn Experience, we begin at the end of the 2015 Seabourn Food And Wine Cruise, after Chris returned home to Orlando
One of the very best parts of a good cruise vacation experience comes after the fact. Allow an appropriately sourced cruise line have their way with us, buy into the daily choreography of it all, and travelers will have a good time.  We come back to 'real life' feeling a bit different. Today was that day for me and that moment in time when my head is still on the ship but my body is back in real life.  The comparison serves as a testament to the ultra-wonderful experience on board Seabourn Sojourn for the 2015 Seabourn Food And Wine Cruise and a great place to begin defining the Seabourn Experience.
It's easy to describe that feeling as 'refreshed', 'relaxed' or even 'renewed' or be in a state commonly referred to as 'we need a vacation to recover from our vacation'.  On a Seabourn cruise, one expects a stellar experience featuring an abundant focus on culinary excellence.  After all, that's what they do on each and every sailing, engaging well-traveled Seabourn Guests port by port, around the world.  Adding an additional layer of culinary delight to qualify as a Seabourn Food And Wine Cruise would have to be done with care.  Too much and that delightful cake could topple.  A mere dusting and it might not get noticed.  The first rendition of the Seabourn Food And Wine Cruise delivered our best cruise experience of 2014.  The 2015 version is going to be hard to beat and has already spilled over into real life.
Adjusting back to making my own bed, cleaning up after myself and foraging for food is easy enough to do.  After a long travel day to get back home, there is a bit of comfort in that familiar routine as well.  Still, at the local grocery store today to restock supplies I found myself face to face with an inquiring Produce Department Manager who had questions.
At The Grocery Store It Hit Me, Like A Brick
Produce Manager: "You usually come on Saturday mornings,  early, before we get busy. I wondered what happened to you yesterday."
Me: "I was traveling, just got back last night"
Produce Manager:  "Oh? I figured as much. Where to this time?"
Me: "Well, we started in Athens then hit Greece, Italy and France, ending in Monaco"
Produce Manager:  "…thus the cart full of vegetables?  It looks like more than usual"
Me: "I suppose so, the refrigerator is empty, stocking up"
Produce Manager: "What are you making?  Y0u have a lot of stuff there!"
Me:  "I have absolutely no idea"
It was right then that I realized what I hoped would be an enduring effect of the Seabourn Food And Wine Cruise: to take the inspiration, recipes, advice, experience and make it last a bit longer.  A common theme in everything we did, from cooking demonstrations to themed dinners, visits to local markets with Seabourn chefs and more: fresh, locally-sourced ingredients.
There is nothing Earth-shattering there, fresh and locally-sourced ingredients have been a popular topic and wise choice for quite some time.  Protecting the integrity of those ingredients, allowing them to speak for themselves and create an assemblage of something wonderful, now that was different.  Interestingly, that same synergy is probably one of the biggest factors that defines the Seabourn Experience.
It's not just that Seabourn has the confidence in their culinary operation to open it up for public view as no other cruise line we have ever seen.  We did just that at a Market Galley Lunch and even had dinner in the kitchen, during a busy meal time. This is more than room service waiter Pavlo remembering that I like artificial sweetener with coffee at 4 in the morning, from a sailing in 2011.   The Seabourn Experience goes beyond a company that enables it's employees to do the right thing in yet-to-happen situations and the confidence Seabourn Guests have in that way of doing business.
Lunch In The Real World Was Hard To Swallow
All those fresh ingredients aside for now, lunch time approached and a locally-sourced Chipotle burrito sounded like a good idea.  Arriving in the middle of their lunch rush, there was quite a line as there usually is.  I watched as the people behind the counter filled order after order in their typically friendly and efficient way.  But something was missing.
I've been doing business at Chipotle for years and always appreciated their version of fresh food. Today I came during the lunch rush and everything was about as fresh as it was going to be.  The Chipotle employees were working hard and doing a good job of what they do.  But it was as though I was watching a video of the scene with the action slowed down a bit, the conversation a bit dull and the resulting food product a bit uninspired.  While I was happy with my purchase it was all it would ever be.  Delicious, fresh, hot, nicely priced and packaged but limited.
The Seabourn Experience knows no limits.
Up until the moment we walked off the ship, there was nothing that was impossible, nothing out of reach, no request too big or none too small.  That's the gold, the diamonds, rubies and sapphires all rolled into one great big wonderful experience.
…and that's on a 'normal' Seabourn sailing, if there is such an animal.  On the Seabourn Food And Wine Cruise that level of excellence rose to a level never before seen, even on the inaugural event that was so wonderful last year…which begs the question: What was different?
The answer is actually quite simple and the topic of the next post of our Seabourn Experience series:  The Adam Factor. That's next.
The Seabourn Experience topic is planned to have 47 unique posts here, tagged #SeabournExperience on Twitter and each with their own Pinterest photo board, Flickr photo set and premiere debut feature of a new website we will launch soon.
Right now, we have 8,000+ raw images uploading to our Flickr Feed that will eventually be edited and organized into events.  Be warned: these include lovely images where my thumb got in the way, shots of random images used to play with camera settings and other odd photos as well.
To best get ready for The Seabourn Experience, catch up with what we have experienced so far with these resources, published during the event:
Here At ChrisCruises:
Facebook Photo Albums:
Our Live Twitter Feed while in progress
Also coming up, after sailing:
Our Pinterest Seabourn Food And Wine Cruise 2015 board
A Seabourn Food And Wine Cruise @exposure Photo Storybook